Alaska Cruise Shore Excursions 2017-2018

Alaska is one of the most awe-inspiring places on earth.
The largest state in the United States, Alaska is home to 17 of the 20 highest peaks in North America, more than 100,000 glaciers, 3 million lakes, 6,640 miles of coastline, 33,904 miles of shoreline, and more than 70 potentially active volcanoes. From Alaska's majestic beauty to its staggering array of wildlife, it is truly a unique destination.

Sailing on a cruise ship is just the beginning of any Alaskan Adventure. The absolute magnificence and splendor of Alaska can only be fully realized by experiencing an Alaska shore excursion. Whether it's by air, land or sea, exploring the wonders of Alaska cruise excursions will be a once in a lifetime experience.

At Shore Excursions Group, they offer an extensive selection of exceptional Alaska cruise excursions providing their customers with reasonably-priced opportunities to experience the best of Alaska. We've even made it easier for you to design your Alaska shore excursion itinerary by creating a selection of Multi-Port Packages that include three of their most popular excursions at a discounted price. Shore Excursions Group offers three different varieties of Alaska shore excursion packages--value, active and adventure—tailored to your personal travel style. Or feel free to create your own itinerary by choosing individual Alaska excursions for each port that you visit based on your specific interests and budget.

On one of their Juneau shore excursions, take a float trip on spectacular, glacier-studded Mendenhall Lake, passing by the world famous 2.5 mile-wide Mendenhall Glacier or experience a whale watching cruise and see a humpback whale up close. Other Juneau cruise excursions include a city tour or gold panning adventure where you can relive Juneau's gold rush history by panning for gold and then enjoying a delicious salmon bake at Salmon Creek.

In Ketchikan the spectacular Misty Fjords Flight seeing Tour is a must-see experience that will provide a lifetime of memories. The Misty Fjords National Monument is a 2.3-million acre piece of pristine wilderness that must be viewed by floatplane; it is the only way to truly take in its majesty - soaring cliffs, saw-tooth ridges blanketed in trademark mists, sky-blue lakes, endless waterfalls, icy saltwater fjords and miles of glacier-carved gorges. As part of our Saxman Native Village and Ketchikan City tour visit the world's largest standing collection of totem poles and hear the legends and stories of how and why they were made.

In Skagway their Helicopter Dog Sledding Adventure shore excursion begins with a helicopter ride to a glacier dog sledding camp where you will share this adventure with 80 Alaskan huskies and hear unique personal accounts of the Iditarod, back country experiences and have an opportunity to ask questions. Feel the excitement as the team is hooked up, then you're off! Also from Skagway they offer many excursions into the Yukon territories including horseback riding and dog mushing adventures. Or enjoy an exciting raft trip down the Chilkat River through the famous Chilkat Bald Eagle Preserve, the world's largest concentration of Bald Eagles in North America.

For more active customers they offer a variety of hiking, biking, kayaking, canoeing and zip lining excursions in most of their Alaskan ports. For fishing enthusiasts they have many options including salmon fishing, Halibut fishing, skiff crabbing, skiff fishing, fly fishing, or spin fishing. Their fishing shore excursions are offered in Juneau, Ketchikan and Sitka.
Search for a wide variety of exciting, appealing, and enriching
shore excursions at prices lower than those of the cruise lines...
Why Shore Excursions Group?*
Lower Prices than the Cruise Lines

Their prices are lower than the cruise lines, sometimes up to 40%-50% lower. You deserve to enjoy great experiences without over paying for them. In the rare cases in which prices are higher, it is because their excursions are higher quality and typically involve smaller, more intimate tour groups with fewer individuals per guide.
Higher Quality than the Cruise Lines
The people at Shore Excursions Group are extremely focused on delivering excellent experiences. In contrast to the cruise line tours that routinely travel with more than 50 people per tour, our average tour size is only 12 people, offering a far more personalized and enjoyable experience.
Money Back Guarantee
To the extent you are not satisfied with your excursions, they will provide a full refund.
Do they offer a "lowest price guarantee"?
YES. They guarantee that their prices are the lowest you can find. If you find a lower price for a tour they offer, they will match it.
24/7 Support for Travelers
They are available any time from any place in the world via their toll free number to support you in the unlikely event you encounter any difficulties.
Guaranteed Return to Ship
In the extremely unlikely event that you miss your ship due to the late arrival of one of their tours, they will arrange and pay for your accommodations, meals, and transportation to the next port of call, and they will pay you an additional $500 per customer for the inconvenience.
Easy to Find Excursions
They provide you detailed information on how to easily find our local representative including where they will be standing, what they will be wearing, what sign they will be holding, their local telephone number and our 24/7 emergency hotline.
*Information was accurate at time of publication, was provided by Shore Excursions Group and may be subject to change. Visit Shore Excursions Group web site for more up-to-date information about the company, their offers and services.
---
© 2016 Alaska Cruises Direct - A Travel Direct Company
ALL RIGHTS RESERVED - Fla. Seller of Travel Reg. No. ST-31254
Need Help Planning? Call 800.365.1445 |
Life's a trip ~ Enjoy it!
Alaska Cruise Shore Excursions
Which tour is right for you? Find out here.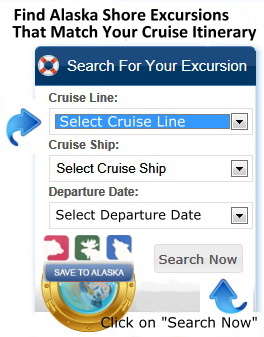 Why do they have some of the best shore excursions?
While other companies sell cruises and other forms of travel, they focus exclusively on shore excursions. They utilize this expertise to select the highest quality shore excursions delivered by local experts in the most cost effective manner for our customers. Since they are not a large cruise line catering to thousands of customers per day, their shore excursions allow you to travel in much smaller groups offering a more personalized experience. In fact, for groups of 4 or more, they can usually arrange a private shore excursion for less than the cost of a large cruise line tour. They also offer a large number of unique cruise excursions that cannot be purchased from the cruise line.
We encourage you to spend time on their site looking through the wide variety of shore excursions and to call them for personal advice. To help you navigate they web site, you can view shore excursions based on Excursion Size as well as Excursion Type... Ready?
Cruise Excursion Sizes:
Private Shore Excursions allow you to travel with your party alone and, in many cases, to fully customize your tour. For groups of 4 or more, we can usually arrange a private shore excursion for less than the cost of a large cruise line tour.
Small Group Shore Excursions generally range in size from 2-20 people, providing a more personalized experience than the large excursions offered by the cruise lines.
Standard Shore Excursions typically range from 20-50 people. These tours are similar in size to those of the cruise lines. While these shore excursions are larger in size, our focus on quality remains extremely high.
Cruise Excursion Types:

Scenic Shore Excursions provide up close and personal access to some of the most spectacular natural environments on Earth.
Cultural Shore Excursions allow you to experience the customs, heritage, and local flavor of the destinations.
Active Shore Excursions offer a multitude of exciting and adventurous experiences.
Water/Beach Shore Excursions provide unique ways to enjoy the ocean, beach, and sea life.
Cuisine Shore Excursions allow you to sample the local culinary delights.