Alaska Cruise Travel Articles presented by Cruise Traveler Magazine
Read about the glaciers, wildlife, frontier towns, and towering peaks
Princess: Exclusive Call-In Special Offers! 800.365.1445

Exceptional Value, Remarkable Offers.
You may be eligible for one or more "unpublished" rates. As an example: Onboard Spending Credits, Cash Back, Cabin Upgrades, 2 for 1 Fares, Low Solo Fares, Kids Sail Free or at Reduced Rates, Lower Deposits, Reduced Airfare, Senior Rates, Military Discounts, Mini- Group Rates, or Past Guest Deals not shown online. Not all cruise lines offer one or more of these Bonus Extras*, so when it comes to savings, get the latest up-to-the-moment special offers, discount prices, current fares, savings and cabin availability, just call us at 800.365.1445.
We offer some of the best cruise and cruise tour itineraries and affordable prices, plus several may include one or more of the following Alaska Cruises Direct Bonus Extras:* Cheap Alaska Vacation Packages & Deals.

---

Glaciers, Whales, Wonders & Wildlife
....dream. see. inspire. create memories
---
Alaska Cruise Travel Articles
Let Alaska Cruises Direct be your guide to some of the most exciting Alaska cruise vacation destinations in the world. Prepare for your next journey by reading these Alaska cruise travel articles and learn about some of the highlights that span across our diverse ALASKA cruise itineraries. Learn about the places in ALASKA you've always dreamed of visiting, along with new ports and exciting things to do you'll want to add to your "Must See - Must Do" list.
CRUISE TRAVELER MAGAZINE
Featured Destination
ALASKA: So incredibly beautiful, you'll think you stepped into a painting. This is Alaska for 2016 as seen from the panoramic perspective of your dazzling Princess cruise ship. Monumental glaciers are natures draw and Alaska's waterways reveal more of these thrilling Ice Age giants than anywhere else on earth. Alaska's Inside Passage is one of the most scenic sea-lanes in the world, home to bald eagles, whales, sea lions, otters, brown bears, mountain goats and flocks of seabirds. Plus you'll visit a variety of flavorful ports of call full of rich history and native culture. Explore more of Alaska by both sea and land in one seamless vacation, plan an authentic vacation that goes beyond the expected. Think wild, and search for bear, moose and caribou in Denali. Feel a part of Alaska's individualist lifestyle as you visit port communities of Juneau, Ketchikan Skagway, Icy Strait Point, Sitka or Haines. Or join in Fairbanks' Midnight Sun events during summer solstice. In Alaska, our Cruise Tours give you hundreds of unique moments to capture, keep and treasure forever.
---

Alaska Cruise Articles
Cruise to Alaska's "First City" Ketchikan
Fresh mountain air and quaint natural beauty pervades Skagway, Alaska
Be charmed by the wonders of Victoria, British Columbia
Anchorage, Alaska, offers something for everyone
Strike gold in Skagway, Alaska
Denali National Park offers guests beautiful natural scenery
Cruise to the rugged side of Alaska at Icy Strait Point
See the most of Fairbanks on Alaska cruisetours
Adventure, history awaits in Sitka, Alaska
General Interest Cruise Articles
---
See the most of Fairbanks on Alaska Cruise Tours
Fairbanks, Alaska

Located in the Tanana Valley, Fairbanks was once a hotspot for the 20th century gold rush and is today the hub of Alaska's interior. Nicknamed the "Golden Heart City," Fairbanks exudes a light and quaint air, as many of the locals welcome visitors with warmth and hospitality. During the summer, the sun barely descends below the horizon, and this vibrant city is more than just a gateway for Alaska shore excursions to Denali National Park - it is the heart of The Last Frontier.
Fly to the Arctic Circle
Just north of Fairbanks is the White Mountains National Recreation Area, which boasts a wild river and hundreds of miles of hiking trails. This remarkably remote region covers more than 1 million acres and offers a peaceful and quiet getaway for passengers on Alaska cruises. During the summer, visitors to the White Mountains can participate in gold panning activities or short fishing trips.
Lucky cruisers with Princess, however, can book an unforgettable aerial journey over one of the most beautiful mountain regions in North America. The snowcapped peaks of the Rocky Mountains are a hiker's ultimate challenge. Passengers who bring along a pair of binoculars should scope out the mountainside for these brave athletes.
While careening over the majestic landscape, visitors will tour the expansive Yukon River Valley and the Brooks Mountain Range, which is the northernmost and tallest section of the Rockies.
Cruise along the Chena and Tanana rivers
Passengers booking Alaska cruisetours have the chance to board the only remaining Alaskan sternwheeler, which smoothly makes its way down the waterways of the Chena River State Recreation area. This classic steamboat-like boat takes visitors through the protected wildlife reserve, so passengers should have their cameras poised and ready to capture the grizzly bears and beavers that frequent the shoreline.
During this three-hour cruise, tour guides will talk about the rich history of the region, from its illustrious gold past to the exciting Iditaroddog sled race. Princess passengers will be taken to the home of the late four-time Iditarod champion, Susan Butcher, a lifelong Fairbanks resident who epitomizes the nature-loving people of this beautiful city.
Just a few minutes further down the river, visitors can take a tour of the Old Chena Indian village, which features traditional huts and cabins. Passengers will have plenty of time to take photos and wander through the historic village.

Adventure, history awaits in Sitka, Alaska
Sitka, Alaska
The Last Frontier offers Alaskan cruise passengers a number of opportunities to witness incredible wildlife and giant glaciers. Those lucky enough to embark on this unforgettable journey may want to stop in Sitka, which stands as one of the most eccentric and historical towns on the cruise tour.
Rooted in Russian tradition, Sitka was founded in 1799 by explorer Alexander Baranof and features several museums and buildings that pay homage to the city's heritage. St. Michael's Russian Orthodox Cathedral is an impeccable representation of traditional architecture. Built in 1848, the structure contains an extensive collection of orthodox artifacts including manuscripts and correspondence between Russian bishops and pastors. Buildings throughout the city are protected by the National Park Service.
This picturesque city sits just opposite the snow-capped Mount Edgecumbe and provides numerous opportunities to see Alaskan wildlife. Whale Park is a seaside picnic area with many boardwalks perfect for a pleasant afternoon stroll. Cruise passengers should come prepared with a pair of binoculars while they walk along these oceanside promenades in order to catch a glimpse of breaching humpback whales who migrate to these waters during the summer.
Alaska national parks, such as the Sitka Historical Park, are great places for cruise passengers to experience Native American culture. As the oldest national park in the state, this area features amazing coastal trails and massive spruce trees along with totem poles dating back more than 100 years. Located on the western coast of Baranof Island, the nature reserve is home to unique flora and fauna, including a variety of birds and fish. During the spring, bald eagles can be seen with the naked eye on a daily basis.
The world's largest temperate rainforest is located just outside of Sitka. Tongass Rainforest is a remote wilderness, and passengers disembarking for an Alaska shore excursion may want to spend a few hours exploring this dense natural world. Beginning at the Starrigavan Muskeg Trail, hikers will enjoy a gentle climb while learning about the Alaska yellow cedar, lodgepole pine and hemlock trees that line the trails. Starrigavan Creek boasts hundreds of thousands of spawning salmon in the late summer and early fall. Continuing along the trail, visitors will share breathtaking views of the mountains before descending back through the lower-altitude fern plants. Whether travelers want to experience a different side of Russian culture or see more of Alaska's gorgeous scenery, Sitka is a wonderful place to explore
---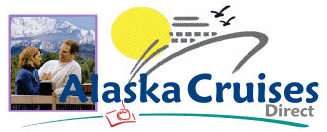 800.365.1445

---
Experience Alaska
.....With Exciting Excursions
SAVE up to 50% off cruise line prices!
Avoid paying highly inflated prices for shore excursions in Alaska.
From landing on a glacier and panning for gold to riding a dog sled or bear-watching on a pristine river, Alaska offers a rich variety of exciting, authentic OPTIONAL Alaska experiences in every port or land destination.
---

---
"Awaken your love of the great outdoors when you experience the boundless splendor of the Alaska wilderness on board a cruise ship. Alaska: Mother Nature's piece de resistance. It is, quite simply, the world in its purest form. Imagine vast glacial fields juxtaposed against immense evergreen forests, infinite fields of wildflowers, and heady rushing waterfalls. Nowhere on earth is as diverse as The Last Frontier as seen in the summertime. Oh, and do not forget to pack your sun block. Summer temperatures in Alaska are mild and the days last well into the night."
---
Adventures in Alaska Videos
Glacier Bay and Denali National Park. Alaska's Top 2 Attractions. Watch the video to learn why they are so popular.
Learn all about Princess Cruises exciting Alaska Cruise Vacation options, by watching this preview video of our sensational cruise options, in-depth Land & Sea Cruise Vacations and exciting new on board programs including North To Alaska! and Discovery At Sea.
View Our 2017 Alaska Cruises & Land + Sea Vacations Video
Video courtesy of Princess Cruises



Looking for an Alaska Cruise or Alaskan Land + Sea Vacations. Call us now at 800.365.1445 to learn how much Savings and what Bonus Extras are available for your chosen sailing date!