Alaska Cruise Travel Articles presented by Cruise Traveler Magazine
Read about the glaciers, wildlife, frontier towns, and towering peaks
Princess: Exclusive Call-In Special Offers! 800.365.1445

Exceptional Value, Remarkable Offers.
You may be eligible for one or more "unpublished" rates. As an example: Onboard Spending Credits, Cash Back, Cabin Upgrades, 2 for 1 Fares, Low Solo Fares, Kids Sail Free or at Reduced Rates, Lower Deposits, Reduced Airfare, Senior Rates, Military Discounts, Mini- Group Rates, or Past Guest Deals not shown online. Not all cruise lines offer one or more of these Bonus Extras*, so when it comes to savings, get the latest up-to-the-moment special offers, discount prices, current fares, savings and cabin availability, just call us at 800.365.1445.
We offer some of the best cruise and cruise tour itineraries and affordable prices, plus several may include one or more of the following Alaska Cruises Direct Bonus Extras:* Cheap Alaska Vacation Packages & Deals.

---

Glaciers, Whales, Wonders & Wildlife
....dream. see. inspire. create memories
---
Alaska Cruise Travel Articles
Let Alaska Cruises Direct be your guide to some of the most exciting Alaska cruise vacation destinations in the world. Prepare for your next journey by reading these Alaska cruise travel articles and learn about some of the highlights that span across our diverse ALASKA cruise itineraries. Learn about the places in ALASKA you've always dreamed of visiting, along with new ports and exciting things to do you'll want to add to your "Must See - Must Do" list.
CRUISE TRAVELER MAGAZINE
Featured Destination
ALASKA: So incredibly beautiful, you'll think you stepped into a painting. This is Alaska for 2016 as seen from the panoramic perspective of your dazzling Princess cruise ship. Monumental glaciers are natures draw and Alaska's waterways reveal more of these thrilling Ice Age giants than anywhere else on earth. Alaska's Inside Passage is one of the most scenic sea-lanes in the world, home to bald eagles, whales, sea lions, otters, brown bears, mountain goats and flocks of seabirds. Plus you'll visit a variety of flavorful ports of call full of rich history and native culture. Explore more of Alaska by both sea and land in one seamless vacation, plan an authentic vacation that goes beyond the expected. Think wild, and search for bear, moose and caribou in Denali. Feel a part of Alaska's individualist lifestyle as you visit port communities of Juneau, Ketchikan Skagway, Icy Strait Point, Sitka or Haines. Or join in Fairbanks' Midnight Sun events during summer solstice. In Alaska, our Cruise Tours give you hundreds of unique moments to capture, keep and treasure forever.
---

Alaska Cruise Articles
Cruise to Alaska's "First City" Ketchikan
Fresh mountain air and quaint natural beauty pervades Skagway, Alaska
Be charmed by the wonders of Victoria, British Columbia
Anchorage, Alaska, offers something for everyone
Strike gold in Skagway, Alaska
Denali National Park offers guests beautiful natural scenery
Cruise to the rugged side of Alaska at Icy Strait Point
See the most of Fairbanks on Alaska cruisetours
Adventure, history awaits in Sitka, Alaska
General Interest Cruise Articles
---
Cruise to Alaska's "First City" Ketchikan
Ketchikan, Alaska

Alaska cruises with Princess are on the rise and passengers lucky enough to reach Ketchikan will have a truly wild experience. This quirky town boasts a fascinating history waiting to be discovered, from acrobatic lumberjack shows to Native American totem poles. Between the Pacific Ocean and the Rocky Mountains, this geographical hot spot is a perfect place for serene photography and spectacular views of icy cold waterfalls and glassy lakes.

Beginning at Creek Street, visitors can peruse through the tiny Red Light District that was once the bustling center of the Gold Rush. This boardwalk along with most of Ketchikan was built over the water because the rocky hills surrounding the rushing creek were deemed too difficult to level. During the prohibition era of the 1920s, Canadian whiskey was a hot commodity along the strip and bootleggers would wait for the high tide to deliver their goods beneath homes with hidden doors leading straight to the water.

Before prohibition and western colonization, however, Ketchikan was home to the Tlingit and Haida Indians. At Totem Bight State Park, visitors can see 14 totem poles against the backdrop of the beautiful waterfront. These towering wooden carvings tell stories of Indian chiefs who ruled their tribes. Tourists are invited to walk through the beautiful gardens and step into the clan house that once sheltered 30-50 people at a time.

At the Misty Fjords National Monument, amateur wildlife photographers on a cruise with Princess will be treated to a scenic tour between cliffs that climb to 3,000 feet and feature majestic waterfalls that cascade into the salty waters below. Often shrouded by a tranquil mist, the fjords provide views into seemingly endless expanses of evergreens - and on a clear day, its lakes reflect the blue skies perfectly. While weaving through the glacier-formed fjords, photographers should keep their eyes peeled for sea lions, killer whales and porpoises as well as terrestrial beasts such as mountain goats and black bears. With a pair of binoculars, passengers may be able to catch a glimpse of pictographs painted on the New Eddystone Rock and Punchbowl Cove.

After a long day of exploring the Alaskan wilderness, hungry travelers can feast at the all-you-can-eat crab dinner at the George Inlet Lodge. Cruise passengers can stuff themselves with smoked salmon and Dungeness crab while washing it down with amber beer and white wine.

Fresh mountain air and quaint natural beauty pervades Skagway, Alaska

Now that the summer has brought warm weather to the Northern hemisphere, many American travelers have decided to explore the country's largest state – Alaska. While touring the Last Frontier can allow travelers to discover a number of wondrous sights, vacationers can see more of the area by booking Alaska cruises. Among the myriad sites to explore, vacationers should make sure that their itinerary includes a stop in the beautiful borough of Skagway.

Located on the Alaskan Panhandle, Skagway was originally considered a city before being incorporated as a borough in 2007. The town first sprung up in the late 1800s at the height of the Yukon Gold Rush and has since become the hub of tourism in the region thanks to its lush mountain scenery and numerous historical attractions.

One of the best ways to explore the region aboard a scenic steam train, and Skagway lies on the White Pass and Yukon Route railroad. A holdover from the prospector days, the train line was originally used to haul away gold ore but now serves as a 41-mile tour for travelers looking to explore the area's hills and mountains during the summer months.

Mountains pervade the area, but the one that interests most travelers visiting Skagway on an Alaska cruises is the Klondike Summit. Also known as the White Pass Summit, this peak stands 3,292 feet above sea level, and the path that leads to is offers stunning views of towering waterfalls, postcard-quality vistas and excellent glimpses of the original Dead Horse Trail and Tormented Valley.

Nature lovers will want to head out of town to check out the beautiful neighboring borough of Haines, which boasts a wealth of natural beauty and a thriving animal population. Though the area is home to a number of majestic species, it is perhaps best known for its bald eagle population. Haines has the largest concentration of bald eagles in the world, and travelers can see these rare creatures at the Alaska Chilkat Bald Eagle Preserve.

It's easy to catch up on the cultural heritage of Skagway at the Red Onion Saloon. A popular bordello during the Klondike Gold Rush, the saloon has since softened its image and is now a lively bar/restaurant and a National Historic Building.

Alaska is also a natural destination for outdoor adventures. While the winter is ideal for skiing and dog sledding, the summer opens opportunities for hiking, nature watching, ziplining, flightseeing and more.
---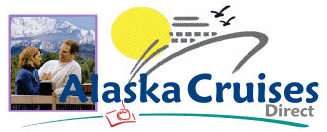 800.365.1445

---
Experience Alaska
.....With Exciting Excursions
SAVE up to 50% off cruise line prices!
Avoid paying highly inflated prices for shore excursions in Alaska.
From landing on a glacier and panning for gold to riding a dog sled or bear-watching on a pristine river, Alaska offers a rich variety of exciting, authentic OPTIONAL Alaska experiences in every port or land destination.
---

---
"Awaken your love of the great outdoors when you experience the boundless splendor of the Alaska wilderness on board a cruise ship. Alaska: Mother Nature's piece de resistance. It is, quite simply, the world in its purest form. Imagine vast glacial fields juxtaposed against immense evergreen forests, infinite fields of wildflowers, and heady rushing waterfalls. Nowhere on earth is as diverse as The Last Frontier as seen in the summertime. Oh, and do not forget to pack your sun block. Summer temperatures in Alaska are mild and the days last well into the night."
---
Adventures in Alaska Videos
Glacier Bay and Denali National Park. Alaska's Top 2 Attractions. Watch the video to learn why they are so popular.
Learn all about Princess Cruises exciting Alaska Cruise Vacation options, by watching this preview video of our sensational cruise options, in-depth Land & Sea Cruise Vacations and exciting new on board programs including North To Alaska! and Discovery At Sea.
View Our 2017 Alaska Cruises & Land + Sea Vacations Video
Video courtesy of Princess Cruises



Looking for an Alaska Cruise or Alaskan Land + Sea Vacations. Call us now at 800.365.1445 to learn how much Savings and what Bonus Extras are available for your chosen sailing date!