Alaska Cruise Travel Articles presented by Cruise Traveler Magazine
Read about the glaciers, wildlife, frontier towns, and towering peaks
Princess: Exclusive Call-In Special Offers! 800.365.1445

Exceptional Value, Remarkable Offers.
You may be eligible for one or more "unpublished" rates. As an example: Onboard Spending Credits, Cash Back, Cabin Upgrades, 2 for 1 Fares, Low Solo Fares, Kids Sail Free or at Reduced Rates, Lower Deposits, Reduced Airfare, Senior Rates, Military Discounts, Mini- Group Rates, or Past Guest Deals not shown online. Not all cruise lines offer one or more of these Bonus Extras*, so when it comes to savings, get the latest up-to-the-moment special offers, discount prices, current fares, savings and cabin availability, just call us at 800.365.1445.
We offer some of the best cruise and cruise tour itineraries and affordable prices, plus several may include one or more of the following Alaska Cruises Direct Bonus Extras:* Cheap Alaska Vacation Packages & Deals.

---

Glaciers, Whales, Wonders & Wildlife
....dream. see. inspire. create memories
---
Alaska Cruise Travel Articles
Let Alaska Cruises Direct be your guide to some of the most exciting Alaska cruise vacation destinations in the world. Prepare for your next journey by reading these Alaska cruise travel articles and learn about some of the highlights that span across our diverse ALASKA cruise itineraries. Learn about the places in ALASKA you've always dreamed of visiting, along with new ports and exciting things to do you'll want to add to your "Must See - Must Do" list.
CRUISE TRAVELER MAGAZINE
Featured Destination
ALASKA: So incredibly beautiful, you'll think you stepped into a painting. This is Alaska for 2016 as seen from the panoramic perspective of your dazzling Princess cruise ship. Monumental glaciers are natures draw and Alaska's waterways reveal more of these thrilling Ice Age giants than anywhere else on earth. Alaska's Inside Passage is one of the most scenic sea-lanes in the world, home to bald eagles, whales, sea lions, otters, brown bears, mountain goats and flocks of seabirds. Plus you'll visit a variety of flavorful ports of call full of rich history and native culture. Explore more of Alaska by both sea and land in one seamless vacation, plan an authentic vacation that goes beyond the expected. Think wild, and search for bear, moose and caribou in Denali. Feel a part of Alaska's individualist lifestyle as you visit port communities of Juneau, Ketchikan Skagway, Icy Strait Point, Sitka or Haines. Or join in Fairbanks' Midnight Sun events during summer solstice. In Alaska, our Cruise Tours give you hundreds of unique moments to capture, keep and treasure forever.
---

Alaska Cruise Articles
Cruise to Alaska's "First City" Ketchikan
Fresh mountain air and quaint natural beauty pervades Skagway, Alaska
Be charmed by the wonders of Victoria, British Columbia
Anchorage, Alaska, offers something for everyone
Strike gold in Skagway, Alaska
Denali National Park offers guests beautiful natural scenery
Cruise to the rugged side of Alaska at Icy Strait Point
See the most of Fairbanks on Alaska cruisetours
Adventure, history awaits in Sitka, Alaska
General Interest Cruise Articles
---

Lumberjacks and totem poles in Ketchikan, Alaska

An Alaskan cruise is all about exploration, and travelers who are lucky enough to stop off in Ketchikan, Alaska, will have a chance to catch a unique glimpse into a variety of alternate cultures.
A trip to Totem Bight Park is in order for any traveler interested in learning about the history of the native people who called this area home. Visitors will learn all about the Tlingit and Haida cultures as they view beautiful and intricately-carved totem poles. The poles aren't the only sight to see here, however, as the park also offers guests an opportunity to view a native dance and explore replicas of clan houses.
Travelers might get a culture shock of a different kind when they visit the Great Alaskan Lumberjack Show. Named one of the "Top 10 Things to do in Alaska" by the Travel Channel, these talented athletes put on multiple shows per day that display their unique skills and talents. Lumberjacks compete in activities like log rolling, axe throwing, chopping and even climbing a 50-foot tree. All the while, travelers will be regaled with stories of actual lumberjacks and learn more about the culture that surrounds this profession.
Perhaps the best part about Ketchikan is that travelers don't have to choose between these two cultures - they're conveniently packaged together for those interested in both.

Strike gold in Skagway, Alaska

Looking for a golden addition to your Alaskan cruise? Than be sure to disembark in Skagway - a charming town that transports visitors back to the days of the Yukon gold rush.
Travelers who visit Skagway will certainly be getting a unique experience. Frommer's claims that Skagway "may be the best-preserved gold-rush town in the United States." And the famous guide may just be right.
That's because the National Park Service has taken special care to ensure that Skagway remains around for all to enjoy. The government agency has bought 15 of the town's historic buildings and restored them so that they appear as they did during the height of the gold rush. Travelers can head down the "Broadway" area to see a visual representation of what life was like for budding prospectors way back when.
Of course, travelers on a cruise have a few special opportunities as well. Kids might enjoy learning how to pan for gold or visiting the nearby gold fields. Or perhaps the entire family would like to try out a real dogsled ride.
There are also shore excursions to the nearby Klondike Summit, as well as expeditions out into the Yukon to see what real gold seekers faced when they came here all those years ago.

---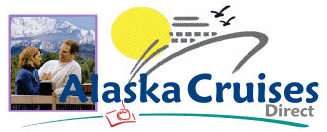 800.365.1445

---
Experience Alaska
.....With Exciting Excursions
SAVE up to 50% off cruise line prices!
Avoid paying highly inflated prices for shore excursions in Alaska.
From landing on a glacier and panning for gold to riding a dog sled or bear-watching on a pristine river, Alaska offers a rich variety of exciting, authentic OPTIONAL Alaska experiences in every port or land destination.
---

---
"Awaken your love of the great outdoors when you experience the boundless splendor of the Alaska wilderness on board a cruise ship. Alaska: Mother Nature's piece de resistance. It is, quite simply, the world in its purest form. Imagine vast glacial fields juxtaposed against immense evergreen forests, infinite fields of wildflowers, and heady rushing waterfalls. Nowhere on earth is as diverse as The Last Frontier as seen in the summertime. Oh, and do not forget to pack your sun block. Summer temperatures in Alaska are mild and the days last well into the night."
---
Adventures in Alaska Videos
Glacier Bay and Denali National Park. Alaska's Top 2 Attractions. Watch the video to learn why they are so popular.
Learn all about Princess Cruises exciting Alaska Cruise Vacation options, by watching this preview video of our sensational cruise options, in-depth Land & Sea Cruise Vacations and exciting new on board programs including North To Alaska! and Discovery At Sea.
View Our 2017 Alaska Cruises & Land + Sea Vacations Video
Video courtesy of Princess Cruises



Looking for an Alaska Cruise or Alaskan Land + Sea Vacations. Call us now at 800.365.1445 to learn how much Savings and what Bonus Extras are available for your chosen sailing date!