Alaska Cruise Travel Articles presented by Cruise Traveler Magazine
Read about the glaciers, wildlife, frontier towns, and towering peaks
Princess: Exclusive Call-In Special Offers! 800.365.1445

Exceptional Value, Remarkable Offers.
You may be eligible for one or more "unpublished" rates. As an example: Onboard Spending Credits, Cash Back, Cabin Upgrades, 2 for 1 Fares, Low Solo Fares, Kids Sail Free or at Reduced Rates, Lower Deposits, Reduced Airfare, Senior Rates, Military Discounts, Mini- Group Rates, or Past Guest Deals not shown online. Not all cruise lines offer one or more of these Bonus Extras*, so when it comes to savings, get the latest up-to-the-moment special offers, discount prices, current fares, savings and cabin availability, just call us at 800.365.1445.
We offer some of the best cruise and cruise tour itineraries and affordable prices, plus several may include one or more of the following Alaska Cruises Direct Bonus Extras:* Cheap Alaska Vacation Packages & Deals.

---

Glaciers, Whales, Wonders & Wildlife
....dream. see. inspire. create memories
---
Alaska Cruise Travel Articles
Let Alaska Cruises Direct be your guide to some of the most exciting Alaska cruise vacation destinations in the world. Prepare for your next journey by reading these Alaska cruise travel articles and learn about some of the highlights that span across our diverse ALASKA cruise itineraries. Learn about the places in ALASKA you've always dreamed of visiting, along with new ports and exciting things to do you'll want to add to your "Must See - Must Do" list.
CRUISE TRAVELER MAGAZINE
Featured Destination
ALASKA: So incredibly beautiful, you'll think you stepped into a painting. This is Alaska for 2016 as seen from the panoramic perspective of your dazzling Princess cruise ship. Monumental glaciers are natures draw and Alaska's waterways reveal more of these thrilling Ice Age giants than anywhere else on earth. Alaska's Inside Passage is one of the most scenic sea-lanes in the world, home to bald eagles, whales, sea lions, otters, brown bears, mountain goats and flocks of seabirds. Plus you'll visit a variety of flavorful ports of call full of rich history and native culture. Explore more of Alaska by both sea and land in one seamless vacation, plan an authentic vacation that goes beyond the expected. Think wild, and search for bear, moose and caribou in Denali. Feel a part of Alaska's individualist lifestyle as you visit port communities of Juneau, Ketchikan Skagway, Icy Strait Point, Sitka or Haines. Or join in Fairbanks' Midnight Sun events during summer solstice. In Alaska, our Cruise Tours give you hundreds of unique moments to capture, keep and treasure forever.
---

Alaska Cruise Articles
Cruise to Alaska's "First City" Ketchikan
Fresh mountain air and quaint natural beauty pervades Skagway, Alaska
Be charmed by the wonders of Victoria, British Columbia
Anchorage, Alaska, offers something for everyone
Strike gold in Skagway, Alaska
Denali National Park offers guests beautiful natural scenery
Cruise to the rugged side of Alaska at Icy Strait Point
See the most of Fairbanks on Alaska cruisetours
Adventure, history awaits in Sitka, Alaska
General Interest Cruise Articles
---


The value of pre- and post-cruise vacation stays

Cruise passengers often wake up at the crack of dawn in order to catch flights to their ship's port. After arriving, many cruisers find themselves exhausted, and the first day of the cruise is often overshadowed with trying to catch up on rest. Disembarking starts the whole process over again with an early morning wake-up call along with the subsequent rush to the airport to catch flights home.
Regrettably, many cruise travelers are so focused on booking their cruise they often don't give thought to adding a few days to enjoy the city of embarkation and/or disembarkation. For those sailing on an Alaskan cruise vacation or starting off on a European cruise, it's a shame to fly all that way and not savor some of the world's most exciting places. Thankfully there is a better way to enjoy your cruise vacation and it's called pre-and post-cruise stays.
Pre- and post-cruise vacation stays
Most cruise lines offer convenient one, two or three-night pre- or post-cruise hotel packages in which the hotel, roundtrip airport and pier transfers are included. You can also consider alternative packages at other hotels than those offered by the cruise lines.
A day in port, and often a different port each day, defines the majority of cruise itineraries. But many of the world's most amazing places are a bit too far from port to explore in a matter of hours. In these destinations, extended port stays and multi-day shore adventures, even the option of leaving the cruise ship in one port and re-embarking in another, add an unforgettable new dimension to many cruises.
Extended port stays - sometimes 18 hours, more often two full days - showcase some of the most exciting, culture-rich and unique cities on earth. The extraordinary history and culture of Istanbul in Turkey, the unique glamor and style of Rome, the fun and beauty of Sydney, the pomp and charm of London: these are among the many world capitals and great cities where passengers can spend time before or after their cruise. A European cruise vacation can turn out to be the perfect way to explore several iconic countries in a short amount of time.
Other examples include striking Asian cruise destinations, like Hong Kong and Singapore. A number of itineraries feature cities with exceptional nightlife, from San Juan to Puerto Rico to Buenos Aires. A South America cruise might be just what you need to explore all this region of the world has to offer. By booking this type of vacation, you can give yourself multiple opportunities to explore other cultures.
Extended stays are a particularly popular feature on Alaska cruise sailings. Most cruise lines offer a variety of extended cruise-tour package options which take passengers deeper into Alaska via train and include land stays at lodges. Highlights range from hiking and sightseeing in Denali National Park to "flightseeing" across the massive Yanert Glacier via helicopter. An Alaska cruise vacation can give you the opportunity to explore a whole new territory of the U.S. that you have never visited before.
Just think of the true value of being able to decompress before or after your cruise. Pre- and post-cruise stays allow the stress to melt away, which can only enhance the overall cruise vacation experience. Whether you're going on a Mexican cruise or sailing to the Far East, planning ahead can help you get the most out of your vacation. In the end, you'll be glad you took the time to do so!

Cruising in the morning, afternoon, evening: A day in the life
Cruise Tips and Information

Each day brings a new adventure on a cruise vacation, whether setting sail on a New Zealand cruise or heading to Alaska for a salmon fishing excursion. Passengers can live out their getaway with a leisurely schedule or, if they want to squeeze every bit of sightseeing into their itinerary, a cruise travel advisor can help create a calendar from the first to the last day at sea.
From breakfast buffets and shore excursions to cocktail parties and casino nights, cruises offer the entire gamut of getaway activities so you'll never have a moment of boredom.
Wake up, get out of bed
Moments after a cruise passenger brushes their teeth in the morning, their day begins with numerous possibilities.
If cruisers tend to work out in the morning, they can slip on their sneakers and running shorts to take a quick jog around the top deck well before dawn to beat the crowds. The Lotus Fitness center lets more sensitive athletes get some joint-easy weight training or elliptical time. Many classes are available in the morning, including yoga, so passengers can wake up naturally while breathing deeply and stretching out their body. After taking a shower or indulging in a spa treatment, the morning continues with a satiating breakfast.
At The Piazza food court, travelers can eat their fill of French breakfast pastries like croissants before getting their caffeine buzz with a cup of espresso or coffee. Healthy eaters can also stack their plates with fresh fruits and protein-rich egg white omelettes made fresh to order.
Disembark for a day of exploration
One of the best things about a cruise vacation is waking up in an entirely new country. Passengers can choose to stay on board to enjoy the many amenities on the ship or spend the entire day exploring the port on their own. What's more, travelers have dozens of shore excursion options that range from leisure sightseeing to heart-pumping sports.
For example, before leaving a Mediterranean cruise ship for a day of sightseeing and shopping, passengers will be briefed by staff members who know the best spots in port. Upon stepping ashore, honorary explorers may have already booked a guided tour excursion so they can spend more time taking photos and absorbing the sights instead of arranging transportation or simply figuring out where to go.
Once off the ship, passengers are given full liberty to hop on a cab and paint the town red with family and friends. In addition to touring trips, Princess Cruises also provides one-of-a-kind experiences like helicopter tours over Alaska's mountain ranges or wine tours in France.
Wind down with dining and evening entertainment
After spending all day out in the sun, there's no better way to end yet another day of vacation than with a gourmet meal onboard and an evening of merriment at the casino. Families can take advantage of youth-friendly activities that range from poolside movies to kids-only sleepover parties - complete with bottomless popcorn. Why not wine and dine like a sophisticated European during a French cruise or enjoy a Singapore Sling cocktail as you cruise to Asia?
Travelers can drop off their newly purchased souvenirs in their cabins, take a shower and jazz up their outfits before taking the elevator up to the top decks where restaurants, gaming rooms and a romantic sunset awaits.

---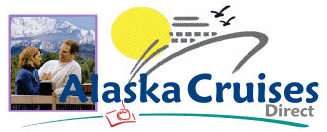 800.365.1445

---
Experience Alaska
.....With Exciting Excursions
SAVE up to 50% off cruise line prices!
Avoid paying highly inflated prices for shore excursions in Alaska.
From landing on a glacier and panning for gold to riding a dog sled or bear-watching on a pristine river, Alaska offers a rich variety of exciting, authentic OPTIONAL Alaska experiences in every port or land destination.
---

---
"Awaken your love of the great outdoors when you experience the boundless splendor of the Alaska wilderness on board a cruise ship. Alaska: Mother Nature's piece de resistance. It is, quite simply, the world in its purest form. Imagine vast glacial fields juxtaposed against immense evergreen forests, infinite fields of wildflowers, and heady rushing waterfalls. Nowhere on earth is as diverse as The Last Frontier as seen in the summertime. Oh, and do not forget to pack your sun block. Summer temperatures in Alaska are mild and the days last well into the night."
---
Adventures in Alaska Videos
Glacier Bay and Denali National Park. Alaska's Top 2 Attractions. Watch the video to learn why they are so popular.
Learn all about Princess Cruises exciting Alaska Cruise Vacation options, by watching this preview video of our sensational cruise options, in-depth Land & Sea Cruise Vacations and exciting new on board programs including North To Alaska! and Discovery At Sea.
View Our 2017 Alaska Cruises & Land + Sea Vacations Video
Video courtesy of Princess Cruises



Looking for an Alaska Cruise or Alaskan Land + Sea Vacations. Call us now at 800.365.1445 to learn how much Savings and what Bonus Extras are available for your chosen sailing date!