Alaska Cruise Travel Articles presented by Cruise Traveler Magazine
Read about the glaciers, wildlife, frontier towns, and towering peaks
Princess: Exclusive Call-In Special Offers! 800.365.1445

Exceptional Value, Remarkable Offers.
You may be eligible for one or more "unpublished" rates. As an example: Onboard Spending Credits, Cash Back, Cabin Upgrades, 2 for 1 Fares, Low Solo Fares, Kids Sail Free or at Reduced Rates, Lower Deposits, Reduced Airfare, Senior Rates, Military Discounts, Mini- Group Rates, or Past Guest Deals not shown online. Not all cruise lines offer one or more of these Bonus Extras*, so when it comes to savings, get the latest up-to-the-moment special offers, discount prices, current fares, savings and cabin availability, just call us at 800.365.1445.
We offer some of the best cruise and cruise tour itineraries and affordable prices, plus several may include one or more of the following Alaska Cruises Direct Bonus Extras:* Cheap Alaska Vacation Packages & Deals.

---

Glaciers, Whales, Wonders & Wildlife
....dream. see. inspire. create memories
---
Alaska Cruise Travel Articles
Let Alaska Cruises Direct be your guide to some of the most exciting Alaska cruise vacation destinations in the world. Prepare for your next journey by reading these Alaska cruise travel articles and learn about some of the highlights that span across our diverse ALASKA cruise itineraries. Learn about the places in ALASKA you've always dreamed of visiting, along with new ports and exciting things to do you'll want to add to your "Must See - Must Do" list.
CRUISE TRAVELER MAGAZINE
Featured Destination
ALASKA: So incredibly beautiful, you'll think you stepped into a painting. This is Alaska for 2016 as seen from the panoramic perspective of your dazzling Princess cruise ship. Monumental glaciers are natures draw and Alaska's waterways reveal more of these thrilling Ice Age giants than anywhere else on earth. Alaska's Inside Passage is one of the most scenic sea-lanes in the world, home to bald eagles, whales, sea lions, otters, brown bears, mountain goats and flocks of seabirds. Plus you'll visit a variety of flavorful ports of call full of rich history and native culture. Explore more of Alaska by both sea and land in one seamless vacation, plan an authentic vacation that goes beyond the expected. Think wild, and search for bear, moose and caribou in Denali. Feel a part of Alaska's individualist lifestyle as you visit port communities of Juneau, Ketchikan Skagway, Icy Strait Point, Sitka or Haines. Or join in Fairbanks' Midnight Sun events during summer solstice. In Alaska, our Cruise Tours give you hundreds of unique moments to capture, keep and treasure forever.
---

Alaska Cruise Articles
Cruise to Alaska's "First City" Ketchikan
Fresh mountain air and quaint natural beauty pervades Skagway, Alaska
Be charmed by the wonders of Victoria, British Columbia
Anchorage, Alaska, offers something for everyone
Strike gold in Skagway, Alaska
Denali National Park offers guests beautiful natural scenery
Cruise to the rugged side of Alaska at Icy Strait Point
See the most of Fairbanks on Alaska cruisetours
Adventure, history awaits in Sitka, Alaska
General Interest Cruise Articles
---

Cruising with the kids: Activities for the whole family
Kid cruises

Traveling with children sometimes poses challenges for parents trying to keep track of multiple pieces of luggage and plane tickets, but on a cruise, the stresses of vacation melt away the instant families step onboard. With countless activities fit for kids of all ages, Princess Cruises makes ocean holidays hassle-free and nothing short of unforgettable.
From outdoor water slides to kids-only zones, cruise ships cater to youthful travelers who have an appetite for fun.
Cruises are built for family memories
Ships cater to groups of travelers, especially families with young children. Cabins can sleep four or even more people at once, and even provide discounted rates for kids below a certain age. Cribs and toddler-sized beds are readily available, and passengers with teenaged children can reserve neighboring suites. Additionally, staterooms with private balconies are ideal for families with infants so that parents can enjoy a few peaceful moments outside while their little one takes a nap indoors.
Nearly every restaurant on Princess Cruises has a kid-friendly menu so that even the pickiest eaters can eat to their heart's content. From chicken nuggets to spaghetti and meatballs, kids can munch on their favorite foods before heading to zones built just for them.
Youth centers for the smallest tykes
The littlest kids can hang out with all of their new pals at the Princess Pelican youth center. Created specifically for youngsters between the ages of 3 and 7, this kid zone includes dance parties to the most popular hits, tie-dying parties and pajama movie nights. Even though families will end up going to some of the most famous art museums in the world during a European cruise, the paintings and crafts their little loved ones create onboard will be absolutely priceless.
For slightly older tots, Shockwaves is perfect for kids ages 8 to 12, featuring the latest video games, sports activities and tournaments, as well as "Edutainment" programs where they can learn about science in a fun and pressure-free environment.
Learning on vacation with Edutainment programs
Even outside of school, young passengers with Princess Cruises can participate in fun and informative science lessons during their seaside vacation. With the help of the California Science Center, educators host classes with chemistry and physics experiments like roller coaster building, as well as guided whale watching classes just for kids.
During a shore excursion on an Alaska cruise, preteens can sign up for the National Park Service Junior Ranger Program, during which youngsters can learn about the region's endangered species, glaciers and rugged mountain terrain.
Password protected: Teen-only lounges
Passengers in the prime of their teenagedom can escape from their parents for an afternoon and head over to a lounge catered to rockstar lifestyles. Along with dance parties to the latest pop tunes by Katy Perry, Miley Cyrus and Beyonce, these young adults can play grown-up with their siblings and close cruise friends as they compete in mocktail tournaments, casino-themed evenings and fabulous teen makeovers.
Girls and boys who want to get special training for their sweet dance moves can also enroll in a hip hop class so they can come back from vacation with the freshest style.
Prepare in advance
To ensure that kids have the most fun during their cruise vacation, parents should try to book the trip when school is out - during spring break or winter and summer holidays - so their tykes can hang out with as many new friends as possible. Additionally, mom and dad might want to check in with their children to see where they want to go, whether on a Caribbean cruise or all the way to New Zealand.

Cruising converts: Going sailing for the first time
Cruise Tips and Information
Pico Iyer, a contributor to Conde Nast Traveler, recently described his first experience on a cruise ship, which happened to be on the Emerald Princess, and concluded that voyages are one of the best ways to see the world.
"Here was a chance to wander freely (as I love to do), to see the sights (as my mother loves), and to stay in a comfortable floating hotel where, every day when we awoke, some new wonder was appearing right outside our window," wrote Iyer. "Though cruise-skeptical friends ask me how I can bear to be trapped on a ship with more than 3,000 people I'd otherwise never spend time with, I never feel trapped."
Thousands of travelers can safely call themselves converts after taking their first cruise vacation, and those who are hesitant about whether sailing vacations are right for them might be curious as to what the hoopla is all about. Here are a few things to ask before booking a cruise:
Where to go?
Seafaring vacations go all over the world, whether exploring the southern tip of the Land Down Under on an Australian cruise or heading to the northernmost point reachable by a passenger vessel in Norway. Before reserving a trip, future passengers should think about where they want to go and what they're looking for in a getaway.
When to go?
Although some cruises are available throughout the year, some travelers might want to consider seasonal differences when making their plans, taking into account whether they want to see fall foliage in New England or enjoy perpetual sunlight in the Caribbean. Additionally, budget travelers should keep in mind that discounts are available during off-peak seasons. Talking with a cruise agent is a great way to get advice and weigh the options between summer and winter packages.
What to do?
Even if potential cruisers are like Iyer, who has spent most of his travel time backpacking, Princess offers an array of onboard activities and shore excursions to ensure that passengers stay entertained. With evening entertainment, open buffets and numerous options to mingle with people in the same age group, travelers can share their first-time experience with new friends who they may keep in touch with for years to come. Who knows - maybe the next cruise vacation will include these new buddies.
---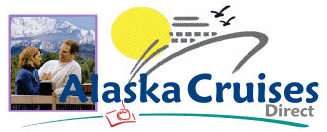 800.365.1445

---
Experience Alaska
.....With Exciting Excursions
SAVE up to 50% off cruise line prices!
Avoid paying highly inflated prices for shore excursions in Alaska.
From landing on a glacier and panning for gold to riding a dog sled or bear-watching on a pristine river, Alaska offers a rich variety of exciting, authentic OPTIONAL Alaska experiences in every port or land destination.
---

---
"Awaken your love of the great outdoors when you experience the boundless splendor of the Alaska wilderness on board a cruise ship. Alaska: Mother Nature's piece de resistance. It is, quite simply, the world in its purest form. Imagine vast glacial fields juxtaposed against immense evergreen forests, infinite fields of wildflowers, and heady rushing waterfalls. Nowhere on earth is as diverse as The Last Frontier as seen in the summertime. Oh, and do not forget to pack your sun block. Summer temperatures in Alaska are mild and the days last well into the night."
---
Adventures in Alaska Videos
Glacier Bay and Denali National Park. Alaska's Top 2 Attractions. Watch the video to learn why they are so popular.
Learn all about Princess Cruises exciting Alaska Cruise Vacation options, by watching this preview video of our sensational cruise options, in-depth Land & Sea Cruise Vacations and exciting new on board programs including North To Alaska! and Discovery At Sea.
View Our 2017 Alaska Cruises & Land + Sea Vacations Video
Video courtesy of Princess Cruises



Looking for an Alaska Cruise or Alaskan Land + Sea Vacations. Call us now at 800.365.1445 to learn how much Savings and what Bonus Extras are available for your chosen sailing date!