Alaska Cruise Travel Articles presented by Cruise Traveler Magazine
Read about the glaciers, wildlife, frontier towns, and towering peaks
Princess: Exclusive Call-In Special Offers! 800.365.1445

Exceptional Value, Remarkable Offers.
You may be eligible for one or more "unpublished" rates. As an example: Onboard Spending Credits, Cash Back, Cabin Upgrades, 2 for 1 Fares, Low Solo Fares, Kids Sail Free or at Reduced Rates, Lower Deposits, Reduced Airfare, Senior Rates, Military Discounts, Mini- Group Rates, or Past Guest Deals not shown online. Not all cruise lines offer one or more of these Bonus Extras*, so when it comes to savings, get the latest up-to-the-moment special offers, discount prices, current fares, savings and cabin availability, just call us at 800.365.1445.
We offer some of the best cruise and cruise tour itineraries and affordable prices, plus several may include one or more of the following Alaska Cruises Direct Bonus Extras:* Cheap Alaska Vacation Packages & Deals.

---

Glaciers, Whales, Wonders & Wildlife
....dream. see. inspire. create memories
---
Alaska Cruise Travel Articles
Let Alaska Cruises Direct be your guide to some of the most exciting Alaska cruise vacation destinations in the world. Prepare for your next journey by reading these Alaska cruise travel articles and learn about some of the highlights that span across our diverse ALASKA cruise itineraries. Learn about the places in ALASKA you've always dreamed of visiting, along with new ports and exciting things to do you'll want to add to your "Must See - Must Do" list.
CRUISE TRAVELER MAGAZINE
Featured Destination
ALASKA: So incredibly beautiful, you'll think you stepped into a painting. This is Alaska for 2016 as seen from the panoramic perspective of your dazzling Princess cruise ship. Monumental glaciers are natures draw and Alaska's waterways reveal more of these thrilling Ice Age giants than anywhere else on earth. Alaska's Inside Passage is one of the most scenic sea-lanes in the world, home to bald eagles, whales, sea lions, otters, brown bears, mountain goats and flocks of seabirds. Plus you'll visit a variety of flavorful ports of call full of rich history and native culture. Explore more of Alaska by both sea and land in one seamless vacation, plan an authentic vacation that goes beyond the expected. Think wild, and search for bear, moose and caribou in Denali. Feel a part of Alaska's individualist lifestyle as you visit port communities of Juneau, Ketchikan Skagway, Icy Strait Point, Sitka or Haines. Or join in Fairbanks' Midnight Sun events during summer solstice. In Alaska, our Cruise Tours give you hundreds of unique moments to capture, keep and treasure forever.
---

Alaska Cruise Articles
Cruise to Alaska's "First City" Ketchikan
Fresh mountain air and quaint natural beauty pervades Skagway, Alaska
Be charmed by the wonders of Victoria, British Columbia
Anchorage, Alaska, offers something for everyone
Strike gold in Skagway, Alaska
Denali National Park offers guests beautiful natural scenery
Cruise to the rugged side of Alaska at Icy Strait Point
See the most of Fairbanks on Alaska cruisetours
Adventure, history awaits in Sitka, Alaska
General Interest Cruise Articles
Alaska Cruise Travel Report
Read our 141 Page Alaskan Cruise Traveler Report
Discover important travel savings advice and get ALASKA Ports-of-Call Information, Destination Overview, Alaskan History, What to See and Do in Alaska, Dining, Hotels, Cruises, Alaska Fun Facts, Local Events.
---
Cruise to the rugged side of Alaska at Icy Strait Point
Icy Strait Point, Alaska

Nestled at the mouth of Port Frederick, Alaska's Icy Strait Point is home to the Huna Tlingit tribes, which have remained in this area for more than 2,000 years. Translated to "Where the north wind doesn't blow," the Tlingit have perpetuated their environment by living sustainably and using resources available within a 50-mile radius. Luckily for passengers on an Alaskan cruise, the illustrious scenery has remained unharmed by modern pollutants, and wildlife roam freely throughout the rugged landscape. Fewer than 1,000 people live in the Hoonah village, and locals welcome visitors with open arms, eager to share their beautiful land with all those who arrive on their shores.
A brief history
During an Alaska cruisetour of Icy Strait Point, passengers will learn about a truly unique side of The Last Frontier State. The Tlingit have managed to keep their day-to-day lives humble by fishing, farming and handcrafting stunning goods such as baskets, wooden bowls and paintings. Originally built as a salmon cannery, Icy Strait Point served as an economic mainstay for Hoonah natives who wanted to learn more about the world outside of their isolated home.
One hundred years later, this small village caters to cruise ships sailing through Alaska, providing numerous outdoor activities and historical tours.
The Native Heritage Center is an ideal place to get to know the history of this secluded part of Alaska and provides cruise passengers the opportunity to look through genuine, centuries-old Tlingit artifacts before settling down to enjoy a live cultural performance.
Tlingit tribal dances
Located within the Native Heritage Center, the theater displays entertaining and informative live performances that showcase the rich and colorful history and legends of the Tlingit people. Dancers and actors don traditional garb as they tell audience members the story of their land and people.
Alaska shore excursion packages include the seafood feast and tribal dance experience, during which passengers can wine and dine on fresh seafood including salmon, king crab and halibut while watching the cultural performance.
Touring The Last Frontier
Surrounded by snowcapped mountains and endless rows of evergreens, Icy Strait Point is a nature lover's dream destination. The land is teeming with wildlife such as brown bears, bald eagles and moose, along with stunning flora that blossom in the early summer - right when Princess Cruises docks.
Visitors won't want to miss the chance to take a road trip inland, where they'll be treated to incredible views of the jagged coastline as well as the dense wilderness. Princess passengers can experience The Last Frontier in any way that suits their fancy, from thrilling ATV rides through the forest to fishing and whale watching along the glimmering shoreline.
The land surrounding Icy Strait Point supports the largest concentration of brown bears in the world, and Princess passengers should have their cameras ready and fingers on the shutter to capture these majestic beasts as they catch salmon in their mouths.
Icy Strait Point Cannery
Formerly one of the world's most productive salmon canneries, The Icy Strait Point Cannery once exported more than 150,000 cases of salmon every year - amounting to about 3600 tons. Today, the cannery has been converted into a popular shopping strip where Princess passengers can browse through the local shops and craft workshops, gaining a better understanding of who the Tlingit people are.
Among the unique shops, Alaska Wood Creations features products made by Tlingit natives, and visitors are encouraged to ask about the meticulous etching and sculpting process.
---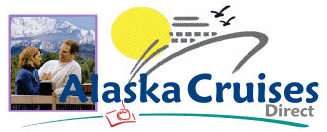 800.365.1445

---
Experience Alaska
.....With Exciting Excursions
SAVE up to 50% off cruise line prices!
Avoid paying highly inflated prices for shore excursions in Alaska.
From landing on a glacier and panning for gold to riding a dog sled or bear-watching on a pristine river, Alaska offers a rich variety of exciting, authentic OPTIONAL Alaska experiences in every port or land destination.
---

---
"Awaken your love of the great outdoors when you experience the boundless splendor of the Alaska wilderness on board a cruise ship. Alaska: Mother Nature's piece de resistance. It is, quite simply, the world in its purest form. Imagine vast glacial fields juxtaposed against immense evergreen forests, infinite fields of wildflowers, and heady rushing waterfalls. Nowhere on earth is as diverse as The Last Frontier as seen in the summertime. Oh, and do not forget to pack your sun block. Summer temperatures in Alaska are mild and the days last well into the night."
---
Adventures in Alaska Videos
Glacier Bay and Denali National Park. Alaska's Top 2 Attractions. Watch the video to learn why they are so popular.
Learn all about Princess Cruises exciting Alaska Cruise Vacation options, by watching this preview video of our sensational cruise options, in-depth Land & Sea Cruise Vacations and exciting new on board programs including North To Alaska! and Discovery At Sea.
View Our 2017 Alaska Cruises & Land + Sea Vacations Video
Video courtesy of Princess Cruises



Looking for an Alaska Cruise or Alaskan Land + Sea Vacations.
Call us now at 800.365.1445 to learn how much Savings and what Bonus Extras are available for your chosen sailing date!