Alaska Land & Sea Vacations - 7 Day Cruise + 3-7 day Interior Alaska Land Tour ( known as a Cruisetour )
"Up north there's a land without fences. Animals outnumber people, sunlight shines at midnight and nature reigns. Life is different. This northern frontier still boasts pristine landscapes, majestic wildlife and a coastline that is one of the most enthralling waterways in the world. Beyond Alaska's fortress-like glacier walls lie scenic ports of call, treasured national parks and abundant wildlife. With more than 1,400 miles north to south and 2,400 miles east to west, Alaska is truly a land of epic proportions."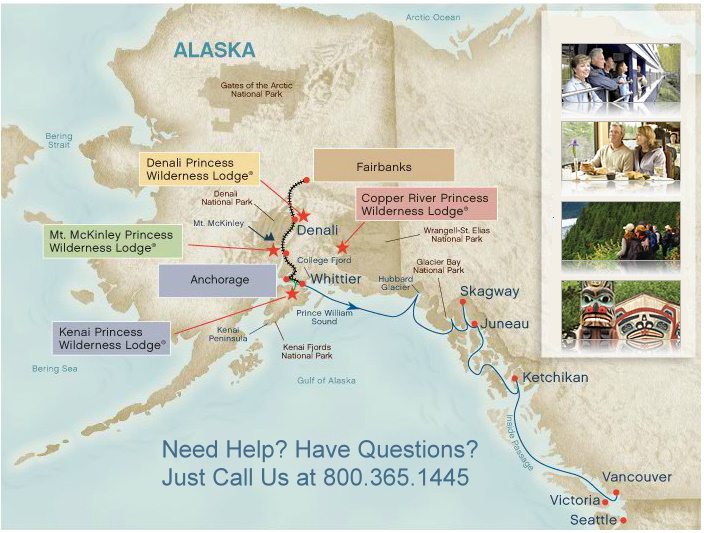 Denali Park Sightseeing Tour Options
ALASKA Wilderness Lodge Options
Denali is an ideal place to observe the wide-antlered caribou, moose, bears,
gray wolves and Dall sheep.
Denali Park Tours
Choose your own park tour! Most Princess Alaska Land & Sea Vacations include an exciting tour through Denali National Park, plus Princess offers the flexibility to choose your preferred experience from four unique tour options. If your cruise tour does not include a Denali Park tour, you can reserve it separately through Princess.
Park tour options include: Denali Natural History Tour, Tundra Wilderness Tour, Kantishna Experience and Windows into Wilderness Tour.
Other helpful information
To change the Denali Park tour on an existing Alaska cruisetour booking, please have your Travel Agent call Princess. The price difference will be applied to your booking. Changes must be made 14 days prior to departure
You may also choose to opt out of the tour altogether. The price will be credited to your booking
Don't wait; availability is limited. Space is assigned on a first-come, first-served basis. Not all requests can be accommodated
A snack and hot beverage is provided on the Natural History tour
Box lunches and beverages are provided on the Tundra Wilderness tour and Kantishna Experience
Wheelchair accessible buses are available, and all stops are wheelchair accessible
Children under 4 years and/or 40 pounds are required to be in a child safety device (car seat) to ride on buses. Passengers must bring their own child safety device
Tour buses are school buses and are not equipped with restrooms. Buses will stop approximately every 90 minutes for restroom breaks
Park road is not paved and travels through beautiful Alaska wilderness - wildlife is not guaranteed
Privately owned vehicles are not permitted into the National Park
Suggested items to bring include warm clothes, rainwear, insect repellant, camera, binoculars, and personal medications as necessary
"Glacier Bay National Park Spanning 3.3 million acres, this UNESCO World Heritage Site features an array of massive glaciers, none more spectacular than Margerie Glacier, which is 40 stories high and over a mile wide. The park is teeming with humpback whales, sea otters, harbor seals and more. Featured on every Voyage of the Glaciers cruise as well as many of our Inside Passage cruises."
"There's no more thrilling way to reach the wilderness than by romantic rail travel. Between your ship and our Denali-area Princess wilderness lodges lie 500 miles of Alaska's most scenic, unspoiled wilderness. It's the route of the historic Alaska Railroad, built between 1903 and 1923 and exclusive Princess Rail will take you on a journey that's as memorable as the destination."
"Did you know? During the summer months, more than 2,000 humpbacks are known to feed in the waters off Alaska, offering plenty of chances to enjoy these magnificent giants. Killer (orca) and beluga whales are equally abundant, as are Pacific white-sided dolphins. In Prince William Sound, harbor seals and sea lions line the shore and sea otters frolic in the water."
Denali Princess Wilderness Lodge®
Located just one mile from the entrance to Denali National Park, this lodge is your base camp for adventure. It features an expansive campus of lodging and amenities, including a Great Room with 30-foot high glass windows for stunning views and a spacious deck overlooking the Nenana River. Here guests can go on tours into Denali National Park, raft the Nenana River, experience a thrilling helicopter flightseeing trip, or just enjoy the main lodge and setting. Shuttle service is offered between the lodge and the Denali National Park Visitors Center, the Wilderness Access Center and Horseshoe Lake.
Mt. McKinley Princess Wilderness Lodge®
Located in Denali State Park just 41 miles from the peak of its namesake mountain, the Mt. McKinley Princess Wilderness lodge offers spectacular views of the Alaska Range, including both Mt. McKinley, North America's tallest peak at 20,320 feet, and Mt. Foraker. This is the only lodge where you can view Mt. McKinley, either from its viewing decks, walking trails or in the cozy Great Room, which features a massive freestanding rock fireplace and enormous floor-to-ceiling windows to take in the dramatic scenery.
Copper River Princess Wilderness Lodge®
This lodge, with décor recalling the region's mining heritage, is perched on a bluff overlooking Wrangell-St. Elias — America's largest national park and home to nine of the country's 16 highest peaks. Relax in the spectacular Wrangell Room or on the patio and take in the breathtaking scenery — or fish for the prized Copper River salmon. Located just four miles from the Wrangell-St. Elias National Park visitor's center, the lodge has sweeping views of Mt. Drum, Mt. Wrangell and Mt. Blackburn. Take a rafting trip on the Gulkana River, arrange a flightseeing tour or visit the abandoned Kennicott copper mines.
Kenai Princess Wilderness Lodge®
Soak in the natural beauty of the Kenai Peninsula, known to locals as "Alaska's Playground." At the lodge, unwind by the wood-burning stove in your bungalow-style guest room or savor the natural beauty from an expansive deck that overlooks the turquoise Kenai River.