Get Inspired For Your
Trip To Alaska
Ideas to inspire you from the official State of Alaska website


| WHAT'S HAPPENING NOW |
BEAR NECESSITIES
Everyone loves fresh wild Alaska salmon - including Alaska's bears. Here are a few exceptional places to see bears bringing in the catch of the day. Seeing the bears in their natural habitat is a dream activity for many Alaska visitors. And this time of year, as salmon are making their way upstream in rivers across Alaska, is a perfect time to do it. Why? Bears - especially along Alaska's coasts - are congregating to catch a few tasty meals before heading into hibernation later this fall.
Bears + Salmon = Catch of the Day
Ketchikan is known as Alaska's "first city" due to its location at the southern tip of the Inside Passage - it is the first city you reach as you cruise north, and for many visitors, their first introduction to the beauty and majesty of Alaska.
Top 7 Things To Do in Ketchikan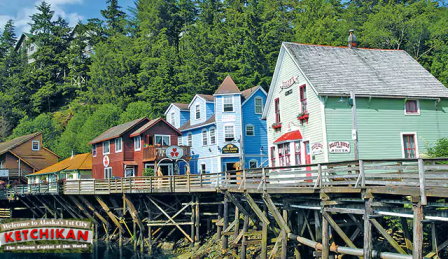 SEEK THE SUMMIT
The snowcapped summit of Denali can be seen from more than 100 miles away, dwarfing the other mountains of the Alaska Range with its enormity. Fortunately, there are a number of great spots to catch a glimpse of the mountain named The Great One by the Dena'ina Athabascan people. One of the most popular places to go to experience Denali is Denali National Park.
Denali is home to Alaska's Big Five - bears, moose, Dall sheep, wolves, and caribou
GOLD-RUSH STAMPEDERS
Skagway rarely disappoints visitors. A seven-block corridor along Broadway features historic false-front shops and restaurants, wooden sidewalks, locals in period costumes and restored buildings, many of which are part of the National Park Service-managed Klondike Gold Rush National Historical Park. Beginning in 1897, Skagway and the nearby ghost town of Dyea was the starting place for more than 40,000 gold-rush stampeders who headed to the Yukon primarily by way of the Chilkoot Trail. Built in 1898 during the Klondike Gold Rush, the White Pass & Yukon Route is a marvel of engineering despite the harsh weather and challenging geography faced by thousands of railroad construction workers. 121 years later we can take you on a journey to see Skagway splendid panorama of mountains, glaciers and gorges; waterfalls, tunnels and trestles. Along the way, you will climb nearly 3,000 feet in elevation in just 20 miles!
White Pass & Yukon Route Railroad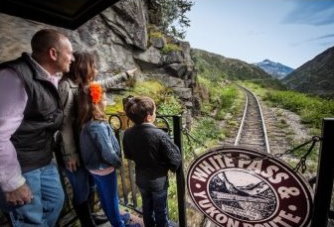 Our friendly faces going to all kinds of places!
Often, visiting Alaska has as much to do with what people may feel as with what they will see. There is a mystique that surrounds Alaska. To some it represents a dream, a trip of a life time, a life altering event, a chance to reach out and touch something inside themselves that is wild and beautiful like they imagine Alaska to be. Our job is to put that dream - or as much as possible of it - within reach of you.
Escape the Ordinary
Sometimes you just have to get away from the day-to-day, and Alaska is anything but ordinary. If you're looking for an Alaska experience right now, we have some special deals for you. Come join us, right where you belong.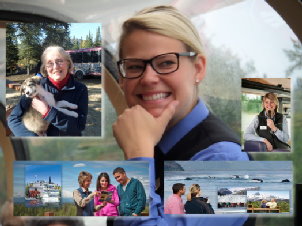 Alaskan cruising is affordable, only the memories are priceless!
When it comes to planning your trip, Alaskan Cruises & Land and Sea Vacations are more economical than you might think. With a wide range of options and choices, there's a cruise or cruise tour to suit most any budget. " Gather your family, grab your friends - start planning your Alaska cruise today".► Learn More

|

OUR STAFF PHOTO OF THE MONTH

|

Working with us offers some distinct advantages...
We have been narrowing in on our area of expertise for years, setting out twenty years ago with a single destination - specialty in mind; Alaska...and have been hyper focused on it, since day one. Our efforts include first hand " been there...done that" knowledge, building travel provider relationships that leverage value and savings, personal consulting and unique amenities. Alaska represents our passion and an a result we have become that go-to person to consumers. That's what we're recognized as, and that's what like-minded travelers are looking for. We're not trying to cast a very wide net and have thousands of new customers, offering everything under sun. What we really try to do, is help a limited number of clients plan their Alaska vacation by sharing our knowledge and expertise about their destination. While the high tech race moves forward, old fashioned expert advice is what Raye & Marty offer like-minded cruise travelers who visit Alaska Cruises Direct. There are some things only experience can tell you. While our site highlights many great offers,

planning an Alaska cruise is more than just clicking through a list of dates and prices. It's learning all about what there is to see and do in Alaska, and the best way to enjoy your vacation.

Start Planning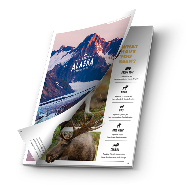 Get Your Free Official State of Alaska Vacation Planner
Summertime is the perfect time to head out on your Alaska trip of a lifetime. The Official State of Alaska Vacation Planner has dozens of trip suggestions. Alaska is waiting, for you!
GET THE GUIDE
No One Knows Alaska Like We Do.
At Alaska Cruises Direct we not only have the largest selection of Alaska Cruises, Land & Sea Vacations and Cruise tours available, we've been there. We know how to show you the great wonders of this land. Our staff is ready to share their expertise with you. You can shop online and compare itineraries, ships and sailing dates from four major-brand cruise lines that have 96% of all Alaska Cruise and Tours. So, if you want to see more, learn more and experience a more memorable side of Alaska, call us, speak to a knowledgeable Certified Alaska Cruise Expert and ask all the questions, find out all the details. Call us at 800.365.1445. The call is free, as so is the advice.
Working with a Certified Alaska Vacation Planner can save you both time and money!
Chances are you've spent countless hours, days, or perhaps weeks trying to plan a vacation on your own, that's at a price you can afford? We've been there and done that! And, when you finally have your vacation plans in hand, your not quite done. Now, you may need to choose form a myriad of onboard activities, shore excursions land tours and more. The entire process for some can be frustrating and seem overwhelming.
Here's why talking with a real person, a Certified Alaska Vacation Planner, will take the stress out of your vacation planning process.
Are the services of a Certified Alaska Vacation Planner worth it? You bet it is! You see, we don't charge any agency fees to book, change, or cancel your cruise or tour. Meaning we help you create a cruise vacation curated just to you for free! Of course, cruise line imposed fees, for booking, cancellations, and changes may occur.
What are some benefits of working with a Certified Alaska Vacation Planner?
Planning your cruise vacation with a Certified Alaska Vacation Planner will ensure that you get the best service at an affordable price.
Why spend hours searching the web for the best deal when your Certified Alaska Vacation Planner already knows all about them. Our job is to provide you with options that offer the most affordable and budget-fitting vacation possible. Our Certified Alaska Vacation Planners even have exclusive cruise vacation deals and prices that you can't find anywhere else! Check out some of the amazing deals for Alaska cruising here.
Experience, education and expertise
Our Certified Alaska Vacation Planners go above and beyond, providing that "been there, done that" experience, education and expertise, cruise line call centers and others don't. Our staff handles and/or gives advice for every aspect of your trip from ground transportation to shore excursions, and more! Working with a Certified Alaska Vacation Planner makes your trip experience that much better.
More that just basic destination knowledge. A whole lot more!
When it's time to start thinking about an Alaska vacation, we can help you decide on the best destinations, ports of call and share ideas based on your interests, and what is affordable. Our Certified Alaska Vacation Planners are real " Insiders", and will review the cruises, land tours, wilderness lodges, rail, and more. They can help you pick the cruise line, land tours and itinerary that best suits your interests. Our Certified Alaska Vacation Planners have traveled the Inside Passage, cruised the Gulf of Alaska and explored interior Alaska, including Denali National Park many times - so you will be working with a Certified Alaska Vacation Planner who has experienced Alaska firsthand!
Real Helpful People, Not Call Center Operators!
When you work with a Certified Alaska Vacation Planner, you're speaking with an experienced professional, who is assigned to you through out the process. Unlike the cruise line call center, when you never get the same person twice. And, the cruise line operator only has the cruise line interests in mind, not yours.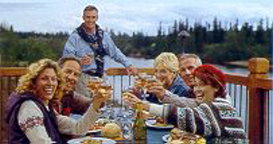 Working with a Certified Alaska Vacation Planner can help make your travel plans better. Better than you ever could on your own.
But don't just take our word for it. Read what our guests, over the last 20 years, have to say about it.





What are the greatest success stories; those we learn from our guests, as they share their experiences with you. Read what we have done for our Guests, where they were totally awed. Why do people constantly compliment us on or ask for assistance from our Certified Alaska Cruise Travel Experts? You'll find the answers to these and other questions here. We're celebrating 20 years of personal service, so we have many more happy guests than we have room here to list. Call us at 800.365.1445 and we'll share both our own experiences and those of our guests to help you plan your Alaska vacation. Alaskans suggest: "Take a cruise first," says Jennifer Thompson of the Alaska Travel Industry Association. "We have 11/2 million visitors a year, and 900,000 of them come on cruise ships. It's a phenomenal way to introduce yourself to Alaska. Wildlife, glaciers, majestic mountains. It's all there".
"Awaken your love of the great outdoors when you experience the boundless splendor of the Alaska wilderness on board a cruise ship. Alaska: Mother Nature's piece de resistance. It is, quite simply, the world in its purest form. Imagine vast glacial fields juxtaposed against immense evergreen forests, infinite fields of wildflowers, and heady rushing waterfalls. Nowhere on earth is as diverse as The Last Frontier as seen in the summertime. Oh, and do not forget to pack your sun block. Summer temperatures in Alaska are mild and the days last well into the night."
---
Alaska Sightseeing, Shore Excursions, Activities & Adventures
We invite you to expand the horizons of your favorite activities with new experiences. Explore the culture, sights, and adventures waiting beyond the shore in the most active, engaged, and fun ways imaginable.. Every port gives you a world of possibilities as you interact with the locals and choose the dynamic, interactive activities that appeal to you most. It's Alaska in a whole new way!
Energetic Exploration :
For the Alaskan traveler who thrives on motion and action, explore a broad range of energetic excursions. You might find yourself on a jogging tour through mountain trails, or on a 4-wheeler back country tour around Denali or even on a canoe trip right up close to a glacier. From a heli-landing trek on a glacier to explore crevasses to hiking in the forest, these included excursions pack real get-up-and-go for those who like to do the same. Discover More
Nature & Wildlife
Anchorage: Kayaking in Prince William Sound
Glide through pristine waters on this approximately 3 hour kayaking excursion in Prince William Sound.
Copper River: Worthington Glacier Hike
Take a snow day and hike on the ice blue Worthington Glacier. After reaching the glacier, strap on a pair of crampons, then take a hike.
Denali: Denali Glacier Landing by Helicopter
Soar over the Alaska Range for a glacier landing to view icefalls, moraines, ice bridges and glacial pools as well as wildlife.
Juneau: Mendenhall Glacier Native Canoe Adventure
Be among the select few, under a limited U.S. Forest Service permit, to travel as Native Alaskans once did by canoe and venture within yards of the majestic Mendenhall Glacier.
Ketchikan: Alaska Wilderness Survival
This epic journey takes you to a wild and secluded island where you'll learn to build a shelter, collect food, and start a fire. Back on the boat, explore the Inside Passage coast with opportunities to discover a variety of wildlife species.
Mt. McKinley: Three Rivers Tour
Board the fully-enclosed McKinley Queen jet boat and cruise along three rivers that offer panoramic views of Mt. McKinley and breathtaking flora and fauna.
Skagway: Horseback Riding Adventure
Escape the hustle and bustle of port and come discover the awe-inspiring Alaska beauty just as the pioneers did on horseback!
Anchorage: Prince William Sound 26 Glacier Tour
Hop aboard a high-speed catamaran and travel 140 miles into Prince William Sound to see 26 named glaciers, as well as an abundance of wildlife.
Copper River: Copper Country Discovery Tour
Immerse yourself in the natural wonders of Copper River Country. Enjoy a scenic van ride and interpretive discussion with a professional naturalist guide.
RECOMMENDED
Juneau: Whale Watching & Wildlife Quest
Experience southeast Alaska's incredible scenery and amazing natural history on this exceptional wildlife excursion that offers a whale-sighting guarantee.
Ketchikan: Bering Sea Crab Fishermen's Tour
Join a 3-hour cruise aboard the Aleutian Ballad from season
two of the TV series Deadliest Catch to learn about the world of commercial fisherman.
Ketchikan: Neets Bay Bear Watch & Flight
RECOMMENDED
After an exhilarating 25-minute flight, embark on a nature walk to Neets Bay in Tongass National Forest, and a once-in-a-lifetime opportunity to get an up-close view of black bears.
Skagway: Haines Wilderness River Adventure
A jet boat tour deep into the heart of the Chilkat Bald Eagle Preserve offers a true wilderness experience where you may see eagles, moose and bears.
Sightseeing & City Tours Special Interests
Fairbanks: Fairbanks Highlights Adventure
Visit Fairbanks' top attractions - The Morris Thompson Cultural Center, Museum of the North and Santa Claus House in North Pole where it's Christmas year-round!
Juneau: Juneau's Exclusive Highlights
Experience Juneau's most scenic, unique and historic sites from the comfort of a deluxe minibus on this small group adventure.
Kenai: Explore Historic Seward
Take a guided tour along Alaska's only National Scenic Byway to the historic town of Seward, where attractions include the Seward Museum, Alaska Sealife Center, Exit Glacier and more.
Ketchikan: Saxman Native Village & Totem Pole Park
Visit fascinating Saxman Native Village, witness Native dancing and see the craft of totem carving before taking a motorcoach tour of historic Ketchikan.
Seattle: Space Needle, Pike Place Market & City Tour
See Seattle's premier attractions, from the soaring Space Needle to vibrant Pike Place Market.
Skagway: White Pass Scenic Railway
Take a thrilling ride aboard the historic Gold Rush-era White Pass & Yukon Railroad.
Victoria, B.C., Canada: Victoria by Horse-Drawn Trolley Experience the beauty of Victoria by horse-drawn trolley, a timeless tradition and wonderful way to view this historic city.
Denali: Music of Denali Dinner Theatre
Delight in a wonderful, feel-good musical comedy paired with an all-you-can-eat Alaskan dinner buffet.
Fairbanks: Chena Hot Springs
Experience the "hottest" and "coolest" attractions in Alaska - a natural hot springs, ice museum and great dinner!
Juneau: Salmon Sportfishing Adventure
Fish for salmon in one of the most productive fishing grounds in southeast Alaska.
Kenai: Gold Panning with "Prospector John"
Enjoy a true gold panning experience with Prospector John as he takes you back to the days of the Gold Rush, then through the steps of modern and old-time techniques.
Skagway: Gold Panning, Sled Dogs & Exclusive Scenic Railway Relive life as a prospector on this tour that takes you back in time to the Gold Rush. Ride the vintage railcars on the historic White Pass Railway with a costumed guide and celebrate your adventure at the summit with a one-of-a-kind Klondike toast.
Victoria, B.C., Canada: Enchanting Butchart Gardens
This 55-acre floral wonderland, featuring themed gardens and meandering paths, is illuminated with colored lights and magical effects.
___________________________________________________________________________________________________________________________
Need Help Planning Your Alaska Cruise Vacation?
Call 800.365.1445
Every Port leads To New Discoveries

"The rugged grandeur of the last frontier greets you with its jagged peaks, verdant valleys and icy blue glacial waters.
It welcomes you with curious wildlife that frolics in its seas, roams in its valleys and soars in its cobalt blue sky.
It shares with you its genuine people and fresh Alaska seafood.
Say hello to Alaska and find out the many ways it can inspire you."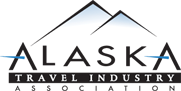 CLIA is the world's largest cruise association. Comprised of the twenty-five major cruise lines that serve North America. Cruises Direct Online is a proud member of CLIA.
In addition, our travel advisors are certified cruise travel experts, recognized with certification, from Princess Cruises, Viking Cruises and others.
Copyright (c) 2019 - Cruise Direct Online : A Travel Direct Company ALL RIGHTS RESERVED
Fla. Seller of Travel Reg. No. ST-31254 | Terms of Use - Privacy Policy
About The Prices
Save as much as 10-70% off brochure rates for off peak departures ( select May and September dates ). Other savings available for peak season departures ( June, July August ) Not every ship, not every sailing is discounted. Call us to find out about your cruise selection. 800.365.1445. The prices and descriptions of cruises and tours shown, are suggestions to give you an idea of how much you can do on land and on the sea in Alaska within your budget. The prices shown are just a guide, as there are over 90 combinations of land and/or sea tours to choose from and the cost varies depending upon what cruise line, cruise ship, destination, sailing or departure date you choose. They are meant to serve as a starting point for trip planning, with a variety of options to fit your needs. For example, you can easily combine Gulf of Alaska/Inside Passage 7-day cruise itineraries with a 3 to 7 day land tour to make a 14-day itinerary, from Vancouver to Fairbanks, or reverse the route for most trips.
*Princess Cruises Captain's Circle Launch Savings of up to $200 per person discount is applicable in all categories and combinable only with Launch Fares and Group Fares. Specific discount amounts vary by itinerary and cruise length. Regional and other past guest promotions or "new booking only" promotions are not combinable with the discount. Princess Cruises Captain's Circle Launch Savings is not applicable to third and fourth berth guests.
Related Links - Search Terms
Alaska Cruises Direct Answer Desk
We are here for you with one-on-one support and personalized cruise vacation planning help. Whether you need help finding the right cruise line, cruise ship, destination, ports of call or shore excursions or want to learn more about us, a professional Certified Cruise Vacation Expert is just a toll-free phone call away. Call us today at 800.365.1445. The call is free. The advice is free. And there is never an obligation to book.






_________________________________________________________________________