We Are Alaska - Holland America Alaska Cruises & Land + Sea Journeys


"Thrill to white thunder in Glacier Bay, marvel at sunlight at midnight and close-ups of whales, eagles and caribou. Delight in Mt. McKinley's majesty and meadows carpeted with wildflowers. Amid unsurpassed grandeur and serenity, the true wilderness of Denali is calling. Catch sight of a humpback whale or wolf pups frolicking in the snow. Alaska is as rustic and romantic as one could ever imagine. Whales, Wonders and Wilderness"
ARTICLE:
When it comes to Alaska, only Holland America Line has the expertise to take you farther, get you closer, and give you those once-in-a-lifetime moments.
We Are Alaska. We Are Holland America Line. We offer the iconic and authentic Alaska Experience you've dreamed of with the cruise line that is the undisputed leader in Alaska Cruises and Land + Sea Journeys.
BY LAND. BY SEA. BY EXPERTS


CHOOSE FROM THREE WAYS TO EXPERIENCE ALASKA ALONGSIDE THOSE WHO KNOW IT BEST BY SEA
Our 7- and 14-day Alaska cruises give you the best way to explore Alaska's inviting coastal cities, abundant wildlife and vast glaciers. Your elegant, perfectly sized ship gets you closer to every calving chunk of ice, every breaching whale and every peaceful inlet.
BY LAND AND SEA Couple a 7-day cruise with a journey inland to spend up to three nights at Denali National Park & Preserve, the crown jewel of Alaska's interior. From the scenic coast, the luxurious glass-domed railcars of our McKinley Explorer® take you to the Park's doorstep, where iconic wildlife and the majesty of Denali, "The Great One," await.
BY LAND AND SEA AND BEYOND Extend your adventure all the way into the Yukon Territory with the only cruise line to take you there. Combine a 3-, 4- , or 7-day Alaska cruise and the wonders of Denali with the unspoiled reaches of the Yukon, where Klondike Gold Rush history meets wild, natural beauty.
"At the heart of every Land+Sea Journey is a cruise through Alaska's majestic waters. Adding a Denali or Yukon+Denali experience to your cruise takes you farther into the Great Land for an unforgettable exploration."
EXPERIENCE THE BEST OF THE GREAT LAND.
Discover the three best ways to get to know and love it as we do. By Sea. Nothing tops a Holland America Line cruise for the best introduction to Alaska'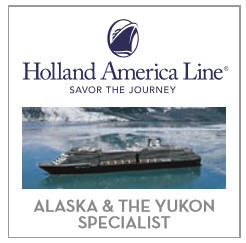 s massive glaciers, charming seaside towns and abundant marine life. Our elegant, mid-sized ships get you closer to every calving glacier, every whale splash, every tranquil inlet. By Land and Sea. Venture from sparkling waters into Alaska's stunning Denali National Park. Hike through taiga forests. Spot caribou, bear and other iconic Alaskan wildlife on the Tundra Wilderness Tour. And, of course, get ever closer to "The Great One" By Land and Sea and Beyond. Embark on the ultimate Great Land adventure all the way to the Yukon Territory. Journey from Alaska's stunning seascapes to the wonders of Denali to the vast expanses o f the Yukon - where Klondike Gold Rush history meets wild, natural beauty.
WE ARE ALASKA. Our long history here gives us the unique chance to show you the Alaska few ever see.
---
Today's Best Alaska Cruise Deals
Compare top-rated Alaska Cruises & Alaskan Cruisetours [ land + sea vacations ]. Sort by departure port, month and rating to find the right sailing & land tour for you. Reserve for Free: No obligation courtesy hold available on eligible voyages*

►Click Here. Request a FREE no-obligation Cruise or Cruisetour Price Quote from your choice of 9 cruise lines.
Including Princess Cruises Alaska, Royal Caribbean Alaska, Norwegian Cruise Line Alaska, Celebrity Cruises Alaska, & Holland America Alaska.

Holland America Alaska Cruises
Mid-sized ships designed to bring you closer to Alaska'
s natural wonders. Experience one or
more of these amazing glaciers: Glacier Bay National Park, Hubbard Glacier, Twin Sawyer Glaciers
of Tracy Arm, or the glaciers of College Fjord.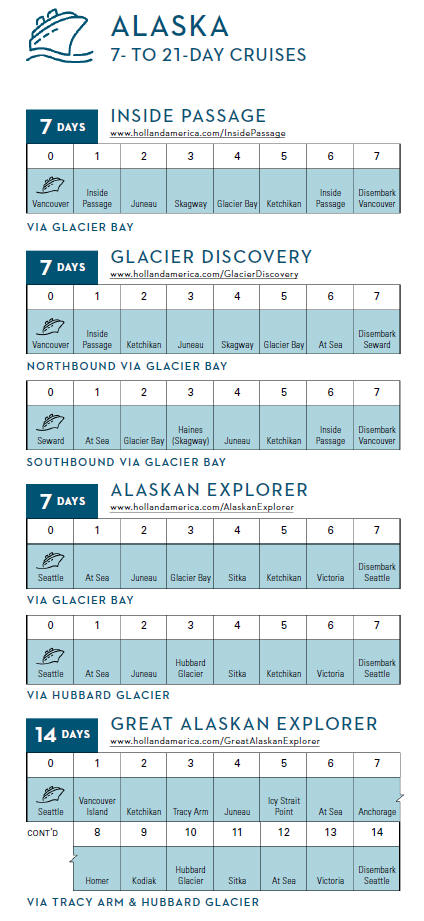 ►Click Here. Request a FREE no-obligation Cruise or Cruisetour Price Quote from your choice of 9 cruise lines.
Including Princess Cruises Alaska, Royal Caribbean Alaska, Norwegian Cruise Line Alaska, Celebrity Cruises Alaska, & Holland America Alaska.

Holland America Alaska Land+Sea Journeys
Combine your cruise with a land-based adventure that takes you to Denali National Park or to both Denali and the Yukon. Every itinerary includes a stay at our McKinley Chalet Resort, an exclusive wilderness retreat at the gateway to Denali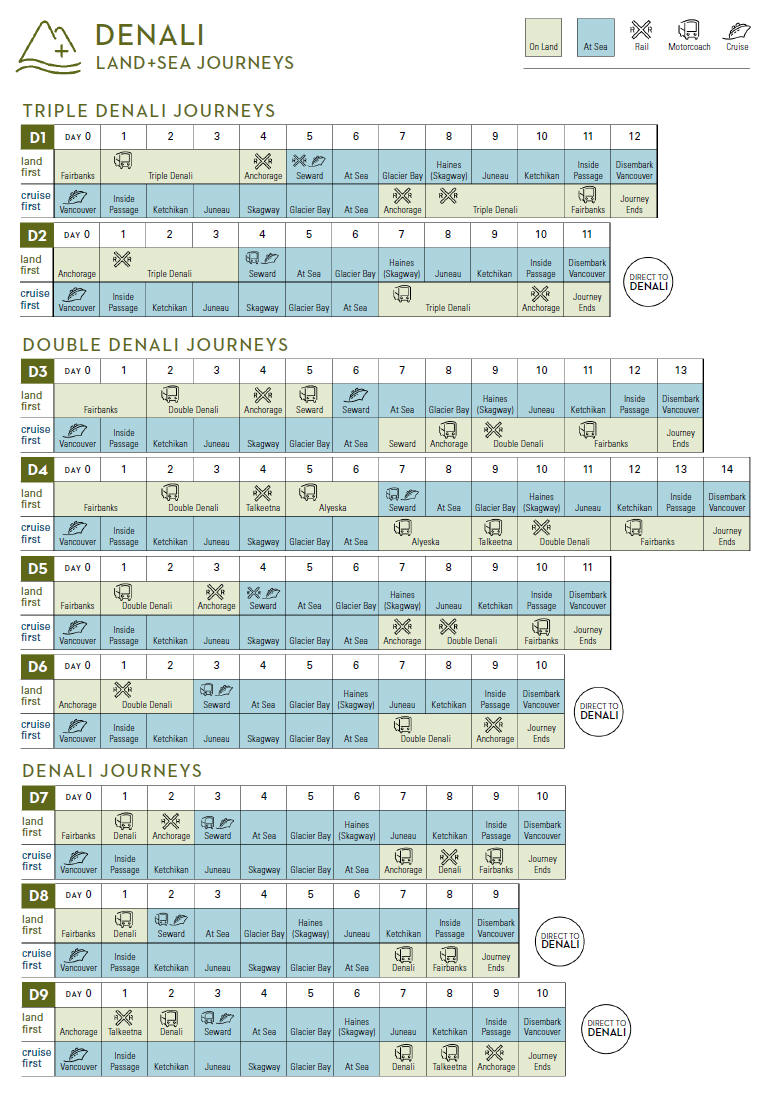 ►Click Here. Request a FREE no-obligation Cruise or Cruisetour Price Quote from your choice of 9 cruise lines.
Including Princess Cruises Alaska, Royal Caribbean Alaska, Norwegian Cruise Line Alaska, Celebrity Cruises Alaska, & Holland America Alaska.

Holland America Alaska Cruises
Mid-sized ships designed to bring you closer to Alaska's natural wonders. Experience one or more of these amazing glaciers: Glacier Bay National Park, Hubbard Glacier, Twin Sawyer Glaciers of Tracy Arm, or the glaciers of College Fjord.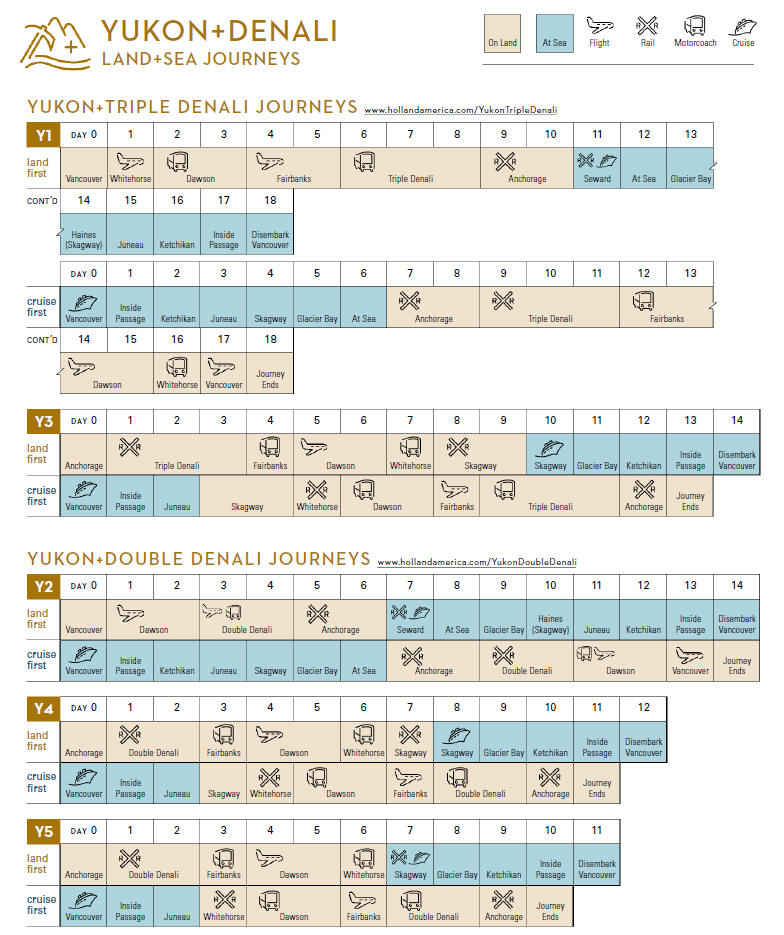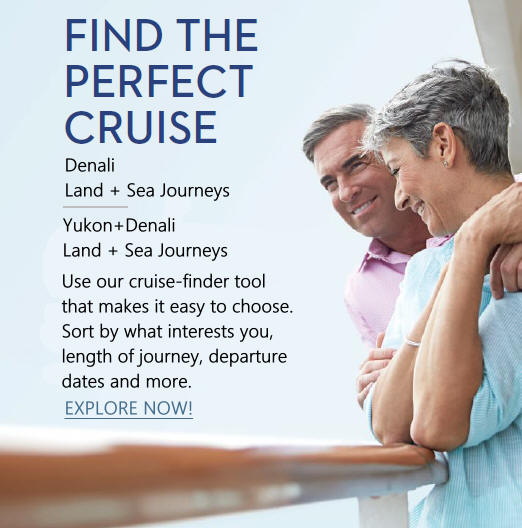 Sample Prices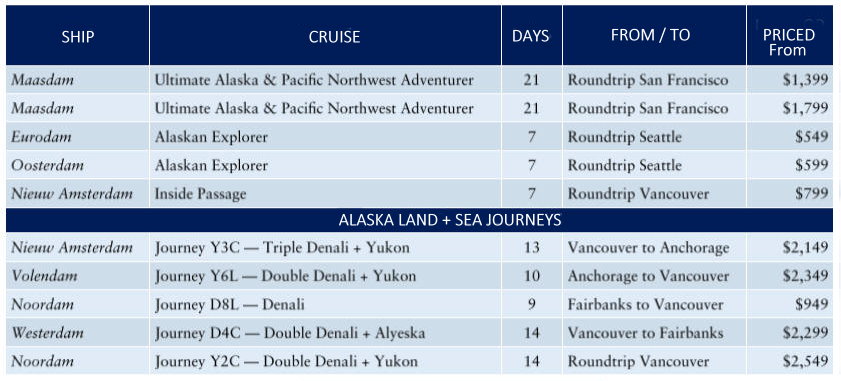 Note: Prices are just examples, based on double occupancy, plus taxes and fees. Prices vary by departure date and accommodation availability. To get the latest up-to-the-moment prices , find the latest promotions and available accommodations call 800.365.1445
OUR ALASKA ROOTS RUN DEEP Back in 1947, word of Alaska's soaring glaciers, snowcapped mountains and incredible wildlife was just starting to spread. We know, because we were already here, laying the foundation for what would become one of the Great Land's first tour companies. Today Holland America continues to set the standard in providing the ultimate Alaska experience.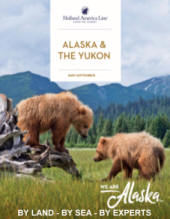 EXPLORE THE REAL ALASKA WITH REAL EXPERTS Our carefully curated journeys reflect the best of the Great Land. And our lasting partnerships with local experts assure you of an insider's point of view, whether you'
re cruising with us to Glacier Bay National Park, spotting wildlife in Denali National Park on the Tundra Wilderness Tour - or exploring the unspoiled Yukon Territory with the only cruise company that takes you there.
EXPAND YOUR REACH Discover more about the area from our experienced naturalists and local tribal members. If you'
re traveling to the Yukon, you'll virtually relive gold rush history with professional Journey Hosts, while Explorations Guides bring your journey to life, on board and ashore. Fish for salmon with a local in Ketchikan. Run your hand over a freshly carved cedar totem pole.
EXPECT THE BEST, ON LAND AND AT SEA Whether you're on board our spacious, elegant ships, traveling by our own McKinley Explorer luxury domed railcars or staying at our McKinley Chalet Resort at Denali National Park, you'll enjoy the gracious service and attention to detail Holland America Line is known for.
THE ULTIMATE ALASKA CRUISE Ice-blue glaciers and primeval fjords. Orca whales and playful otters. And a ship that's the perfect size for an intimate view of it all.

MORE GLACIERS, MORE DEPARTURES, MORE WONDERS Alaska'
s tidewater glaciers are a marvel to behold. And no other cruise line offers more visits to the place that has the most: Glacier Bay National Park. In fact, every Holland America Line cruise includes one or more glaciers: Hubbard Glacier, the twin Sawyer Glaciers of Tracy Arm, the glaciers of College Fjord or Glacier Bay National Park. Our elegant, mid-sized ships bring you even closer to Alaska's natural wonders at sea. And with more departures from convenient ports of call, your choice of where and when to see them has never been easier.
TRAVEL IN ELEGANT COMFORT Enjoy a front-row seat to nature's reality show from our expansive wraparound deck. Experience the spirit of Glacier Bay on board from two perspectives: a National Park Service ranger and a Huna Totem member. And in each port along the way, enhance your Alaska cruise with EXC, our award-winning shore excursions.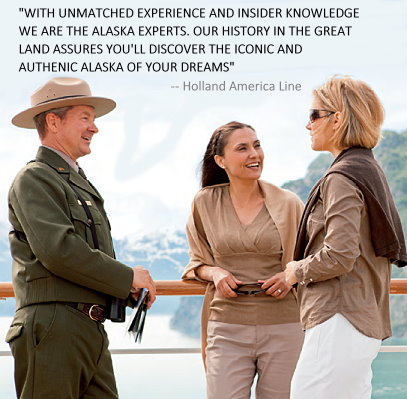 EXCLUSIVE ONBOARD ACTIVITIES Treat yourself to one-of-a-kind entertainment options specially crafted to enhance your journey. See and hear the area come to life with Alaska in Concert by BBC Earth Experiences. Watch America's Test Kitchen pros make the chewiest brownies on Earth. Or learn how to edit, share and store your cruise photos in our Digital Workshop. Expect the voyage of a lifetime whether you're cruising the Inside Passage, fishing for halibut in Homer or gazing in awe at mighty Hubbard, the largest tidewater glacier of them all. Welcome to Alaska' s most comprehensive Denali National Park experience.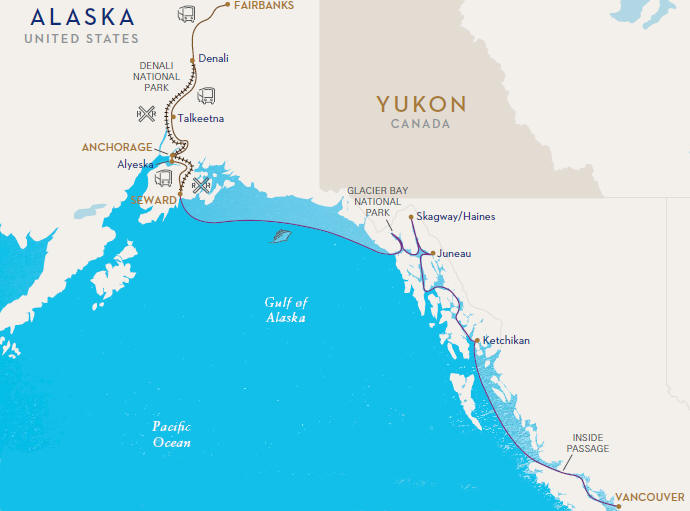 STAY AT MCKINLEY CHALET RESORT Only Holland America Line offers up to three nights to enjoy all Denali has to offer. We call it rustic-chic. You'll call it unforgettable as you enjoy one, two or three memorable nights at McKinley Chalet Resort. Upgrade to a new Junior Suite to make your stay even more delightful. Spread out in a larger space that includes a separate seating area. Don a cozy bathrobe and take in the breathtaking scenery from your private balcony. Slip between crisp sheets for a quiet, comfortable rest.
DISCOVER DENALI SQUARE Spend time at Denali Square, the exclusive entertainment hub in the heart of our 60-acre private resort. Gather with your group here before rafting, hiking or fishing expeditions. Try a lean caribou (tuktu, in Tlingit) cheeseburger with a soaring view on the side at Karstens Public House. Or stop along the boardwalk to chat with the experts at our artists-in-residence cabin. Later, enjoy live music and fascinating speakers in the intimate amphitheater, take in the Music of Denali at the Gold Nugget Saloon, or gather around our cozy campfire to make s'mores.
TAKE A TUNDRA WILDERNESS TOUR Every Land+Sea Journey with two or three nights in Denali includes the Tundra Wilderness Tour, which takes you 62 miles into Denali along the park road. This is your best chance to spot Alaska'
s Big Five: grizzlies, caribou, Dall sheep, wolves and moose, not to mention get even closer to Denali. Every Tundra Wilderness Tour is narrated by a knowledgeable driver and features large screens to ensure you won't miss a thing.
THE ONE AND ONLY YUKON Embark on the adventure of a lifetime with the only cruise company that takes you from the majesty of Denali to the historic Yukon Territory.
THE ULTIMATE GREAT LAND ADVENTURE Only Holland America Line gives you the opportunity to extend your exploration from Denali National Park all the way to the vast reaches of the Yukon. Enjoy a rare opportunity to relive the history of the Klondike Gold Rush and experience the wilderness few ever see with those who know it best.
SEAMLESS AND SUBLIME Relax, knowing that every Yukon+Denali Land+Sea Journey includes all of your transportation, whether by our elegant ships, comfortable motorcoaches, our McKinley Explorer glass-domed railcars, a one hour flight between Fairbanks and Dawson City, or flights between Whitehorse and Vancouver. Professional Journey Hosts will be with you every step of the way to make sure everything goes smoothly. A one-or two-day stay here gives you time to immerse yourself in gold rush history as you wet your whistle at the Sourdough Saloon, learn more about the area at the Jack London Museum or cruise the breathtaking landscapes flanking the mighty Yukon River aboard the paddle wheeler Klondike Spirit.
THE BEST ON LAND AND SEA In addition to your stay in Denali and the Yukon Territory, every Yukon adventure includes time at sea on our elegant ships. Watch for marine life from your private verandah, or take time to enjoy a relaxing spa massage or a lively cooking demonstration on board. Begin or conclude your journey by sea. The choice is yours.
SAIL THROUGH A SEA OF BEAUTY Thrill to the whoosh of a whale breaching before your eyes. Snap the perfect photo of an eagle in flight. Try to count how many porpoises are leaping playfully alongside your ship. Experience all this at sea along with Alaska's celebrated glaciers: soaring, expansive natural monuments that fill the mind with wonder. Slip through quiet fjords lined by pristine forests, learn the legacy of the Haida and Tsimshian in historic Ketchikan or hop on a helicopter in Juneau and hover over the mighty Mendenhall Glacier. Do all of this in just one week. In two, you can see even more from bear-watching on Kodiak Island and cruising the Inside Passage to fishing for halibut in Homer and paying homage to mighty Hubbard, the largest tidewater glacier in North America. Dive even deeper into the culture and wildlife of Alaska with our 18- to 21-day EXC In-Depth Voyages. Visit a Tlinglit tribal house in Wrangell built mainly by hand and largely by women. Witness the area's largest concentration of humpback whales in Frederick Sound. See how the values of Inupiaq Eskimos of yesterday live on today in Nome. Or experience the raw, volcanic beauty of Russia's Kamchatka Peninsula.
ADVENTURES AT SEA
Huna storytellers and sled dogs. Calving glaciers and tranquil fjords. Soaring eagles and humpback whales. Who knew you could discover so much by sea?
STAND IN AWE OF MIGHTY GLACIERS One of the highlights of any Alaska voyage is watching the jaw-dropping drama of the area's ever-changing glaciers. Witness each extraordinary moment from the expansive deck of your Holland America Line ship. Glacier Bay National Park. There are more active tidewater glaciers in this UNESCO World Heritage Site than anywhere else on Earth. And we offer greater access and more visits to it than any other cruise line. Learn more about the park, its glaciers and its history on board from a National Park Service ranger and a Huna Totem member. Hubbard Glacier. Select itineraries give you a once-in-a-lifetime view of this towering glacier, which is nearly six miles wide, 76 miles long, 30 stories tall and advancing. Sawyer Glaciers. Wind through primeval nature as you cruise up narrow, jade-colored Tracy Arm Fjord and get so close to the twin glaciers here you can feel the cool air coming off them.
EXPLORE HISTORIC SEASIDE TOWNS Wander along weather-worn boardwalks and explore the byways of rustic shoreline villages that haven't changed in decades. Juneau. Walk on Mendenhall Glacier or speed through an alpine forest pulled by a team of sled dogs near Alaska's dramatic capital. Ketchikan. Photograph imposing monuments at Saxman Totem Park, then stop in the village center to watch native carving masters teach their young apprentices. Sitka. Marvel at the historic architecture here, or get a close look at bald eagles, owls, falcons and other birds of prey at the Alaska Raptor Center outside town. Skagway. Step back in time in this frontier town, the jumping-off point for prospectors bound for the Yukon gold fields.
MORE OF ALASKA Get the inside story from people who have a history here. Thanks to many years of working in this area, we've developed a keen insight on the Alaska you most want to see. Our carefully selected cruise itineraries reflect that with more choices for seeing G lacier Bay, Ketchikan, Sitka and Seward than any other cruise line. We offer calls to lesser-known ports, too, such as Homer and Kodiak, for a complete and authentic view of Alaska.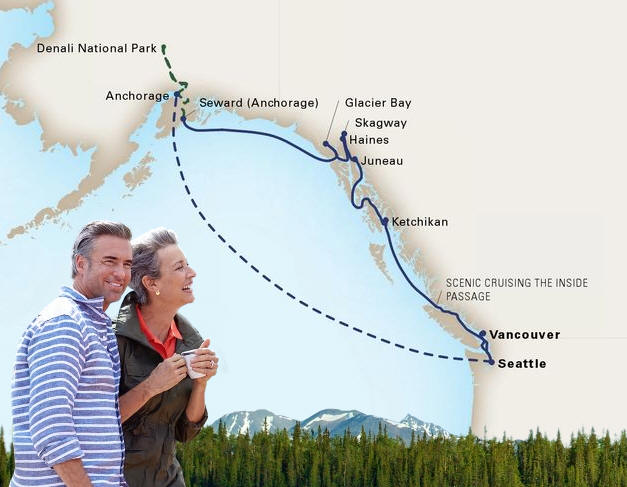 WELCOME TO A MOUNTAIN OF ADVENTURE Hang on tight as you shoot through Coffee Grinder and Royal Flush, riding the Nenana River's white water aboard an expertly guided 18-foot raft. Climb high above the clouds in a twin-engine Piper Navajo in search of a close-up view of Denali's 20,310-foot summit. Aspiring photographers can learn about optimal exposure and selective focus from a pro who will take you into the wild to snap the perfect shot. Every two- and three night stay includes a Tundra Wilderness Tour: an eight-hour guided journey deep into Denali, where you may spot grizzlies, caribou and other wildlife. Rediscover the romance of travel by train as you journey to the park on our own glass-domed McKinley Explorer railcars where you can admire the panoramic view up top or step down below to breathe the fresh alpine air on an open deck. Only Holland America Line stays this long and goes this far into the park, with Triple Denali Land+Sea Journeys that give you the time to take it all in. And every Denali trip includes a different sort of adventure: a relaxing 7-day Glacier Discovery cruise, where you'll be treated to the wonders of Alaska best enjoyed by sea. Spend more time in the park. Design your perfect Denali adventure. Begin and end your days in rustic comfort. If you've been dreaming of the perfect Alaska adventure, don't miss the number-one reason why visitors are drawn to the Great Land: Denali. Our Denali Land+Sea Journeys offer the most authentic and immersive way to combine the ultimate Alaska cruise experience with the wonders of Denali National Park.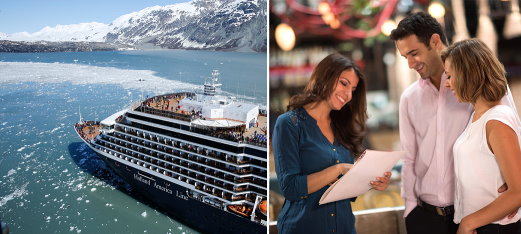 MORE TIME TO EXPLORE With our Double and Triple Denali Land+Sea Journeys, you'll have more time to enjoy all that Denali has to offer. Choose from itineraries ranging from 9 to 14 days, beginning or ending with the pleasures of seven days at sea. Discover the difference an extra day or two will make in your enjoyment of the park more time for river rafting, zip lining or flightseeing the mountain.
WILD FOR DENALI Even by Great Land standards, Denali is impressive. Equally impressive are the wildlife that call it home. On the Tundra Wilderness Tour, you'll venture deep into the park, watching for grizzlies lumbering across the tundra. Also keep an eye peeled for moose, caribou or Dall sheep grazing in the high reaches. And, weather permitting, the Great One will appear in all its glory. No wonder Denali is on everyone's Alaska must-see list.
YOUR DENALI HOME BASE Set in a premier location on the banks of the Nenana River just outside Denali National Park is our own McKinley Chalet Resort. Timbered beams, native stone and soaring open spaces bring the feel of the outdoors inside. One of the many appealing room styles available are the new Junior Suites, complete with your own private balcony. And, at the heart of our resort is Denali Squareâ"¢. Here you can compare the day's wildlife sightings over a locally brewed beer at Karstens Public House. Enjoy an open-air concert in the amphitheater. Shop for locally made keepsakes, then gather with friends around the fire pit and thank your lucky stars for this time, this place.
OUR DENALI: STAY LONGER, SEE MORE Meet the people who help make Holland America Line's Alaska so memorable. Showing you the wonders of the Great Land is their passion. Their deep knowledge and expertise are sure to make your Land+ Sea Journey one you've dreamed of. Alaska by Sea or by Land+Sea Alaska Cruises Our mid-sized ships were designed to bring you closer to Alaska's natural wonders. Experience one or more of these amazing glaciers: Glacier Bay National Park, Hubbard Glacier, Twin Sawyer Glaciers of Tracy Arm, or the glaciers of College Fjord.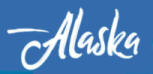 VIEW ALASKA CRUISES Alaska Land+Sea Journeys Combine your cruise with a land-based adventure that takes you to Denali National Park or to both Denali and the Yukon. Every itinerary includes a stay at our McKinley Chalet Resort, an exclusive wilderness retreat at the gateway to Denali.
LAND+SEA JOURNEYS Need Help Planning? Holland America Line Personal Cruise Consultants will advise and assist you in planning the perfect experience onboard and in port. Holland America Line's Alaska

LEAVE NOTHING UNDISCOVERED Alaska is one of nature's miracles, and the Holland America Line difference is the way we showcase it. We've been showing guests the best of Alaska since before it was a state, so count on us to make your Great Land dreams come true.
MORE WAYS TO DISCOVER GLACIER BAY Holland America Line has more departures that include Glacier Bay National Park than any other cruise line. Learn more about this World Heritage Site from our onboard Naturalist, a National Park Service ranger and a Huna totem elder.
MORE ITINERARY OPTIONS We offer more Alaska cruise itineraries than any other cruise line, and more options from convenient ports of call like Seattle, Washington and Vancouver, British Columbia. Cruises from 7 to 21 days; Land+Sea Journeys from 9 to 18 days
_____________________

About Us
Connect with like-minded Alaska cruise travelers that are actually experienced, having been there, and done that! They are eager to share their own stories about visiting Alaska, both from the sea and on the land. If you need help, have questions or want more information, talk to them. They are advocates who love Alaska,, it's people, wildlife, wonders and wilderness.
Our efforts focus on working hard to build great lasting relationships by invested in getting to know our client's personal passions and finding experiences that are tailored to what they wish to discover. By developing our knowledge of your interests, preferences, and style, we are better able to anticipate your desires and needs. Our Certified Alaska Cruise Experts take that extra step that shows commitment and dedication to creating memorable experiences on an individual personal basis. They also stand by you, every step of the way.
The person you speak to on your first contact with us, is the same person you deal with throughout the planning, pre-and post cruise experience. There's no call center here. Our Certified Alaska Cruise Experts want to get to know not just your travel preferences, but also your personal passions. That way, we will be able to suggest to you the right itinerary that connects to an emotional response, which is critical to creating a defining experience and lasting memory for you. Now, building those successful, genuine, long-term relationships with our clients, as well as the cruise lines we work with, is something that occurs over time. So, since 1999 we have been hard at work, getting better at it everyday.
Experience, Education and Expertise
Our Certified Alaska Vacation Planners go above and beyond, providing that "been there, done that" experience, education and expertise, cruise line call centers and others don't. Our staff handles and/or gives advice for every aspect of your trip from ground transportation to shore excursions, and more! Working with a Certified Alaska Vacation Planner makes your trip experience that much better. When it's time to start thinking about an Alaska vacation, we can help you decide on the best destinations, ports of call and share ideas based on your interests, and what is affordable. Our Certified Alaska Vacation Planners are real " Insiders", and will review the cruises, land tours, wilderness lodges, rail, and more. They can help you pick the cruise line, land tours and itinerary that best suits your interests. Our Certified Alaska Vacation Planners have traveled the Inside Passage, cruised the Gulf of Alaska and explored interior Alaska, including Denali National Park many times - so you will be working with a Certified Alaska Vacation Planner who has experienced Alaska first hand!
The Value of Knowledge And Know-How, from Alaska Certified Experts.
We have Certified Alaskan Cruise Experts who are eager to help you sort through all your options, answer all questions, give you their best advice and book your cruise or cruise tour. Certified Alaskan Cruise Experts have years of hands-on destination experience and expertise in travel to Alaska. And, we're a Top Selling Agent in North America...so our buying power and connections go a long way to getting you a great deal! Plus, we offer some amazing shore excursions. Choose salmon fishing, taking a helicopter and flight see over and land on glaciers, kayaking, trekking, panning for god or feel the exhilaration of riding a dogsled, Alaska shore excursions are all adventure!
Need Help? Have Questions? Want More Information.
Sometimes it pays to put yourself in the hands of the experts. Discover extraordinary fun, must-do experiences and savings with a well-planned Alaska cruise vacation. Planning a trip can become like a second job. So many decisions. So many websites. Enough information to fill a book, actually, hundreds of them. That's where we can help. We've organized all the must-see, destinations, sights and must-do adventures into a single Alaska cruise vacation site, Alaska Cruises Direct. You'll get expert guides, find great advice and service, and learn how to maximum the amount of time in each port to enjoy your vacation. We save you the precious time it takes to organize your Alaska cruise vacation and preview the ultimate shore side experiences during your cruise vacation. And, on top of that, show you where to find value priced cruises to save you money. All you have to do now, is relax and enjoy your Alaska cruise vacation. You can make a checklist of what to pack. You may even consult those friends that made a similar journey. If you are meticulous, you will read that robust guide book from cover to cover. Yet no amount of research and extensive travel planning will prepare you for the sheer wonder of Alaska. So, now is a great time to get started. Let us introduce our dedicated Team of Certified Alaska Travel Experts that with just one phone call, [ 800.365.1445 ] review local culture and history with customized guidance for each Alaska destination.
No Initial Deposit Required - Book Now, Take Your Time To Decide. Pay Later
Call us at 800.365.1445 to reserve your cruise with no initial deposit necessary! Right now, when you book an Alaska sailing or Alaskan Cruisetour at least 120 days prior to cruise departure, we will waive your initial booking deposit and place your reservation on a "Courtesy Hold". Giving you up to 3-7 days to decide if the sailing date, rate and accommodations meet your wants and needs. If you choose not to book it, the courtesy hold automatically expires with no effort, nor obligation on your part. Others may charge you up to 10% of your total costs just to hold your reservation. Your original deposit must be paid before the courtesy hold expires and final payment ( your balance due after placing a deposit) will be due around 75 days prior to sailing. Not valid on bookings requiring non-refundable deposits.
Real Helpful People, Not Call Center Operators!
When you work with a Certified Alaska Vacation Planner, you're speaking with an experienced professional, who is assigned to you through out the process. Unlike the cruise line call center, when you never get the same person twice. And, the cruise line operator only has the cruise line interests in mind, not yours. Working with a Certified Alaska Vacation Planner can help make your travel plans better. Better than you ever could on your own.
Ask all your questions, take all the time you need.
If you do decide to travel with us, that's great. But, if not, it's still ok. We enjoy sharing our life's travel experiences with you and like-minded travelers, none the less.
Your Personal Cruise Concierge
Booking a cruise should be a simple and straight forward experience, and for the most part it is. However, we all know about the many details to take care of. Details, that at times can seem overwhelming. Imagine having someone available to assist you with all of your destination, onboard and ashore needs. Our Certified Cruise Travel Experts act as your personal cruise concierge. Creating a curated trip designed to meet your budget, wants and needs. Their advice is free and so is the phone call to reach them. So, call 800.365.1445 to get started.
"Awaken your love of the great outdoors when you experience the boundless splendor of the Alaska wilderness on board a cruise ship. Alaska: Mother Nature's piece de resistance. It is, quite simply, the world in its purest form. Imagine vast glacial fields juxtaposed against immense evergreen forests, infinite fields of wildflowers, and heady rushing waterfalls. Nowhere on earth is as diverse as The Last Frontier as seen in the summertime. Oh, and do not forget to pack your sun block. Summer temperatures in Alaska are mild and the days last well into the night."
---
Alaska Sightseeing, Shore Excursions, Activities & Adventures
We invite you to expand the horizons of your favorite activities with new experiences. Explore the culture, sights, and adventures waiting beyond the shore in the most active, engaged, and fun ways imaginable.. Every port gives you a world of possibilities as you interact with the locals and choose the dynamic, interactive activities that appeal to you most. It's Alaska in a whole new way!
Energetic Exploration :
For the Alaskan traveler who thrives on motion and action, explore a broad range of energetic excursions. You might find yourself on a jogging tour through mountain trails, or on a 4-wheeler back country tour around Denali or even on a canoe trip right up close to a glacier. From a heli-landing trek on a glacier to explore crevasses to hiking in the forest, these included excursions pack real get-up-and-go for those who like to do the same. Discover More
Nature & Wildlife
Anchorage: Kayaking in Prince William Sound
Glide through pristine waters on this approximately 3 hour kayaking excursion in Prince William Sound.
Copper River: Worthington Glacier Hike
Take a snow day and hike on the ice blue Worthington Glacier. After reaching the glacier, strap on a pair of crampons, then take a hike.
Denali: Denali Glacier Landing by Helicopter
Soar over the Alaska Range for a glacier landing to view icefalls, moraines, ice bridges and glacial pools as well as wildlife.
Juneau: Mendenhall Glacier Native Canoe Adventure
Be among the select few, under a limited U.S. Forest Service permit, to travel as Native Alaskans once did by canoe and venture within yards of the majestic Mendenhall Glacier.
Ketchikan: Alaska Wilderness Survival
This epic journey takes you to a wild and secluded island where you'll learn to build a shelter, collect food, and start a fire. Back on the boat, explore the Inside Passage coast with opportunities to discover a variety of wildlife species.
Mt. McKinley: Three Rivers Tour
Board the fully-enclosed McKinley Queen jet boat and cruise along three rivers that offer panoramic views of Mt. McKinley and breathtaking flora and fauna.
Skagway: Horseback Riding Adventure
Escape the hustle and bustle of port and come discover the awe-inspiring Alaska beauty just as the pioneers did on horseback!
Anchorage: Prince William Sound 26 Glacier Tour
Hop aboard a high-speed catamaran and travel 140 miles into Prince William Sound to see 26 named glaciers, as well as an abundance of wildlife.
Copper River: Copper Country Discovery Tour
Immerse yourself in the natural wonders of Copper River Country. Enjoy a scenic van ride and interpretive discussion with a professional naturalist guide.
RECOMMENDED
Juneau: Whale Watching & Wildlife Quest
Experience southeast Alaska's incredible scenery and amazing natural history on this exceptional wildlife excursion that offers a whale-sighting guarantee.
Ketchikan: Bering Sea Crab Fishermen's Tour
Join a 3-hour cruise aboard the Aleutian Ballad from season
two of the TV series Deadliest Catch to learn about the world of commercial fisherman.
Ketchikan: Neets Bay Bear Watch & Flight
RECOMMENDED
After an exhilarating 25-minute flight, embark on a nature walk to Neets Bay in Tongass National Forest, and a once-in-a-lifetime opportunity to get an up-close view of black bears.
Skagway: Haines Wilderness River Adventure
A jet boat tour deep into the heart of the Chilkat Bald Eagle Preserve offers a true wilderness experience where you may see eagles, moose and bears.

Sightseeing & City Tours Special Interests
Fairbanks: Fairbanks Highlights Adventure
Visit Fairbanks' top attractions - The Morris Thompson Cultural Center, Museum of the North and Santa Claus House in North Pole where it's Christmas year-round!
Juneau: Juneau's Exclusive Highlights
Experience Juneau's most scenic, unique and historic sites from the comfort of a deluxe minibus on this small group adventure.
Kenai: Explore Historic Seward
Take a guided tour along Alaska's only National Scenic Byway to the historic town of Seward, where attractions include the Seward Museum, Alaska Sealife Center, Exit Glacier and more.
Ketchikan: Saxman Native Village & Totem Pole Park
Visit fascinating Saxman Native Village, witness Native dancing and see the craft of totem carving before taking a motorcoach tour of historic Ketchikan.
Seattle: Space Needle, Pike Place Market & City Tour
See Seattle's premier attractions, from the soaring Space Needle to vibrant Pike Place Market.
Skagway: White Pass Scenic Railway
Take a thrilling ride aboard the historic Gold Rush-era White Pass & Yukon Railroad.
Victoria, B.C., Canada: Victoria by Horse-Drawn Trolley Experience the beauty of Victoria by horse-drawn trolley, a timeless tradition and wonderful way to view this historic city.
Denali: Music of Denali Dinner Theatre
Delight in a wonderful, feel-good musical comedy paired with an all-you-can-eat Alaskan dinner buffet.
Fairbanks: Chena Hot Springs
Experience the "hottest" and "coolest" attractions in Alaska - a natural hot springs, ice museum and great dinner!
Juneau: Salmon Sportfishing Adventure
Fish for salmon in one of the most productive fishing grounds in southeast Alaska.
Kenai: Gold Panning with "Prospector John"
Enjoy a true gold panning experience with Prospector John as he takes you back to the days of the Gold Rush, then through the steps of modern and old-time techniques.
Skagway: Gold Panning, Sled Dogs & Exclusive Scenic Railway Relive life as a prospector on this tour that takes you back in time to the Gold Rush. Ride the vintage railcars on the historic White Pass Railway with a costumed guide and celebrate your adventure at the summit with a one-of-a-kind Klondike toast.
Victoria, B.C., Canada: Enchanting Butchart Gardens
This 55-acre floral wonderland, featuring themed gardens and meandering paths, is illuminated with colored lights and magical effects.
___________________________________________________________________________________________________________________________
Need Help Planning Your Alaska Cruise Vacation?
Call 800.365.1445
Every Port leads To New Discoveries

"The rugged grandeur of the last frontier greets you with its jagged peaks, verdant valleys and icy blue glacial waters.
It welcomes you with curious wildlife that frolics in its seas, roams in its valleys and soars in its cobalt blue sky.
It shares with you its genuine people and fresh Alaska seafood.
Say hello to Alaska and find out the many ways it can inspire you."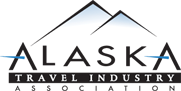 CLIA is the world's largest cruise association. Comprised of the twenty-five major cruise lines that serve North America. Cruises Direct Online is a proud member of CLIA.
In addition, our travel advisors are certified cruise travel experts, recognized with certification, from Princess Cruises, Viking Cruises and others.
Copyright (c) 2019 - Cruise Direct Online : A Travel Direct Company ALL RIGHTS RESERVED
Fla. Seller of Travel Reg. No. ST-31254 | Terms of Use - Privacy Policy
About The Prices
Save as much as 10-70% off brochure rates for off peak departures ( select May and September dates ). Other savings available for peak season departures ( June, July August ) Not every ship, not every sailing is discounted. Call us to find out about your cruise selection. 800.365.1445. The prices and descriptions of cruises and tours shown, are suggestions to give you an idea of how much you can do on land and on the sea in Alaska within your budget. The prices shown are just a guide, as there are over 90 combinations of land and/or sea tours to choose from and the cost varies depending upon what cruise line, cruise ship, destination, sailing or departure date you choose. They are meant to serve as a starting point for trip planning, with a variety of options to fit your needs. For example, you can easily combine Gulf of Alaska/Inside Passage 7-day cruise itineraries with a 3 to 7 day land tour to make a 14-day itinerary, from Vancouver to Fairbanks, or reverse the route for most trips.
*Princess Cruises Captain's Circle Launch Savings of up to $200 per person discount is applicable in all categories and combinable only with Launch Fares and Group Fares. Specific discount amounts vary by itinerary and cruise length. Regional and other past guest promotions or "new booking only" promotions are not combinable with the discount. Princess Cruises Captain's Circle Launch Savings is not applicable to third and fourth berth guests.
Related Links - Search Terms
Alaska Cruises Direct Answer Desk
We are here for you with one-on-one support and personalized cruise vacation planning help. Whether you need help finding the right cruise line, cruise ship, destination, ports of call or shore excursions or want to learn more about us, a professional Certified Cruise Vacation Expert is just a toll-free phone call away. Call us today at 800.365.1445. The call is free. The advice is free. And there is never an obligation to book.







_________________________________________________________________________