Alaska Cruises ©| Alaska Cruisetours | Alaskan Land & Sea Cruise Vacations sm
"Thrill to white thunder in Glacier Bay, marvel at sunlight at midnight and close-ups of whales, eagles and caribou.
Delight in Mt. McKinley's majesty and meadows carpeted with wildflowers. Amid unsurpassed grandeur and serenity, the true wilderness of Denali is calling.
Catch sight of a humpback whale or wolf pups frolicking in the snow. Alaska is as rustic and romantic as one could ever imagine. Whales, Wonders and Wilderness"
NEWS about Lindblad-National Geographic Alaska Cruises & Tours for 2019 - 2020
May to September 2019 - 2020 Alaska expedition cruises offer endless outdoor activities, wildlife sightings, picture-perfect moments, cultural experiences, and more.
Among the planet's most iconic destinations, Alaska is a must-see for those who love wild nature. There's so much wildlife richness - from breaching and bubble-netting whales to foraging bears, soaring bald eagles, and frolicking otters. Witnessing these majestic animals up-close and in their element is just one of the myriad reasons National Geographic has been drawn to exploring Alaska for over 35 years, and why you might want to consider joining them there next year. The 2019 - 2020 season will be particularly exciting as they proudly welcome the brand-new National Geographic Venture to their fleet. Venture will join her sister ship National Geographic Quest in Alaska, along with the beloved National Geographic Sea Bird and National Geographic Sea Lion. Like Quest, Venture's bow has been uniquely designed to provide for unobstructed wildlife viewing so you won't miss a moment in this magnificent landscape.
Plus, an expansive observation deck one level up provides a unique perspective of the surrounding scenery and plenty of space for you to linger and take it all in. And all of their ships feature shallow drafts that let them sail deep into this authentic wilderness - along coastal waters and into shallow coves and narrow channels where abundant wildlife congregates. The fleet also travels with an undersea specialist to give you rare access to a surprising facet of Alaska: its vivid undersea. Equipped to dive and record video, they'll share amazing footage with you of vast kelp forests, unusual jellyfish, vibrant anemone, curious octopus, and so much more. Few know how dazzling and colorful the undersea is, especially in cold waters like those found in Alaska. The wealth of biodiversity is astonishing and truly worthy of protection as the fleet is now 100 percent free of all single use plastic bottles, cups, straws, and stirrers. I hope you are inspired to discover all the wonders Alaska offers.
Since the United States acquired "Seward's Folly" from Russia in 1867, this mythic landscape has drawn travelers like iron filings to a magnet. Thanks to National Geographic's 50 years of expedition experience and 35+ years of Alaska expertise, they have earned the knowledge and the privileges that enable them to take you deep inside authentic Alaska. Special permits from the National Park Service and U.S. Forest Service allow you to sail far into Glacier Bay National Park and remote wild regions of the Tongass National Forest. National Geographic's connections with welcoming locals and First Nations communities they visit in Alaska and British Columbia create moving and memorable encounters to take away. Discover a maze of fjords lined in ancient forests framed by snowcapped mountains. Hear the thunderous crack of glaciers. Linger in calm bays with humpback whales. See foraging bears, hauled-out Steller sea lions, feeding puffins, and mountain goats picking their way along a rocky outcropping, and bald eagles perched in massive Sitka spruce trees.
NEWS about Lindblad - National Geographic Alaska Cruises & Tours for 2019 - 2020
SEE MORE ALASKA THAN YOU EVER IMAGINED POSSIBLE

Who knew, right? No one thinks about what is under the sea when they think about Alaska. That's what makes exploring it during your time aboard National Geographic's ships so surprising and exciting. Because what's under the water is vital to your understanding of Alaska, they've committed the technology and personnel resources to offer what no other travel company in Alaska does - an exploration of the vivid and surprising world beneath our ship. During the voyage, your undersea specialist will don special cold-water diving gear to explore and shoot video of the Alaska marine environment and its otherworldly creatures. You'll get to see this amazing world on TV screens in the warm comfort of the lounge, with their undersea specialist as your guide. You'll see the vast kelp forests swaying in the currents and discover strange and wonderful anemones, jellies, rockfish, perhaps even an octopus, and other unusual life forms that are only found deep beneath the surface. As a result, you'll have a unique 360 degree experience of Alaska. (Not available on the Wild Alaska Escape itinerary).

Experience Alaska: Expedition Cruises | Lindblad Expeditions
ALASKA WAS MADE FOR FAMILY MEMORIES

An Alaska expedition is smart fun for all ages, and for all types of families, from tiny to clan-sized. Join National Geographic to discover how this wild, beautiful land and uncommon adventure can unite everyone in shared activities - kayak side-by-side through a quiet cove, hike the forest, draw safely near a thundering glacier, spot bald eagles, or watch humpback whales surge as they feed. Our expeditions ensure seamless family getaways where everything is taken care of - all you have to do is relax and enjoy the adventure. Kids thrive in the sociable confines of the ship where they can exercise some autonomy, and our naturalists are excellent role models who ably embed learning in every fun activity. And options for activities - short, medium, or long hikes, or a peaceful cruise by expedition landing craft with minimal walking - ensure all fitness levels are accommodated.

"In this era of devices and seemingly limitless connectivity, it's become far too easy for family members to spend more time with their phones and tablets than each other. Expedition travel, with its mix of fresh daily sights, wildlife, undersea wonders, and activities for every age and fitness level, is the perfect antidote - to disconnect your family from screens, and re-connect you with each other."- Sven-Olof Lindblad, Ceo & Founder, Lindblad Expeditions

SHARE THE ADVENTURE & SAVE!
Going on an expedition with your kids or grandkids is a life-enhancing experience - so take $500 off the double occupancy rate for each person under the age of 18. Traveling with a big family? Groups of 8 or more save 5%.

THE PERFECT PLATFORMS TO EXPLORE WILD ALASKA
The key to our expedition style is how we view National Geographic ships: they're tools for getting you to, and deeply into, the remarkable places we explore. In turn, all ships - National Geographic Sea Bird, Sea Lion, Quest, and Venture are equally equipped with a roster of exploration tools. A fleet of expedition landing craft on each allows us to explore, and land, in pristine wild places where no infrastructure of docks and ports exist. A fleet of kayaks and paddleboards enable you to get out on personal adventures. In addition, ours are the only ships in Alaska with an undersea specialist and undersea video technology aboard - to provide video presentations of the world beneath the ship for all to enjoy in brilliant HD from the comfort of the ship's lounge. Quest and Venture are equipped with an ROV (Remotely Operated Vehicle) capable of exploring depths of up to 1,000 feet. Other advantages of National Geographic ships include: spacious decks ideal for fresh air wildlife-watching with your naturalists; and generous windows that bring in the jaw-dropping scenery - to keep you constantly connected everywhere on board to the iconic Alaska you came to experience.
Alaska 2019-2020 Brochure >> Download Brochure (PDF)
NATIONAL GEOGRAPHIC ALASKA 2019 TOURS

1. EXPLORING ALASKA'S COASTAL WILDERNESS
8 DAYS/7 NIGHTS - ABOARD NATIONAL GEOGRAPHIC SEA LION, NATIONAL GEOGRAPHIC QUEST, AND NATIONAL GEOGRAPHIC VENTURE
PRICES FROM: $5,990 to $11,430 (Call 800.365.1445 for all the rates, departure dates & details )

Experience the remarkable beauty of Southeast Alaska on a voyage aboard the National Geographic Sea Lion, National Geographic Quest, or National Geographic Venture into a land of mist shrouded fjords, tidewater glaciers, and islands teeming with wildlife.
Search for killer whales and humpback whales, explore the coast by kayak, spend a full day in Glacier Bay National Park *, and learn about Alaska's rich Tlingit heritage.
EXPEDITION HIGHLIGHTS
▶ Hike through lush forests to cascading waterfalls, and ride an expedition landing craft into secluded inlets to look for brown bears.
▶ Meet with our conservation partners from the Alaska Whale Foundation to learn about the local whale population, and get a first-hand perspective on Alaska's indigenous people from a Tlingit cultural interpreter.
▶ Discover Alaska's seldom-seen, vibrant marine life revealed by our undersea specialist.
▶ Hike and Kayak by special permit in the wild and remote areas of the Tongass National Forest in Southeast Alaska.

WILD ALASKA
For some time now, travelers have communicated how much they wanted to explore Alaska with National Geographic - but needed a shorter time frame. They listened, and responded with this compact itinerary that packs the best of iconic Alaska into six days. Perfect for active travelers, especially families, this nonstop, high-energy expedition sets a keen pace. Grab a kayak or a stand-up paddleboard from our onboard fleet, head out in expedition landing craft to observe bears feeding up-close, or to land and hike old-growth forests. Bike against the backdrop of Alaskan wildness, or float a river through a preserve where bald eagles congregate. And get heart stopping glacier views on a flight seeing adventure. You'll miss nothing - eagles, bears, leaping salmon, whales breaching and bubble-net feeding, plus the finest collection of Tlingit art - you'll see and do everything Alaska offers

2. WILD ALASKA ESCAPE
6 DAYS/5 NIGHTS - ABOARD NATIONAL GEOGRAPHIC SEA BIRD


PRICES FROM: $4,290 to $7,490 (Call 800.365.1445 for all the rates, departure dates & details.)

Explore wild Alaska on an active, exciting expedition to see the region's iconic wildlife and epic landscapes in the compact timeframe of one work week. Take long hikes on world-class trails through forests of towering trees, kayak deep into glacially carved fjords, stand-up paddleboard in calm bays, and raft from an ancient Alaska native village - all with our nimble expedition ship as your moving basecamp.
EXPEDITION HIGHLIGHTS
▶ Paddle on long, naturalist-guided kayaking journeys into Alaska's dramatic bays.
▶ Explore Haines, the "adventure capital of Alaska," via raft, bicycle, or hiking boots.
▶ Board expedition landing crafts to view icebergs and the face of a glacier in Tracy or Endicott Arm.
▶ Choose optional flight seeing offering breathtaking aerial views of Glacier Bay National Park.

ALASKA & BRITISH COLUMBIA
If there is such a thing as a charismatic coast, the one National Geographic Quest and National Geographic Venture will trace would certainly be it. Or rather- them - since you'll explore not just one stunning coast but many on this expedition. This nimble small ship threads the Inside Passage, tucks into straits and sounds, and weaves through island groups known for their charm: the San Juan Islands, Vancouver Island and the Gulf Islands. There is much to see, and even more to do - from scanning the horizon for signs of killer whales and
wildlife sightings, to personal forays into nature by expedition landing craft, kayak or paddleboard, and active engagement with the culture and beauty of the First Nation lands, and cosmopolitan Victoria. In addition, National Geographic has curated exclusive opportunities for you - avoiding crowded locations in garden-rich Victoria, for example, to instead enjoy special access to 'secret gardens" with an expert docent, and a private cocktail reception at Robert Bateman's incredible museum in Victoria. Spring and Fall are a great time to explore.


3. TREASURES OF THE INSIDE PASSAGE:
ALASKA AND BRITISH COLUMBIA
14 DAYS/13 NIGHTS ABOARD NATIONAL GEOGRAPHIC QUEST AND NATIONAL GEOGRAPHIC VENTURE
PRICES FROM: $9,990 to $15,960 (Call 800.365.1445 for all the rates, departure dates & details.)

Board the newest ships in the Lindblad-National Geographic fleet, National Geographic Quest and National Geographic Venture, on an in-depth exploration of the San Juan Islands, British Columbia, and Alaska. Linger in the temperate rain forests and wildlife-rich channels of British Columbia, and enjoy ample time to explore the breathtaking fjords and towering glaciers of Southeast Alaska. Plus, discover the cultural facets of this coast during captivating performances and interactions with the Kwakwaka'wakw people of Alert Bay.
EXPEDITION HIGHLIGHTS
▶ Explore the charming city of Victoria, British Columbia via custom curated tours and
enjoy a private reception surrounded by incredible artwork at the Robert Bateman
museum.
▶ Experience the wild and sublimely tranquil San Juan and Gulf Islands.
▶ Observe a moving Kwakwaka'wakw performance at the Big House at Alert Bay.
▶ By special permit, spend a full day exploring Glacier Bay National Park.
▶ Extend the adventure: consider our 7-day Denali extension which includes a stay at Denali's North Face Lodge on select departures.

MISTY FIORDS TO THE LYNN CANAL
If the name of this itinerary suggests photography to you - you're right! Using your viewfinder as a route to exploring is ideal on this event-rich voyage. Explore the Inside Passage aboard the 31-cabin National Geographic Sea Bird as she sails from the glacially carved cliffs of the southern Misty Fiords all the way to the northernmost reach of the passage, Haines - Alaska's adventure capital. Spend a full day shooting legendary Glacier Bay National Park from the bow of your ship, getting photo tips and tricks from your onboard National Geographic photographer and two Lindblad-National Geographic photo instructors. Add photos of all of Alaska's incredible wildlife - whales, bears, eagles - to your portfolio. Shoot the mist-shrouded landscapes or early morning and snow-capped mountains glowing at dusk with outings specially timed to take advantage of lighting ops. Plus, enjoy all the same tools for exploration and insights from the natural history staff on every Alaska expedition they offer.

4. EPIC ALASKA: MISTY FIORDS TO THE LYNN CANAL
11 DAYS/10 NIGHTS - ABOARD NATIONAL GEOGRAPHIC SEA BIRD
PRICES FROM: $8,990 to $15,740 (Call 800.365.1445 for all the rates, departure dates & details..)

Sail aboard the National Geographic Sea Bird on this immersive, wide-ranging expedition through Alaska's famed Inside Passage. Experience the perfect mix of small-town life and the grand expanse of the wild landscape that surrounds it, from the northernmost limit of the Alaska's Inside Passage to the southernmost. Capture it with the help of a Lindblad-National Geographic certified photo instructor.
EXPEDITION HIGHLIGHTS
▶ Raft though the Chilkat Bald Eagle Preserve, which boasts the largest congregation of bald eagles in the world.
▶ Explore Glacier Bay National Park, Misty Fiords National Monument, and search for humpback whales in their summer feeding grounds.
▶ Kayak amid glacial ice, hike the Tongass National Forest and learn about the region's rich Tlingit heritage.

▶ Explore Tongass National Forest: By special permit hike and kayak in the wild and remote areas of the Tongass National Forest in Southeast Alaska.

5. DON'T MISS DENALI! EXPERIENCE IT PRE-OR POST-VOYAGE
With the idyllic North Face Lodge as your base camp, you'll enjoy special access. North Face Lodge's relationship with the Park ensures exclusive opportunities for you to explore Denali's most pristine backcountry areas for prime hiking and wildlife viewing. Set deep in the heart of the Park, this unique wilderness retreat offers unparalleled views of Mt. Denali, a wide range of outdoor activities and nightly presentations that emphasize Denali's natural and cultural history, plus locally sourced cuisine.

INCLUSIVE PRICING
Lindblad-National Geographic includes just about everything you have the opportunity to do as part of your expedition aboard ship and ashore. The only things not included are those of a personal nature - internet usage, wellness treatments and other specialized arrangements.

ABOARD SHIP
 All meals and nonalcoholic beverages
 24-hour coffee, tea and soda on demand
 Hors d'oeuvres and snacks during nightly Recap
 Environmentally-friendly refillable water bottle
 Morning stretch classes with wellness specialist
 Fitness equipment
 Access to reference books and board games in the library
 The guidance and company of our expedition staff

ASHORE
 Special access permits, park fees, port taxes
 Transfers to and from group flights
 The expertise of our expedition staff

ACTIVITIES
 Expedition landing craft explorations
 Kayaking
 Presentations & photo instruction, including a special Alaska Whale Foundation presentation
___________________________________
Alaska's Top Attractions...
Glaciers
Many people travel to Alaska just for a chance to see her famous glaciers. And with good reason. There's no other natural spectacle like witnessing a towering river of otherworldly blue ice and hearing the thunderous crack when an iceberg calves into the tidewater. Imagine sailing past towering peaks of snowy white glaciers, miles wide. Only the sounds of wind and seagulls disturb the silence. Then a massive crackling and a thunderous roar echo across the pristine bay. The icescape rumbles and quakes as the glacier splinters and calves' sending ice and snow cascading into the sea. There's no spectacle in the world that surpasses these towering frozen masses and best displays the fierce majesty of the region.
Glacier Bay National Park
Glacier Bay. This breathtaking national park and preserve boasts some of the world's most spectacular tidewater glaciers, such as Margerie Glacier and Johns Hopkins Glacier. Not surprisingly, Glacier Bay National Park and its epic ice giants are designated a UNESCO World Heritage Site comprising Alaska's magnificent park system.
Tracy Arm Fjord
Breathtaking Tracy Arm Fjord extends over 30 miles long, with nearly a quarter of its area covered in ice. In fact, it encompasses some of Alaska's largest glaciers, including the twin Sawyer Glaciers. You'll sail past snowcapped mountains and through steep granite canyon walls.
Hubbard Glacier
The largest tidewater glacier in North America, Hubbard Glacier's immense beauty and phenomenal blue hues are enchanting, even from afar. But it's when your cruise ship draws closer that its towering surface really impresses, dwarfing even the uppermost deck on your ship.
College Fjord
Discovered in the northwest corner of Prince William Sound during the 1899 Harriman expedition, spectacular College Fjord and its glaciers were named after prestigious East Coast schools by the college professors who first laid eyes upon their majesty. Stretching for miles, these massive rivers of ice edge down from mountains and through valleys, dipping into the pristine waters of the fjord.
Wildlife
How many times in life have you had the opportunity to see moose grazing in meadows, eagles nesting in treetops, whales frolicking in glistening waters and bears roaming in their native habitat? On an Alaska vacation, all that is possible - including glimpsing Denali National Park's Big Five: brown bears, wolves, moose, dall sheep and caribou on a cruisetour. Eagles nesting in treetops. Moose grazing through lush meadows surrounded by snow-capped mountain ranges. A breaching whale crashing down into the tranquil sea. On an Alaska vacation, you'll also have plenty of chances to enjoy the sights of humpback, beluga and orca whales, along with harbor seals, sea lions and sea otters frolicking in the water.
Mountains
The focal point of Denali National Park is 20,310-foot Denali, the tallest peak in North America. Cruisetours take you close to this inspiring wonder as well as other breathtaking ranges such as Wrangell-St. Elias. Take a moment to pause and gaze up. Massive, eternally snow-capped mountains rise majestically against the bright blue sky, which darkens to a majestic indigo at twilight. Wild, untamed and exquisitely unique, this astounding landscape dwarfs your wildest imagination. No other place offers such untouched beauty. Home to almost 3,000 peaks and Denali, North America's tallest mountain, Alaska's summits are a feast for your eyes. And one you'll never forget.
Cruise ships to Alaska provide a feast for the senses, both onboard and off-shore. A glacier calving with the roar of a thousand canons. Diamond-blue icebergs floating on a glassy bay. A humpback breaching in a spectacular display ... Gaze amazed at the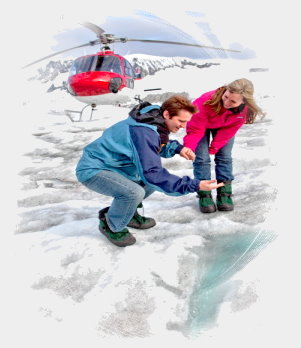 astonishing raw landscape as breaching Orcas and playful harbor seals pose for the camera....then explore a more remote, untouched Alaska on an rail and motorcoach expedition that takes you further inside the Inside Passage. Renew your spirit in the timeless sensations of nature on an Alaskan cruise. You will not be disappointed. Star bright, wild and sensationally opulent, Alaska is a land that needs no introduction - and our Alaskan cruises combine the essence of the area. Adventure, culture, history and glaciers are just part of your Alaskan cruise vacation. This is a big state known for both its fabulous scenery and its rich history. Not forgetting the highlight of any Alaskan cruise, a glass domed train ride through Alaska to visit Denali National Park, Cooper River and the Kenai Peninsula. Offering the most exclusive events on shore as well as aboard, our Alaskan cruise and land tours take you from the awe inspiring Denali National Park to wilderness safaris and dog sledging. Alaska a land where your passion can truly be unleashed.
Cruising Alaska is about more than just moments. Cruising Alaska is about memories that last forever!
"Say Alaska and a variety of images and impressions come to mind: towering mountains, watchable wildlife, icy blue glaciers, endless wilderness, vibrant Native culture, leaping salmon, hardy outdoors; America's last frontier. Often, visiting Alaska has as much to do with what people may feel as with what they will see. There is a mystique that surrounds Alaska. To some it represents a dream, a trip of a life time, a life altering event, a chance to reach out and touch something inside themselves that is wild and beautiful like they imagine Alaska to be."
Our job is to put that dream - or as much as possible of it - within reach of you.
Alaskan cruising is affordable, only the memories are priceless! When it comes to planning your trip, Alaskan Cruises & Land and Sea Vacations are more economical than you might think. With a wide range of options and choices, there's a cruise or cruise tour to suit most any budget.
Have You Heard?
:: There's a better way, that makes planning an Alaska cruise even easier to use, and as always, it's free.
:: Can't find what you want? Want More Information? Have Questions? Need Help? No problem.
:: There's a toll-free number to call [ 800.365.1445 ]. Speak to a Certified Alaska Travel Expert.
Ask all the questions you want. Take all the time you need. The call is free and so is the advice.
Did You Know?
Our Certified Alaska Cruise Experts have unpublished fares and exclusive offers!
Ready to get started? Call us at 800.365.1445 Today!
_________________________
DID YOU KNOW?
The rates you find for Alaska Cruises and Cruise tours at this website may not reflect the lowest rate available ! Special promotions may be in effect for your departure that could include as an example, FREE Cabin Upgrades, FREE Onboard Spending Money. FREE Shore Excursions Cash, FREE Gratuities, Specialty Dining, Kids Sailing at Reduced Rates, Reduced Deposit Requirements, Fare Discounts and other FREE amenities. Not every sailing has one or more of these Bonus Extra's. So, you will need to call us to find out if your departure includes any of these promotional offers. Call today 800.365.1445
Special Mini-Group rates for 2 couples or more. Save even more !
Exclusive Alaska Mini-Group Rates
Planning a Cruise Together for Alaska? It just Got Easier & Cheaper! 2 Couples or more, extra savings. Families of 4, save even more! All you need is a few friends or family willing to travel together on the same sailing, and a reason to do it--say a family reunion, birthday, graduation celebration, club outing, or just for fun. Sometimes a group starts as just two couples and before they know it, they've invited enough people to eliminate their own cost of cruising. Call us for details 800.365.1445. Save hundreds off regular prices.
Affordable 2020 Alaska Cruises and Cruise Tours
Start planning your 2020 affordable Alaska vacation today with an incredible array of vacations choices to see Alaska. See glaciers and vast wilderness with seven ships sailing to Alaska, and 23 captivating cruise tour options. Search below, then, book today! Book early and you can enjoy extra savings on select sailings and cruise tour departures of up to $500 per person, plus a bonus extra's like Shipboard Credit, Cabin Upgrades and more!
Alaska Sightseeing, Shore Excursions, Activities & Adventures
We invite you to expand the horizons of your favorite activities with new experiences. Explore the culture, sights, and adventures waiting beyond the shore in the most active, engaged, and fun ways imaginable.. Every port gives you a world of possibilities as you interact with the locals and choose the dynamic, interactive activities that appeal to you most. It's Alaska in a whole new way!
Energetic Exploration :
For the Alaskan traveler who thrives on motion and action, explore a broad range of energetic excursions. You might find yourself on a jogging tour through mountain trails, or on a 4-wheeler back country tour around Denali or even on a canoe trip right up close to a glacier. From a heli-landing trek on a glacier to explore crevasses to hiking in the forest, these included excursions pack real get-up-and-go for those who like to do the same. Discover More

Nature & Wildlife


Anchorage: Kayaking in Prince William Sound
Glide through pristine waters on this approximately 3 hour kayaking excursion in Prince William Sound.
Copper River: Worthington Glacier Hike
Take a snow day and hike on the ice blue Worthington Glacier. After reaching the glacier, strap on a pair of crampons, then take a hike.
Denali: Denali Glacier Landing by Helicopter
Soar over the Alaska Range for a glacier landing to view icefalls, moraines, ice bridges and glacial pools as well as wildlife.
Juneau: Mendenhall Glacier Native Canoe Adventure
Be among the select few, under a limited U.S. Forest Service permit, to travel as Native Alaskans once did by canoe and venture within yards of the majestic Mendenhall Glacier.
Ketchikan: Alaska Wilderness Survival
This epic journey takes you to a wild and secluded island where you'll learn to build a shelter, collect food, and start a fire. Back on the boat, explore the Inside Passage coast with opportunities to discover a variety of wildlife species.
Mt. McKinley: Three Rivers Tour
Board the fully-enclosed McKinley Queen jet boat and cruise along three rivers that offer panoramic views of Mt. McKinley and breathtaking flora and fauna.
Skagway: Horseback Riding Adventure
Escape the hustle and bustle of port and come discover the awe-inspiring Alaska beauty just as the pioneers did on horseback!
Anchorage: Prince William Sound 26 Glacier Tour
Hop aboard a high-speed catamaran and travel 140 miles into Prince William Sound to see 26 named glaciers, as well as an abundance of wildlife.
Copper River: Copper Country Discovery Tour
Immerse yourself in the natural wonders of Copper River Country. Enjoy a scenic van ride and interpretive discussion with a professional naturalist guide.
RECOMMENDED
Juneau: Whale Watching & Wildlife Quest
Experience southeast Alaska's incredible scenery and amazing natural history on this exceptional wildlife excursion that offers a whale-sighting guarantee.
Ketchikan: Bering Sea Crab Fishermen's Tour
Join a 3-hour cruise aboard the Aleutian Ballad from season
two of the TV series Deadliest Catch to learn about the world of commercial fisherman.
Ketchikan: Neets Bay Bear Watch & Flight
RECOMMENDED
After an exhilarating 25-minute flight, embark on a nature walk to Neets Bay in Tongass National Forest, and a once-in-a-lifetime opportunity to get an up-close view of black bears.
Skagway: Haines Wilderness River Adventure
A jet boat tour deep into the heart of the Chilkat Bald Eagle Preserve offers a true wilderness experience where you may see eagles, moose and bears.

Sightseeing & City Tours Special Interests
Fairbanks: Fairbanks Highlights Adventure
Visit Fairbanks' top attractions - The Morris Thompson Cultural Center, Museum of the North and Santa Claus House in North Pole where it's Christmas year-round!
Juneau: Juneau's Exclusive Highlights
Experience Juneau's most scenic, unique and historic sites from the comfort of a deluxe minibus on this small group adventure.
Kenai: Explore Historic Seward
Take a guided tour along Alaska's only National Scenic Byway to the historic town of Seward, where attractions include the Seward Museum, Alaska Sealife Center, Exit Glacier and more.
Ketchikan: Saxman Native Village & Totem Pole Park
Visit fascinating Saxman Native Village, witness Native dancing and see the craft of totem carving before taking a motorcoach tour of historic Ketchikan.
Seattle: Space Needle, Pike Place Market & City Tour
See Seattle's premier attractions, from the soaring Space Needle to vibrant Pike Place Market.
Skagway: White Pass Scenic Railway
Take a thrilling ride aboard the historic Gold Rush-era White Pass & Yukon Railroad.
Victoria, B.C., Canada: Victoria by Horse-Drawn Trolley Experience the beauty of Victoria by horse-drawn trolley, a timeless tradition and wonderful way to view this historic city.
Denali: Music of Denali Dinner Theatre
Delight in a wonderful, feel-good musical comedy paired with an all-you-can-eat Alaskan dinner buffet.
Fairbanks: Chena Hot Springs
Experience the "hottest" and "coolest" attractions in Alaska - a natural hot springs, ice museum and great dinner!
Juneau: Salmon Sportfishing Adventure
Fish for salmon in one of the most productive fishing grounds in southeast Alaska.
Kenai: Gold Panning with "Prospector John"
Enjoy a true gold panning experience with Prospector John as he takes you back to the days of the Gold Rush, then through the steps of modern and old-time techniques.
Skagway: Gold Panning, Sled Dogs & Exclusive Scenic Railway Relive life as a prospector on this tour that takes you back in time to the Gold Rush. Ride the vintage railcars on the historic White Pass Railway with a costumed guide and celebrate your adventure at the summit with a one-of-a-kind Klondike toast.
Victoria, B.C., Canada: Enchanting Butchart Gardens
This 55-acre floral wonderland, featuring themed gardens and meandering paths, is illuminated with colored lights and magical effects.
Need Help Planning Your Alaska Cruise Vacation?
Call 800.365.1445

---