Alaska Cruises ©| Alaska Cruisetours | Alaskan Land & Sea Cruise Vacations sm
"Thrill to white thunder in Glacier Bay, marvel at sunlight at midnight and close-ups of whales, eagles and caribou.
Delight in Mt. McKinley's majesty and meadows carpeted with wildflowers. Amid unsurpassed grandeur and serenity, the true wilderness of Denali is calling.
Catch sight of a humpback whale or wolf pups frolicking in the snow. Alaska is as rustic and romantic as one could ever imagine. Whales, Wonders and Wilderness"
May to September 2020 Alaska Cruises and Alaskan Land & Sea Vacations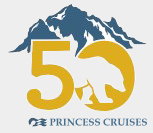 A legacy is the lasting reputation spent decades building. A celebration of greatest achievements. The realization of a unique vision. At Princess, they've spent half a century developing a legacy in Alaska, and take more guests there than any other cruise line. And after 20 years of helping people plan their Alaska vacation, our endless ambition to create your dream vacation is combined with an overwhelming passion for the awe-inspiring beauty of the Great Land. Monumental glaciers, iconic wildlife and towering mountains are only the beginning of what awaits when you plan your vacation with us and set sail with the #1 cruise line in Alaska. We invite you to celebrate this 50-year milestone with Princess and embark on an unforgettable journey. Our Alaska program offers travelers a full range of cruise and cruise tour options whether you want to explore Denali National Park in depth, plan independently, enjoy the attention of an expert guide, or venture off the beaten path to places like Copper River, Kenai or Denali National Park. Compare prices, dates, discounts and more! Find personalized Alaska travel planning, research and inspirational content presented by Certified Princess Alaska Travel Experts.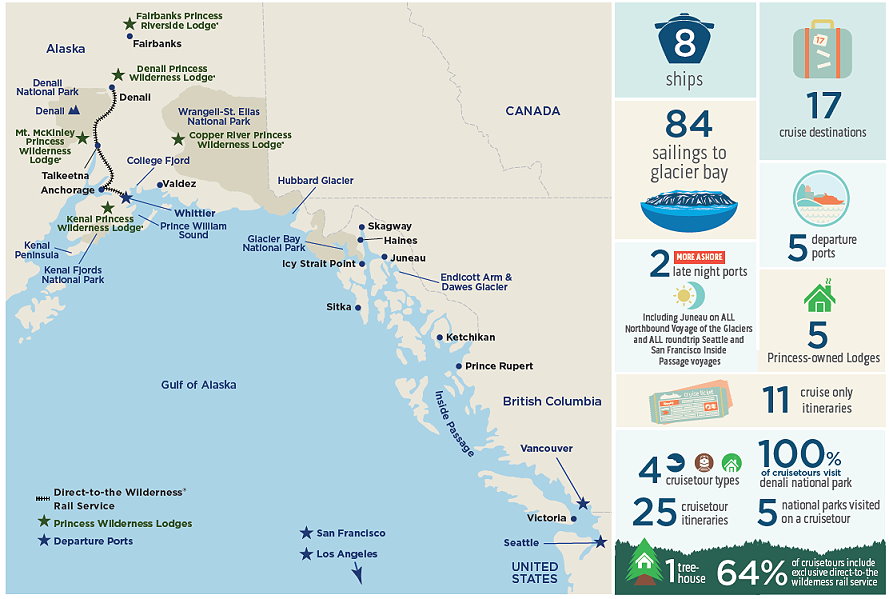 Highlights of your Alaska Cruise Vacation
"Awaken your love of the great outdoors when you experience the boundless splendor of the Alaska wilderness on board a cruise ship. Alaska: Mother Nature's piece de resistance. It is, quite simply, the world in its purest form. Imagine vast glacial fields juxtaposed against immense evergreen forests, infinite fields of wildflowers, and heady rushing waterfalls. Nowhere on earth is as diverse as The Last Frontier as seen in the summertime. Oh, and do not forget to pack your sun block. Summer temperatures in Alaska are mild and the days last well into the night."
Cruising the Great Land
Learn all about the departure ports, which ports of call to visit. Choose your cruise: Voyage of the Glaciers -or- Inside Passage cruises. What could make the Great Land even better? Princess Cruises new "North to Alaska" program, immersing you in everything Alaska - from the region's famous seafood to a Klondike gold rush festival and a host of local guests.
→ WATCH Our Adventures in Alaska Video - where a balcony cabin and a spectacular train ride become front-row seats for one of the most breathtaking shows in nature!
→ Check Out This Week's Popular Alaska Cruise Travel Experiences...Trending Now - Our Top 7 most popular attractions of the week
→ Alaska Cruise Blog Article: All Of The Alaska You Most Want To Experience


Use the quick search feature above ↑
or scroll down to learn a lot more about Alaska Cruises and Alaskan Cruisetours [ land + Sea Vacations ]
Alaska's Top Attractions...
Glaciers
Many people travel to Alaska just for a chance to see her famous glaciers. And with good reason. There's no other natural spectacle like witnessing a towering river of otherworldly blue ice and hearing the thunderous crack when an iceberg calves into the tidewater. Imagine sailing past towering peaks of snowy white glaciers, miles wide. Only the sounds of wind and seagulls disturb the silence. Then a massive crackling and a thunderous roar echo across the pristine bay. The icescape rumbles and quakes as the glacier splinters and calves' sending ice and snow cascading into the sea. There's no spectacle in the world that surpasses these towering frozen masses and best displays the fierce majesty of the region.
Wildlife
How many times in life have you had the opportunity to see moose grazing in meadows, eagles nesting in treetops, whales frolicking in glistening waters and bears roaming in their native habitat? On an Alaska vacation, all that is possible - including glimpsing Denali National Park's Big Five:

brown bears, wolves, moose, dall sheep and caribou on a cruisetour. Eagles nesting in treetops. Moose grazing through lush meadows surrounded by snow-capped mountain ranges. A breaching whale crashing down into the tranquil sea. On a Princess Alaska vacation, you'll also have plenty of chances to enjoy the sights of humpback, beluga and orca whales, along with harbor seals, sea lions and sea otters frolicking in the water.
Mountains
The focal point of Denali National Park is 20,310-foot Denali, the tallest peak in North America. Princess cruisetours take you close to this inspiring wonder as well as other breathtaking ranges such as Wrangell-St. Elias. Take a moment to pause and gaze up. Massive, eternally snow-capped mountains rise majestically against the bright blue sky, which darkens to a majestic indigo at twilight. Wild, untamed and exquisitely unique, this astounding landscape dwarfs your wildest imagination. No other place offers such untouched beauty. Home to almost 3,000 peaks and Denali, North America's tallest mountain, Alaska's summits are a feast for your eyes. And one you'll never forget.
Depart from these ports
Seattle
The "Emerald City" has a legacy of vision and strength. Known for its rainy climate, Seattle actually averages less annual rainfall than many East Coast cities. Spectacular natural surroundings like Puget Sound and the Olympic Mountains, plus convenient weekend departures, make Seattle a great place to start or end your Alaska cruise.
San Francisco
San Francisco has it all: a colorful history, superb restaurants, sophisticated museums, world-class shopping and that iconic air of romance and abandon that's part of the allure of the city.
Vancouver
One of Canada's largest cities, Vancouver is a cosmopolitan place with a personality all its own. It's a community with a rich ethnic mix - including an impressive Chinatown - and stunningly beautiful parks.
Los Angeles
The "City of Angels" always hovers between dream and reality. Once a near-forgotten colonial outpost, it's now the hub for movies and the entertainment industry. This talent for change has created a city with a rich ethnic diversity and a vibrant culture.
Anchorage ( Whittier port )
Captains James Cook and George Vancouver were the first Europeans to explore this region, but it took the Alaska Railroad to put it on the map. Today, Alaska's largest city is equal parts civilized pleasures and natural splendor. How many places offer the opportunity to tour a museum and go bear watching in the very same day.
Visit these ports
Juneau
Take the Mt. Roberts Tramway for a bird's-eye view of the city in which prospector Joe Juneau hit the jackpot with three gold mines on the Gastineau Channel. Be sure to save time for a thriving city of cafes, galleries and seafood restaurants. Enjoy an Alaska dinner on itineraries that feature a More Ashore Late Night call.
Icy Strait Point
Near Alaska's largest Tlingit village lies the unique port of Icy Strait Point. Opened in 2004, Icy Strait Point features a restored salmon cannery that houses a museum, where you can discover the rich Native heritage of the Huna Tlingit tribe. Grab a bite at one of the restaurants in port or pick up a Native Alaskan made souvenir from the local arts and crafts shops around town. If adventure is calling your name, look no further than the world's highest zipline with a 1,300-foot drop!
Skagway
During the Gold Rush era, Skagway - gateway to the Klondike - boasted 20,000 residents and a variety of saloons, dance halls and gambling palaces. A stroll along the town's streets will transport you back to days of the Klondike Gold Rush, as will a ride aboard the vintage White Pass & Yukon Route Railroad to the Klondike Summit and Yukon.
Ketchikan
Charming Creek Street - one of Ketchikan's main attractions - was the town's red-light district during the Gold Rush days. Equally famous are Native totems on display at the Saxman Native Village and Totem Bight State Park, and the region's fabled salmon fishing.
Victoria
In North America's most British city, you can explore sights like spectacular Butchart Gardens or find a pub for a pint of ale and fish & chips. Hop on a red double-decker bus for an authentically English vantage point of this wonderful destination.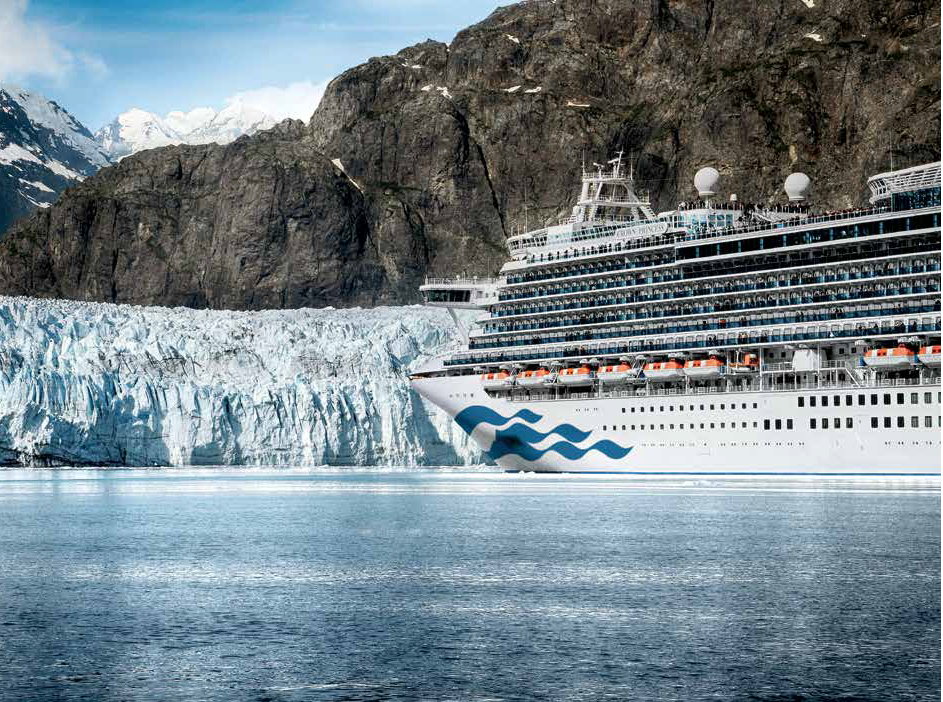 Glaciers on your cruise
Glacier Bay National Park
Princess takes more guests to Glacier Bay than any other cruise line, and this breathtaking national park and preserve boasts some of the world's most spectacular tidewater glaciers, such as Margerie Glacier and Johns Hopkins Glacier. Not surprisingly, Glacier Bay National Park and its epic ice giants are designated a UNESCO World Heritage Site comprising Alaska's magnificent park system.
Tracy Arm Fjord
Breathtaking Tracy Arm Fjord extends over 30 miles long, with nearly a quarter of its area covered in ice. In fact, it encompasses some of Alaska's largest glaciers, including the twin Sawyer Glaciers. You'll sail past snowcapped mountains and through steep granite canyon walls.
Hubbard Glacier
The largest tidewater glacier in North America, Hubbard Glacier's immense beauty and phenomenal blue hues are enchanting, even from afar. But it's when your cruise ship draws closer that its towering surface really impresses, dwarfing even the uppermost deck on your ship.
College Fjord
Discovered in the northwest corner of Prince William Sound during the 1899 Harriman expedition, spectacular College Fjord and its glaciers were named after prestigious East Coast schools by the college professors who first laid eyes upon their majesty. Stretching for miles, these massive rivers of ice edge down from mountains and through valleys, dipping into the pristine waters of the fjord.
"North to Alaska" onboard experiences bring Alaska to life.

A Taste of Alaska.
Experience the finest fresh local seafood -in our dining rooms, specialty restaurants and special themed events on deck - and sample specialties from the best local eateries like the Alaska Fish House, Tracy's King Crab Shack and the Skagway Fish Company.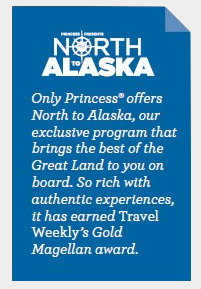 The Klondike Festival & Midnight Sun Party.
Delight in performances from the gold rush days, sled dog presentations, Tlingit art projects and more - culminating with a fun-filled top deck Midnight Sun party.
Alaska for kids!
Our Alaska Explorers youth program features activities like our Jr. Ranger Program, panning for gold, and the Deadliest Catch Crab Sort Challenge.
Meet The Real Alaskans
Ever wonder what it's like to climb North America's tallest peak? Hear first-hand accounts from mountain climbers who have conquered Denali as they share their exhilarating stories in the Hudson Theater at Mt. McKinley Princess Wilderness Lodge. On board, chat with award-winning photographers as they highlight their Alaska photography experiences and offer tips. Or meet Alaska icons like dog musher Libby Riddles, the first woman to win the Iditarod Trail Sled Dog Race. Even live like a logger head during an exciting axe-throwing competition with an Alaskan lumberjack, or learn about totem pole carving.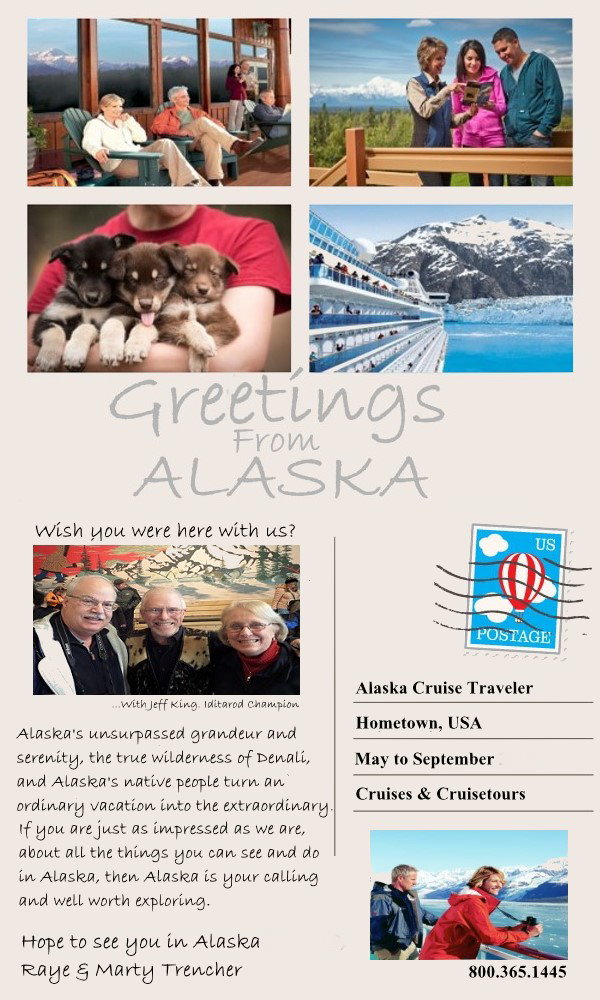 More Onboard Alaska Activities
Princess welcomes National Park Rangers on board to share the history of one of Alaska's most renowned treasures - Glacier Bay National Park. Princess even invites some of Skagway's newest sled dogs on board with Puppies in the Piazza. Snap a picture with these cuddly canines and meet their dog handlers who are training them for a life of dog mushing. Princess also offers countless ways to experience Alaska's seafood without leaving the ship. Enjoy regional fish options in their main dining rooms or seafood favorites in other specialty restaurants on board. For a hands-on experience, try Cook My Catch. With this exclusive culinary program, you can catch a fish on a Princess excursion and have it prepared by one of their talented chefs that evening. They also bring the best of local dives on board. Savor specialty dishes from Alaska's hotspots at their top deck grill, including crab cakes from Tracy's King Crab Shack in Juneau, fish tacos from the Alaska Fish House in Ketchikan and seafood chowder from the Bonanza Bar and Grill in Skagway.
Included with every Alaska Land + Sea Vacation
A GLACIAL PACE
They are among the world's greatest natural wonders -glaciers, the massive rivers of ice that advance and retreat over vast stretches of time. And on our top-rated Voyage of the Glaciers itinerary, you'll have plenty of time to see these ice-age marvels up close with two days in some of Alaska's best glacial waters on every voyage - including Glacier Bay National Park, a UNESCO World Heritage Site.
On signature Voyage of the Glaciers sailings, you'll enjoy:
:: Sailing over 500 miles farther north across the Gulf of Alaska and into Prince William Sound.
:: Glacier Bay National Park with park rangers and onboard naturalists.
:: A second glacier-viewing experience among the 16 glaciers at College Fjord, or Hubbard Glacier - the longest tidewater glacier in Alaska.
:: The best frontier ports in Alaska -Skagway, Juneau and Ketchikan.
Get Inspired!
Glacier Bay and Denali National Park. Alaska's Top 2 Attractions. Watch the video to learn why they are so popular. Learn all about Princess Cruises exciting Alaska Cruise Vacation options, by watching this preview video of our sensational cruise options, in-depth Land & Sea Cruise Vacations and exciting new on board programs including North To Alaska! and Discovery At Sea.
View our Alaska Cruise and Land + Sea Vacation Video