Since 1999, our Certified Alaska Cruise Experts have immersed themselves in extraordinary places all around Alaska, encountered wildlife ranging from Wolf, Moose, Caribou, Eagles, Whales and Bear!
They have spent time exploring the Alaskan culture that draws from many lands, languages and peoples and investigated all the most popular destinations of Alaska; including Juneau, Skagway, Ketchikan, Haines, Denali National Park, to name a few.
Took in Alaska both from the sea and shore as well as interior Alaska, firsthand.

At Alaska Cruises Direct, we present some of the most authentic and meaningful Alaskan travel experiences that highlight the whales, wonders and wildlife of Alaska.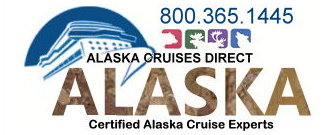 We are eager to share our own "been there, done that" travel experiences that we hope will inspire that thirst within you for discovery and a passion for the wonders of Alaska, America's last frontier!
The strength of our service is our certified travel experts' experience. Our staff are some of the best Alaska experts in their fields: sharing their in-depth knowledge as well as the intimate perspective of their own travel experiences to draw a more complete picture of Alaska and places you can explore.
Alaska Cruises Direct - part of Cruise Direct Online is a national top sales leader when it comes to Alaska cruises and Alaskan land and sea vacations. This opens doors for you, as we have exclusive access to special promotions, unique finds, private deals, and a wealth of information you will need to know, before you go.
At Alaska Cruises Direct, you also hear from other like-minded travelers, whose discoveries you can read about in the pages of guest comments at our website. For example, Walt Stout wrote: "Pat and I returned from an 11 day trip to Alaska. Truly The Last Frontier. We had the pleasure of traveling with 6 of our very dear and close friends, Mike & Susie, Ron & Rachel and Craig & Diane. We saw incredible scenery, moose, mountain sheep and goats, humpback whales, dolphins, and a wolf. We examined Mt. McKinley up close and personal in a small airplane. We watched in awe the calving of the immense glaciers in Glacier Bay. The weather was absolutely beautiful."
With over 65 innovative itineraries, from the least expensive 4 day Alaska Sampler to the most expensive 32 day Ultimate Alaska Cruise, our top-notch Certified Alaska Cruise Experts have a vast amount of resources to draw from, and the privilege of offering you exceptional Alaskan travel experiences carefully selected for their exceptional quality, experience, and value. We are prepared to help you with all details so you can relax, enjoy, and immerse yourself in the Alaskan places you about to explore.
To get started, just give us a call at 800.365.1445. The call is free, and so is the advice, with never an obligation to book.
Ask all your questions, take all the time you need. If you do decide to travel with us, that's great. But, if not, it's still ok. We enjoy sharing our life's travel experiences with you and like-minded travelers, none the less.
Want an example? Read our latest Alaska Land & Sea Vacation Review of our last trip to Alaska in September of 2015, then give us a call.
We've explored Alaska since 1999. Now, let us take you there!
Raye & Marty Trencher
Certified Alaska Cruise Travel Experts
Alaska Cruises Direct
Visit our web site for a lot more information.
Get in touch
Have a question or a comment? Call us at 800.365.1445
We'd love to hear from you.
There remain few places on earth where you can truly breathe. Where space is measured not in feet or miles, but in endless horizons. A place where nature is so powerful, so dramatic, a personal encounter can change you forever.
Thrill to white thunder in Glacier Bay, marvel at sunlight at midnight and close-ups of whales, eagles and caribou. Delight in Mt. McKinley's majesty and meadows carpeted with wildflowers. Amid unsurpassed grandeur and serenity, the true wilderness of Denali is calling