Memories & Experiences
Traveler Verified:
Guest Comments, Reviews & Testimonials

No One Knows Alaska Like We Do. At Alaska Cruises Direct we not only have the largest selection of Alaska Cruises, Land & Sea Vacations and Cruise tours available, we've been there. We know how to show you the great wonders of this land. Our staff is ready to share their expertise with you. You can shop online and compare itineraries, ships and sailing dates from four major-brand cruise lines that have 96% of all Alaska Cruise and Tours. So, if you want to see more, learn more and experience a more memorable side of Alaska, call us, speak to a knowledgeable Certified Alaska Cruise Expert and ask all the questions, find out all the details. Call us at 800.365.1445. The call is free, as so is the advice.


Alaskans suggest: "Take a cruise first," says Jennifer Thompson of the Alaska Travel Industry Association. "We have 11/2 million visitors a year, and 900,000 of them come on cruise ships. It's a phenomenal way to introduce yourself to Alaska. Wildlife, glaciers, majestic mountains. It's all there".



What are the greatest success stories; those we learn from our guests, as they share their experiences with you. Read what we have done for our Guests, where they were totally awed. Why do people constantly compliment us on or ask for assistance from our Certified Alaska Cruise Travel Experts? You'll find the answers to these and other questions here.
---

Raye,
We had a wonderful time on our vacation. The cruise was fantastic. The service, the food and the entertainment was great. We had great weather at all of our stops. We did the Lumberjack show in Ketchikan which was very entertaining and enjoyed by all of us. In Juneau we did the Mt. Robert's Tram, a whale watch and the Mendenhall Glacier. All three excursions were great. In Skagway we did the White Pass Railroad which was fantastic. My nine year old granddaughter stood on the platform of the train, with her father, and just kept saying how beautiful Alaska is...The land tour was very nice. The lodges were all beautiful... The Kenai lodge was really nice but very spread out. They did have a shuttle service that would take you any where on the property. The rooms at the Kenai lodge were our favorite. The rooms were very large and they all had a wood stove and a deck... We enjoyed our trip to Seward. The Sea Life Center was great. Seward was very busy because of the holiday weekend and the Mt. Marathon race that took place on the 4th. Mt. McKinley lodge was my favorite. We took your advice and went to the fire pits. The restaurant we ate at was good. The trails around the property were closed because of bear sightings. We took the first shuttle to Talkeetna the next day. That was an interesting little town. I had to try the Fireweed ice cream that was very good. We enjoyed the train ride to Denali. We did see a moose. The Denali lodge was very nice. We took your advice again and went to the Husky Homestead. My granddaughters loved that excursion.
Jeff King is such a great speaker. I am sure we will all follow the Iditarod next year. The Natural History Tour of Denali was good. We had a great driver. Our tour had to be modified because of a young bear in the area that had attacked two people. We did get out of the bus one time but we all had to stay together. Park rangers were at the stop making sure no one went on the trails. We saw a moose eating on the side of the road and one caribou. We did like the dining shuttle at the Denali lodge. We found that all of the Princess lodges seem to have pretty much the same menu so it was time for a change. The Fairbanks Lodge was really nice. We took the shuttle into town and spent some time exploring. The Riverboat Discovery and Gold Dredge 8 were great. On Saturday we took a shuttle to North Pole and then spent a few hours at Pioneer Park before getting our flight home. The best part of the land tour was not having to handle our luggage. We even checked our luggage, for our flight home, at the lodge in Fairbanks and got our boarding passes. We had reserved rental cars in Fairbanks for our last day but ended up canceling them when we found out we didn't need to take our luggage to the airport. It was cheaper to take a shuttle where we wanted to go.

It was a wonderful trip and we all enjoyed every minute of it. The two weeks went by so quickly. Thank you for all your help and making it so easy to book this vacation.

- Phyllis Phoenix
Having just returned from a week cruise on the Crown Princess, one would think that another would be the last thing on our minds. Not so! In fact am looking at doing another Alaskan cruise next year......it would be the third in less than two years. And am booking the Panama Canal for February. Guess that says it all.

Actually it doesn't. There is no way we would have been able to pull off scheduling 3 cruises in two years without the assistance of Raye Trencher at Cruise Direct Online. Especially when you consider that we were novices at this "cruise" thing and had to be led along like little children. There were loads of questions, some silly, but Raye always came back with an answer. This last one required coordination between two families living in different parts of the U.S. It was like herding cats. But she did it. Everything went off as planned, no surprises and our family vacation was a success.

We took a Cruisetour in Alaska and had the time of our lives. Starting in Fairbanks exploring the Alaskan wilderness and joining the Coral Princess in Whittier the experience was incredible. This July we were joined by my daughter, son-in-law and 9 year old grandson. It was their first cruise. We all met up at the Seattle airport and boarded the Crown Princess at port there. The look on my grandson's face when he saw the ship was priceless.

The cruise was perfect. There were plenty of things for everyone with different interests to do. We generally went our separate way during the day, meeting up at dinner and the shows in the evenings. The wait staff in the DaVinci dining room was incredible. My grandson was given the special attention that a 9 year old thrives on which made the experience fun for everyone. The adults took advantage of one of the specialty restaurants, Sabitinis. The service, ambience and food was wonderful.

We were lucky and experienced the "white thunder" at the Marjorie Glacier on this cruise. That is something you never forget. In addition to that, last year on the land portion of the Cruisetour we were able to see Mt McKinley for 3 days while staying at the Princess Lodge. These events were awesome. These are the memories that stay with you for a lifetime.
- Ray Petri
I want to let you know how much we appreciated all your help in making our trip to Alaska a wonderful and unforgettable experience. The following is my comment I posted on Facebook yesterday--
"Late last night, Pat and I returned from an 11 day trip to Alaska. Truly The Last Frontier. We had the pleasure of traveling with 6 of our very dear and close friends, Mike & Susie, Ron & Rachel and Craig & Diane. We saw incredible scenery, moose, mountain sheep and goats, humpback whales, dolphins, and a wolf. We examined Mt. McKinley up close and personal in a small airplane. We watched in awe the calving of the immense glaciers in Glacier Bay. The weather was absolutely beautiful. As can be seen in the picture, we are now a part of the 30% of visitors who actually get to see "The Mountain--Denali--Mt. McKinley". Raye, your planning was perfect--we had no problems whatsoever. We thanked you several times throughout our trip for suggesting we do the land portion first, followed by a restful 7 days on the ship. I've attached a picture of the 8 of us standing in front of "The Mountain", [Mt. McKinley] which on that day looked like a movie backdrop--drawn to perfection and beautiful beyond words!

Again Raye, thank you so much for helping to make our trip unforgettable!
- Walt Stout
"Raye, Donna and I want to report on our Alaska Trip, with our thanks to you for suggesting and helping us to plan a trip that was excellent in every aspect. The accommodations [both on land and on the Star Princess] were first-rate; the transitions were timely and pleasant; the scenery was spectacular [especially in Denali National Park and the glaciers in Glacier Bay National Park]; the wildlife and bird sightings were wondrous [where else but in Alaska would a train stop for a moose on the tracks?]; the food was creative, filling, and sometimes a challenge to consume all of it. My favorite '"dish" was the Seafood Mac-n-Cheese in Fairbanks, but the succulent, sweet Dungeness Crabs were a feast to remember ; and the side trips were educational and memorable [especially the morning Riverboat Discovery Cruise on the Chena River in Fairbanks]. We would recommend to anyone visiting Denali National Park that he/she go to the Husky Homestead and hear and meet four-time Iditarod champion Jeff King. A most enjoyable and informative evening! A highlight of the trip for me was standing beneath the Trans-Alaska Pipeline near Gold Dredge 8 [outside Fairbanks], and hearing a presentation on its construction and maintenance. All in all, a memorable trip with everything in place [by Princess].
Thanks so much for all your help and recommendations in making it so!"
- Rev. Craig Michel
"We had a fabulous time on our cruise tour! We were very impressed with the Princess organization and the way that we received packets of materials for each of our hotel stays and bus/train trips one day at a time. Luggage was delivered efficiently and we loved not having to hassle the check-ins at the hotels along the way. The weather was awesome, and we understand it has not been so for most of the Summer. We were able to see Mt. McKinley in all her glory and also saw whales outside of Juneau on Stephens Passage—just beautiful to behold as we saw probably a total of a dozen arch and dive, showing those magnificent muscular tails."

---

Our stateroom with balcony was awesome, and we loved being able to bundle up and park out on the deck chairs, taking in the incredible vistas. The land tours we picked suited us to a tee. My favorite was the Klondike Scenic Highlights with the train trip up to Fraser, visit to a suspension bridge, return bus trip including a tour and lunch at Jewell Gardens. I think Skagway shopping was actually the most pleasant for me – small, quaint shops. I'm not real big on all the jewels being promoted on the ship!

The cruise ship is quite a floating city. We marvel at how well they entertain and accommodate over 2000 people! I guess my least favorite day was the cruise ship passage from Ketchikan through the Queen Charlotte Sound with 50 knot winds!! Things were quite rocky for about 10-12 hours. We thank you again for all your assistance in securing our staterooms and assisting us with paperwork and questions. You were most patient and helpful. Now we can enjoy and sharing our photo memories of a very special trip!!"

Best regards,
- Martha and Ron Parriott

---

" Our trip was excellent. The room, with the upgrades, was amazing! We saw many eagles (bald and golden), one bear, many whales, including one breach, seals, one bear, one wolf, moose and carribou, and many smaller animals.. If we travelled during salmon run, we probably would have seen more bear and eagles. The scenery is to die for, the vistas spectacular. The ship was great; service, food, etc were all great. Thanks for everything. "
- Larry Seidler - Island Princess

---

"We came back from our Alaska cruise tour and we are very happy for your services. Our trip was wonderful. We had no problems at all. We are truly impressed with Princess. They are very organized so that everything runs very smoothly. Thanks again to you and your company."

---

The weather this week was incredible, 70 and sunny. Never saw a bit of rain...but, lots of whales, eagles, porpoise, bear, moose etc."


"Our group wanted to thank you and [ Alaska Cruises Direct ] Cruise Direct Online for all your attention and follow-up provided to us on our July, 2014 Princess cruise tour to Alaska. Everything from the ship cabins, to the hotel accommodations, logistics, land tours and shore excursions were all very well prepared. Our group of 10 all expressed gratitude on your assistance in helping us (from Florida) select the best Alaska excursions and keeping us all informed on the cruise tour details. On the cruise, I learned you contacted each couple individually and provided them continuous help and guidance from the initial reservation to the actual cruise tour. Everyone was very pleased with your periodic updates. You and your company have earned the highest recommendation and we look forward to calling you for our future vacation plans." Don E - Princess cruise
Editors note: This group traveled with us again, in March 2015

From Don MacGregor
"Raye and Marty... Working with you two has been a delight. You both did not just book cruise fares... You looked after all the details just like a shepherd and his sheep. You double checked with everyone to make sure documents and boarding passes and all manner of things were looked after. Thanks so much and look forward to working with you both again."
- Cameracraftsmen of America -
Star Princess - 90 Guests
---

"We came back from our Alaska cruise tour and we are very happy for your services. Our trip was wonderful. We had no problems at all. We are truly impressed with Princess. They are very organized so that everything runs very smoothly. Thanks again to you and your company."

---

"What can I say. We felt like we were on a National Geographic cruise. Eagles, whales, sea lions, moose, bear and caribou; we saw them all. We had the best weather imaginable too. Both days at McKinley were cloudless! We saw the whole mountain range morning, noon and night and night and night! The position of our room was great, 11th floor mid ship. We loved it."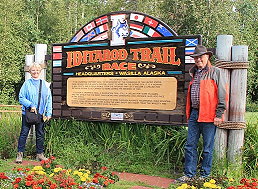 Ken & Judy Conner
Explore the Iditarod Trail Race

"We arrived back early am on Sunday morning from our 2 week adventure in Alaska. It was a spectacular trip and Bernie, Tom and I had a great time on both portions of the tour! Certainly the highlights for me on the land portion was the Wilderness Tour of Denali Nat'l Park, although it was affected by rain nevertheless we got the chance to see all the major animals particularly the Moose right along the train tracks & a Black Bear Mother with her two cubs having fun wrestling with each other. Another major highlight of the land tour was the clear view of Mt. McKinley for our 2 1/2/ day visit there. I cancelled one excursion in order to take a fight up to the mountain with simply marvelous views of the Denali itself and the mountain ranges darting out from it. We also experienced a wealth of information about the native history & heritage of the ancient tribes as well as witnessing the winter challenges and joys of life in general on the frontier. On a whale excursion taken while we were cruising we witnessed humpback whales right next to our ship as well as nesting eagles on an isolated point just a hundred yards or so from the boat. The Diamond Princess exceeded all of our expectations and Tom & Bernie were suitably impressed for their first cruise experience provided by Princess. Raye, thank you so much for all your knowledgeable advice, timely reminders, patience and support in the planning & decision-making process for the entire trip. The entire experience ranks among the very best vacations that any of us have taken. Wishing you the best this summer and with deep gratitude for everything,

---

Rev. John M. O'Neill
"We all very much enjoyed the land tour thanks to our tour guide. Kudos to Guy Glaeser! He was just fantastic and any one of our group would recommend him to others in a heartbeat. He went over and above to make every moment special, taking time to point out even small things we would not have noted on any other tour. For example, we stopped on our way from Denali to Copper River to walk on the Tundra and pick (and eat!) blueberries. We truly appreciated his knowledge and experience in making this Connoisseur Land Tour so memorable."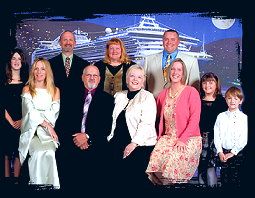 ---

Lystad Group

"Dear Raye, I want to just say thank you for everything you did to make this first time cruise perfect. I mean everything from planning a room that had the least amount of motion for my sensitive stomach to water waves (the airplane ride had more). The excursions were so much fun all of us especially enjoyed zip lining. The boat was beautiful, a lot to do, entertaining all the time, and of course the food of which I did ask for a second lobster delicious. Everyone working with Princess was considerate, helpful and just an asset to the company they represent. Our family toasted you the first night at dinner. It was a long journey to adventure to our first cruise and dreams of a new one will not take so long. How about China and Asia? So let me say it again I know you worked very hard to provide the best service not just to me but to everyone of your clients and we sincerely thank you for that. I don't know who your supervisors are but I would appreciate it if you would pass this letter to them. We have filled in the survey but wanted to extend you a personal thanks. You gave us a short magical ride in our very hectic life we can always close our eyes and remember those days. Sincerely,

---

From Karen and Keith Smith
"I just want to say a few words about out trip last week. First of all thank you for making all of the arrangements for us. Everything went smoothly and our luggage magically appeared everywhere we went. Princess did a stellar job with all the logistics of our land tour. Our entire experience was fantastic. We spent 4 days on the land tour first going into Denali State Park and National Park. The Princess resorts were beautiful and placed in remote areas. All the tour guides/bus drivers were knowledgeable and all had such a passion for the area we were in at that time. What I thought was going to be a long boring bus ride turned out to be a highlight of the trip. The train ride to Whittier was another great experience with trivia games and again a tour guide with incredible knowledge of the area. Reaching the ship as you turn the corner on the train was an awesome sight and as we entered the ship, sea lions were playing on the dock and eagles sat in the trees above us. Once again everything was taken care of prior to departing the train, we even received our cruise pass and just walked on the ship. The cruise was amazing and princess had a full time naturalist on board and throughout our journey, rangers came on and off depending upon where we were. Spending the day in Glacier National Park was one of the highlights of our trip. The huge ship we were on sat in front of the glacier for over an hour and turned on a dime. Amazing how close we were able to get being on the Diamond Princess. Our only disappointment was our helicopter/glacier excursion was cancelled due to weather. We saw whales, porpoises, seals and eagles all from our balcony. Great trip, would recommend bringing a good camera with telescopic lens and investing in good binoculars. Five stars to Princess and Marty."
---

From Jane and Bert Odenheimer
"Burt and I got back last night from our Alaskan cruise/tour. We had a fabulous time. Everything went well, the weather could not have been better. Our tour director was wonderful, as was our driver. We saw whales, bears, moose, etc. It simple could not have gone any better than it did. We are grateful to you for that."

---

Thanks for arranging our trip. It went very well. Everyone had a great time from the 5 year old to the 70 year olds... We saw whale, fish spawning, seals etc. Some did a zip line and loved that. We took the train and one family took the helicopter to the glacier. Each did their own thing. The glaciers were impressive. Holland America was very good. Each evening the stewards had a different animal out of towels, the food was good, resources fine.... We had good weather, rarely rained and we were generally the only ship in port most places, so it was not too crowded. The ship was so big we had to arrange to all meet in the evening or else we may never have seen each other! I had gotten us all the same t-shirt and we had our pictures taken in it.

Thanks again for the help. I certainly will recommend your company.
---

Foxx Family
Holland America

Well, it has been 6 weeks since our family Alaska adventure! What a wonderful trip. Everything from our flights/connections to every other facet of the trip itself went perfectly. Your expertise and suggestions as well as all the arrangements and extensive follow up truly made this a trip of a lifetime. We can never thank you enough!!

As you know, Jan and I had been to Alaska previously on an escorted tour and had some idea of what to expect. However, with our idea of taking the entire family this time (10 people), we were a bit more concerned that everything was thought of ahead of time. When I found your internet site while researching this trip, I certainly didn't expect a phone call that very night I requested info! Your intimate knowledge of Alaska and suggestions regarding specifics such as the lodges, side trips, stateroom preference, etc, proved invaluable and really made this trip the best. We will obviously (and have) recommended your organization to anyone wanting an excellent tour of Alaska.

Attached is a photo taken on the ship of our family. It should be obvious we are having a great time.

The highlight (in my mind, anyway ) of the trip was the zip line adventure in Juneau. It was done in a rain forested island involving multiple stations and a great group of guides. The most adventurous of us participated. Another highlight was the excellent tour guide and the food. We were surprised at how good the food on the land portion of the trip was. Now my son has to get our grandson to lose his taste for crab legs ( he ate them 3 nights in a row)

Again, thank you so much for arranging a great trip of a lifetime for our family!!!

Best Regards
Jan and Stan Decowski and Family
---

"I just wanted to thank you for all your help. Packer Expeditions was excellent and I would highly recommend them again for anyone looking to do a glacier hike. Also, we ended up being upgraded to an outside cabin... It was a truly welcome surprise to say the least. It made all the difference in the world both having a window (even though it was an obstructed view) and having a larger cabin. Alaska was totally awesome and we thoroughly enjoyed the land tours. All the coach drivers and tour folks were very knowledgeable and helpful. So next time we are looking for a cruise I will be in touch! Thanks again, Ann."
---

"Raye and Marty Trencher from Travel Direct Corporation did a stellar job in planning our recent cruise to Alaska. Not only were we very pleased, but every other member of our group was extremely satisfied. We're currently working with Raye and Marty on our next cruise. ...Monte"
---

"Raye, just a quick note to tell you how much we enjoyed our trip. Perfect weather! We were spoiled. Could have used shorts but didn't bring any. Cruise ship was wonderful. Trip went off without a hitch. We will definitely be taking another cruise. Hopefully in the not too distant future."
---

"Marty, thanks for your help you made selecting this Alaska trip very easy with all the knowledge you shared. You are everything the books say a travel agent should be."
---

"Our [ Alaska] cruise was fantastic! I've never cruised before so was pleasantly surprised at how much I enjoyed the experience. Thanks for your help." Now we want to take our two younger grandchildren.

"We Just got back from our cruise tour to Alaska on Princess. Everything was excellent. The hotels and the ship was rated tops by all in our party. The help with the 8 month old was fantastic and the excursions were great. Thanks for all of your help. We are looking forward to another cruise next year, possibly the Mediterranean and working with you. Thanks again.
---

"Just a note to thank you for your help in booking the ( Alaska ) Princess Cruise tour for next year.

I have been doing some internet searching of info regarding the cruise tour and the ship and it becomes increasingly obvious to me that you have taken excellent care of us. Your knowledge of the advantage of a Port side room for the southern trip and your ability to get us in the mid-ships bump out area for our cabins looks to be great. I was not knowledgeable regarding the bump outs on the Coral Princess until reviewing some cruise review sites and the reviews I have read regarding being in the bump out area and on the A and B decks makes you look brilliant and makes us look lucky to have dealt with you. I found you guys pretty much by the luck of the draw on a Goggle search. At the time of my first e-mail I had no idea who you were, where you were located, how legitimate you were or what your level of expertise may be. Let me say that at this point I am very happy I found you and appreciate how well you have served us."

---



.
2016 Cruise Direct Online. A Travel Direct Company ALL RIGHTS RESERVED - Fla. Seller of Travel Reg. No. ST-31254 Alaska Cruises Direct