Alaska: By Land. By Sea. By Experts
With unmatched experience and insider knowledge, Raye & Marty Trencher are Certified Alaska Travel Experts. Their deep history and experience of 20-plus years exploring "The Great Land" mean you can discover the Alaska of your dreams. Every cruise visits one or more glaciers, including Glacier Bay National Park, Hubbard Glacier, Twin Sawyer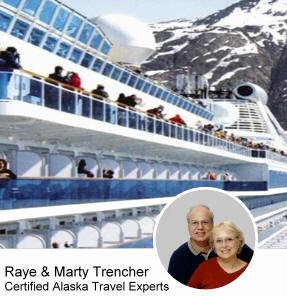 Glaciers, or the glaciers of College Fjord. Another exclusive, they can take you beyond your ship's ports-of-call in Alaska. Alaska Cruisetours are the ultimate Alaska experience - a vacation combining an unforgettable 7-day Voyage of the Glaciers cruise with 3 or more nights exploring Alaska by land. Every Alaska Cruisetour includes the state's top two attractions - pristine Glacier Bay National Park and picturesque Denali National Park, home to North America's tallest peak.
On land, you'll stay at exclusive Princess Wilderness Lodges near legendary national parks and most Alaska Cruisetour itineraries include exclusive Princess Alaska rail service, giving you yet another way to see the wonders of the Great Land! Perhaps take a land tour to showcase the Yukon Territory, which is rich in Klondike Gold Rush history.
Did You Know? Alaska's native Athabascan people named the mountain "Denali" - the "Great One." Today this glorious 20,310-foot peak is the centerpiece of the crown jewel of America's national park system, Denali National Park. At over six million acres, this Alaska treasure is unrivaled for wildlife viewing and included on every cruisetour itinerary.
"Up north there's a land without fences. Animals outnumber people, sunlight shines at midnight and nature reigns. Life is different. This northern frontier still boasts pristine landscapes, majestic wildlife and a coastline that is one of the most enthralling waterways in the world. Beyond Alaska's fortress-like glacier walls lie scenic ports of call, treasured national parks, and abundant wildlife. ...and, with more than 1,400 miles north to south and 2,400 miles east to west, Alaska is truly a land of epic proportions".
Ready to cruise and tour Alaska? Get started planning now. Raye & Marty Trencher can help you every step of the way through the planning process of your cruise vacation. And the best part is, their services are absolutely FREE! Call them at 800.365.1445 Today.

Meet Raye and Marty Trencher, who are part of an exclusive group of travel agents who are recognized by Princess as Certified Alaska Cruise Experts, and the Alaska Travel Industry Association, earning that distinction for their unique qualifications and knowledge as Alaska cruise planning professionals. No one knows Alaska like they do. From planning to packing, from discount rates to departure dates, and where and what to see, everything you need to know about Alaska and Alaska cruises and cruise tours.

Connect with like-minded Alaska cruise travelers that are actually experienced - having been there, and done that! They are eager to share their own stories about visiting Alaska, both from the sea and on the land. If you need help, have questions or want more information, talk to them. They are advocates who love Alaska, it's people, wildlife, wonders and wilderness.