Save Up to 50%-vs-Cruise line prices on shore excursions in Alaska!
If shore excursions are on your to-do list, ►click here and see if there are bargain shore excursions at any of your cruise's port cities.

Alaska is one of the most awe-inspiring places on earth.
The largest state in the United States, Alaska is home to 17 of the 20 highest peaks in North America, more than 100,000 glaciers, 3 million lakes, 6,640 miles of coastline, 33,904 miles of shoreline, and more than 70 potentially active volcanoes. From Alaska's majestic beauty to its staggering array of wildlife, it is truly a unique destination.

Sailing on a cruise ship is just the beginning of any Alaskan Tour Adventure. The absolute magnificence and splendor of Alaska can only be fully realized by experiencing an Alaska shore excursion. Whether it's by air, land or sea, exploring the wonders of Alaska Tours and excursions will be a once in a lifetime experience.

At Shore Excursions Group, we offer an extensive selection of exceptional Alaska cruise excursions providing our customers with reasonably-priced opportunities to experience the best of Alaska. We've even made it easier for you to design your Alaska shore excursion itinerary by creating a selection of Multi-Port Packages that include three of our most popular excursion tours at a discounted price.
We offer three different varieties of Alaska shore tour packages - value, active and adventure - tailored to your personal travel style. Or feel free to create your own itinerary by choosing individual Alaska cruise excursions for each port that you visit based on your specific interests and budget.
Best Alaska Tours:

Alaska Cruise Excursions to Inspire
On one of our Juneau shore excursions, take a float trip on spectacular, glacier-studded Mendenhall Lake, passing by the world famous 2.5 mile-wide Mendenhall Glacier or experience a whale watching cruise and see a humpback whale up close. Other Juneau shore excursion trips include a city tour or gold panning adventure where you can relive Juneau's gold rush history by panning for gold and then enjoying a delicious salmon bake at Salmon Creek.

In Ketchikan the spectacular Misty Fjords Flight seeing Tour is a must-see experience that will provide a lifetime of memories. The Misty Fjords National Monument is a 2.3-million acre piece of pristine wilderness that must be viewed by floatplane; it is the only way to truly take in its majesty - soaring cliffs, saw-tooth ridges blanketed in trademark mists, sky-blue lakes, endless waterfalls, icy saltwater fjords and miles of glacier-carved gorges. As part of our Saxman Native Village and Ketchikan City tour visit the world's largest standing collection of totem poles and hear the legends and stories of how and why they were made.

In Skagway our Helicopter Dog Sledding Adventure day excursion begins with a helicopter ride to a glacier dog sledding camp where you will share this adventure with 80 Alaskan huskies and hear unique personal accounts of the Iditarod, back country experiences and have an opportunity to ask questions. Feel the excitement as the team is hooked up, then you're off! Also from Skagway we offer many Alaskan tours into the Yukon territories including horseback riding and dog mushing adventures. Or enjoy an exciting raft trip down the Chilkat River through the famous Chilkat Bald Eagle Preserve, the world's largest concentration of Bald Eagles in North America.

For our active customers we offer a variety of hiking, biking, kayaking, canoeing and zip lining cruise ship excursions in most of our Alaskan ports. For our fishing enthusiasts, we have many options including salmon fishing, Halibut fishing, skiff crabbing, skiff fishing, fly fishing, or spin fishing. Our fishing shore excursions are offered in Juneau, Ketchikan and Sitka.
.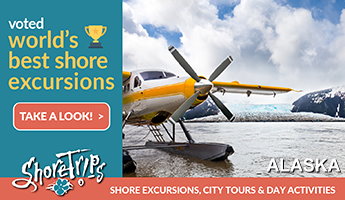 Cut The Cost Of Excursions
It's a trip of a lifetime, but that doesn't mean you can't see the best of Alaska on a budget.
Thinking about visiting the last frontier this summer or in 2019? No matter if it's just a cruise or a Denali Explorer Adventure, now is the time to start planning exactly how you want to spend your time and money. So while you may be thinking of splurging on a heli landing on glacier or a whale-watching excursion, there's all sorts of opportunities to save a little cash on your shore excursions and over-land adventures.
Shore excursions organized by the cruise line tend to be more expensive. The best way to vacation for less is to explore other money-saving opportunities. Comparing pricing between local tour groups and the cruise line.

If shore excursions are on your to-do list, ►click here and see if there are bargain shore excursions at any of your cruise's port cities.
If an Alaska Cruise or Alaskan Cruisetour is on your "bucket list" to-do, ►click here and see if there are bonus offers and reduced, discounted rates for the cruise or cruisetour of your choice.