.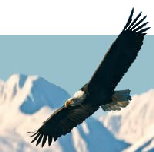 For something a little more adventurous than totem poles and eagles, combine a heart-pumping raft trip through the Chilkat Bald Eagle Preserve in Haines, Alaska. While bald eagles might steal the show, there's still a plethora of other sights to soak up including mountainside glaciers, moose, bear, and trumpeter swans.
Go Whale Watching
Alaska's diverse wildlife population can perhaps best be seen from a sleek 26-foot catamaran tour with a warm and cozy cabin to experience whale watching at its best. Travelers glide through narrow passages and bays with a chance to spot porpoises, sea otters, over 280 species of birds, and of course humpback and gray whales.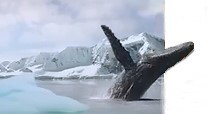 Race a Dog Sled
Alaska often ranks on travelers' bucket lists for its unique diversity and wildlife adventure. Where else can you go whale watching before taking to the skies on a helicopter, and then finally embarking on a dogsled tour than in Alaska? That's a tall order for any destination, but Alaska delivers. Get a glimpse of glacier-carved mountains on a helicopter ride to Herbert Glacier where some 80 huskies greet guests. After some instruction and a little practice from the mushing team, travelers can mush the sleds themselves on a loop as the dogs eagerly lead the way.
There's really no need to tame your inner beast or insatiable love of travel and adventure when it comes to animal encounters. Put them all on your bucket list and enjoy checking them all off as you travel your way around the world. What animal encounter is first on your bucket list to see?
ADVERTISEMENT
Q. How can I view shore excursions & hot shore tour deals, specifically for my cruise? A. Excursion finder will help you identify which ports your cruise visits and the tours available for those dates in each of the ports. You will need your cruise departure date, cruise line and ship and we will provide you with the ports and tours available in each of those ports for the days you are in port. Select your cruise line here, then click on go!
Learn more at ShoreTrips.com!