Guest Comments & Testimonials
Gust Comments & Testimonials
No One Knows Alaska Like We Do.
At Alaska Cruises Direct we not only have the largest selection of Alaska Cruises, Land & Sea Vacations and Cruise tours available, we've been there. We know how to show you the great wonders of this land. Our staff is ready to share their expertise with you. You can shop online and compare itineraries, ships and sailing dates from four major-brand cruise lines that have 96% of all Alaska Cruise and Tours. So, if you want to see more, learn more and experience a more memorable side of Alaska, call us, speak to a knowledgeable Certified Alaska Cruise Expert and ask all the questions, find out all the details. Call us at 800.365.1445. The call is free, as so is the advice.
Working with a Certified Alaska Vacation Planner can save you both time and money!
Chances are you've spent countless hours, days, or perhaps weeks trying to plan a vacation on your own, that's at a price you can afford? We've been there and done that! And, when you finally have your vacation plans in hand, your not quite done. Now, you may need to choose form a myriad of onboard activities, shore excursions land tours and more. The entire process for some can be frustrating and seem overwhelming.

Here's why talking with a real person, a Certified Alaska Vacation Planner, will take the stress out of your vacation planning process.

Are the services of a Certified Alaska Vacation Planner worth it? You bet it is!
You see, we don't charge any agency fees to book, change, or cancel your cruise or tour. Meaning we help you create a cruise vacation curated just to you – for free! Of course, cruise line imposed fees, for booking, cancellations, and changes may occur.

What are some benefits of working with a Certified Alaska Vacation Planner?

Better. More affordable. Cruise deals.

Planning your cruise vacation with a Certified Alaska Vacation Planner will ensure that you get the best service at an affordable price.

Why spend hours searching the web for the best deal when your Certified Alaska Vacation Planner already knows all about them. Our job is to provide you with options that offer the most affordable and budget-fitting vacation possible. Our Certified Alaska Vacation Planners even have exclusive cruise vacation deals and prices that you can't find anywhere else! Check out some of the amazing deals for Alaska cruising here.

Experience, education and expertise
Our Certified Alaska Vacation Planners go above and beyond, providing that "been there, done that" experience, education and expertise, cruise line call centers and others don't. Our staff handles and/or gives advice for every aspect of your trip – from ground transportation to shore excursions, and more! Working with a Certified Alaska Vacation Planner makes your trip experience that much better.

More that just basic destination knowledge. A whole lot more!
When it's time to start thinking about an Alaska vacation, we can help you decide on the best destinations, ports of call and share ideas based on your interests, and what is affordable. Our Certified Alaska Vacation Planners are real " Insiders", and will review the cruises, land tours, wilderness lodges, rail, and more. They can help you pick the cruise line, land tours and itinerary that best suits your interests.

Our Certified Alaska Vacation Planners have traveled the Inside Passage, cruised the Gulf of Alaska and explored interior Alaska, including Denali National Park many times - so you will be working with a Certified Alaska Vacation Planner who has experienced Alaska firsthand!

Real Helpful People, Not Call Center Operators!
When you work with a Certified Alaska Vacation Planner, you're speaking with an experienced professional, who is assigned to you through out the process. Unlike the cruise line call center, when you never get the same person twice. And, the cruise line operator only has the cruise line interests in mind, not yours.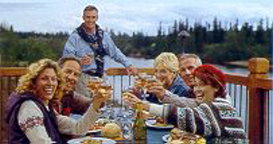 Working with a Certified Alaska Vacation Planner can help make your travel plans better. Better than you ever could on your own.
But don't just take our word for it. Read what our guests, over the last 20 years, have to say about it.





What are the greatest success stories; those we learn from our guests, as they share their experiences with you. Read what we have done for our Guests, where they were totally awed. Why do people constantly compliment us on or ask for assistance from our Certified Alaska Cruise Travel Experts? You'll find the answers to these and other questions here. We're celebrating 20 years of personal service, so we have many more happy guests than we have room here to list. Call us at 800.365.1445 and we'll share both our own experiences and those of our guests to help you plan your Alaska vacation.
Alaskans suggest: "Take a cruise first," says Jennifer Thompson of the Alaska Travel Industry Association. "We have 11/2 million visitors a year, and 900,000 of them come on cruise ships. It's a phenomenal way to introduce yourself to Alaska. Wildlife, glaciers, majestic mountains. It's all there".