We can't keep a secret any longer — this is the Best. Sale. Ever!


Hi everyone,

Drinks, gratuities and Wi-Fi for any sailing…in any cabin. And it's called the Best. Sale. Ever.

The Best. Sale. Ever.

Princess' richest sale ever - offering a value beyond incredible, an amazing deal.

Why is this the best sale ever? Because it includes:

✔ Get $665 of value on a 7-day cruise! (See General terms below)
✔ Premier Beverage Package - with tips! (this is Princess' very best drinks package)
✔ Unlimited Wi-Fi (on any ship, including MedallionNet)
✔ Full gratuities paid to crew on your behalf
✔ All stateroom categories are included
✔ All guests in a stateroom - yes, 3rd, 4th and 5th guests, too!
✔ Fully refundable deposit (non-refundable deposit also available for lower fare)
✔ Sale runs Dec. 11, 2019 to Feb. 29, 2020! for Sailing April 2020 and beyond


And because the Premier Beverage Package, Wi-Fi and Gratuities are included in the fare, that means you get the Best Deal Ever offered by Princess Cruises!

How it works: A deal this rich will be impossible to beat during the busiest selling season (January thru February, aka Wave Season). Just drinks, Wi-Fi and gratuities roughly would cost $95 per day per guest on any cruise. So for example, on a 7-day cruise, shown below, you may pay more than our no-frills Princess Saver fare, but you'll get a value of $665.


And if we may ramble on a little more, here's a few other things you should know:
✔ The Premier Beverage Package is Princess Cruises best drinks package bar none: Spirits, cocktails, wine, beer, fountain drinks, smoothies, milkshakes, fresh juices, specialty coffee and tea, energy drinks, bottled water, and great discounts on bottles of wine and more. PLUS, Princess pays the bar gratuity, so there is no hidden fees, unlike deals that other cruise lines offer.
✔ Unlimited Wi-Fi applies to all ships with MedallionNet and PrincessConnect. On ships with Minute-Based Connectivity, guests will get a whopping 5,000-minute package.
✔ Gratuities paid to crew on your behalf. This applies for all guests in a stateroom. Rest assured, the crew will receive their full gratuity for the outstanding service they provide.
Here's a few more reasons why we believe it is truly the Best. Sale. Ever. for you.
✔ Combinability: Combines with standard groups, Cruise Sales, Casino Discounts, Captain's Circle Savings, Recipient only offers and air promotions.
✔ Refundable and non-refundable deposits $100 per guest, and no deposit for guests 3, 4 and 5. Full Suites are $200. Plus if you don't want the perks, you can get Princess' no-frills lowest fares with a refundable or non-refundable deposit.
✔ Simple "One-Choice" offer & streamlined promo codes: This offer has no substitutions, so there are no multiple variations or confusing promotions to sort out. You can always purchase the perks separately if you only want some and not others and book no-frill Princess Savers fares.
✔ Best drinks package for all with no hidden fees: Every guest gets Princess Cruises best drink offer and they cover the bar gratuities. Other lines typically vary the drink package based on fare type or stateroom category and don't cover bar tips.
Hope you are as excited as we are about the Best. Sale. Ever. As you can see, this sale gives our guests the best experience ever. We hope you take advantage of this great sale and enjoy the Best. Wave Season. Ever.
Free planning advice.
Call us today at 800.365.1445 to get started. Speak to a Certified Princess Cruise Advisor.
►Find All Alaska 2020 Alaska Cruises and Alaska Cruisetours [ land + Sea Vacations ]
Best Regards.


Raye & Marty Trencher
Certified Princess Travel Planners
Princess Alaska Experts

800.365.1445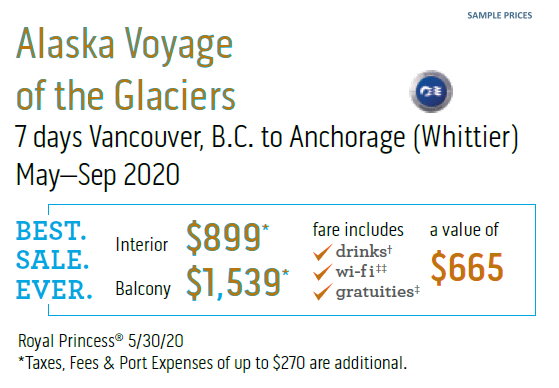 ►Find All Alaska 2020 Alaska Cruises and Alaska Cruisetours [ land + Sea Vacations]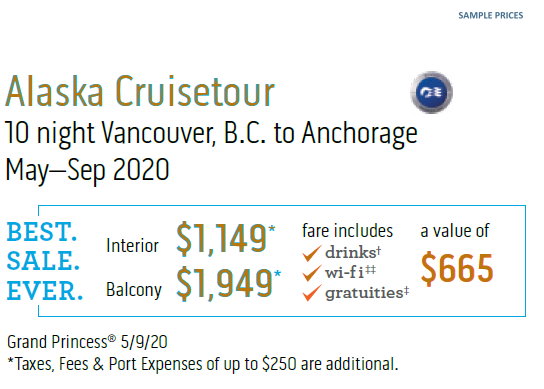 (applicable to all portions of the Offer) – ONLY available if all guests in a stateroom elect to participate in the Offer. Offer expires February 29, 2020 and is only available to residents of 50 United States or D.C., Canada, and Puerto Rico. Offer and its parts are non-transferable, is not redeemable for cash at any point, and may not be combined with other offers or other onboard credits. Offer's Drinks, Wi-Fi, and Gratuities are only available on board the ship (not applicable to land portions), may only
be used on a single voyage, and expire at the end of such voyage. Offer available on select voyages sailing starting March 26, 2020. If one guest in a stateroom elects not to avail itself of the Offer, the Offer may not be available for other guests in the same stateroom. Offer is only available on cruises indicated as "Best. Sale. Ever." Cruises at capacity will be excluded. Visit princess.com for full terms, inclusions and restrictions. *Fares are per guest and apply to minimum lead-in categories on a space-available basis at time of booking. Fares are non-air, cruise- or cruisetour-only, based on double occupancy and apply to the first two guests in a stateroom. Fares and other values quoted in U.S. dollars. Please refer to princess.com for terms, conditions and definitions that apply to all bookings. †Premier Beverage Package is valid only for guests in a stateroom who are 21 years or older. Guests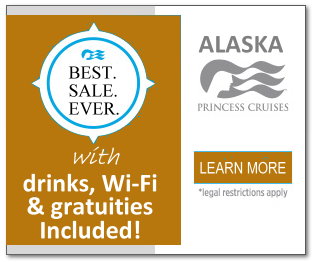 who are under 21 years of age at the time of sailing can still book the Best. Sale. Ever. pricing, but will only receive the Premier Coffee & Soda Package and will not receive any refund or otherwise for the alcohol portion of the Offer. A daily limit on alcoholic beverages will apply. ‡‡Wi-Fi included for one device per guest. Wi-Fi details will be delivered to guests prior to sailing or in the stateroom. All Internet usage subject to Princess Cruises' standard policies, which may limit browsing of sites due to network security and bandwidth usage. Applications that use high bandwidth may be blocked and offerings subject to change with or without
notice. ‡Gratuities valid on select items only and are included in U.S. dollar amounts. Amount of gratuities paid on behalf of guest may vary based on stateroom type. This amount is paid on the behalf of each guest. Gratuities do not include gratuities added to bar charges, dining room wine accounts, or Lotus Spa services. Offer valid: December 11, 2019 – February 29, 2020 on select cruises sailing starting on March 26, 2020. Call Princess Cruises at 1.800.PRINCESS, your Cruise Vacation Planner, or your travel
advisor with any questions about the offer. Changes or refunds may not be permitted. Deposit of $100 per guest is refundable. Full Suites require a $200 refundable deposit per guest. Cruises under 6 days require a $50 refundable deposit per guest. Deposits are required for guests 1 and 2 only. Reference promotion code: NZ*. Note: For assistance reserving a wheelchair-accessible stateroom, please call 1.800.774.6237. ©2019, Princess Cruise Lines, Ltd. Ships of Bermudan and British registry.
►Find All Alaska 2020 Alaska Cruises and Alaska Cruisetours [ land + Sea Vacations]
© 2019 Cruise Direct Online - Travel Direct Corporation - Fla. Seller of Travel Reg. No. ST-31254 - All Rights Reserved | 800.365.1445
.©2019, Princess Cruise Lines, Ltd. Ships of Bermudan and British registry.