ShoreTrips
World's Best Shore Excursions


Explore with Shore Trips!

ShoreTrips are available for cruise ship passengers and hotel guests in the Caribbean, Mexico, Europe, Alaska, New England and Eastern Canada, Hawaii, South America, Bermuda, the Mediterranean and the Baltic, Asia, and now Australia and New Zealand.

The ShoreTrips team has traveled and lived all over the world throughout their lives. They bring their experiences and your requests together to customize vacations and specific trips.

The owners, Julie and Barry Karp, have been in the travel industry for over 30 years. Both of them have had a very hands-on approach and an intuitive sense of the desires of today's travel-savvy customer. Their mission is to allow you to enhance your port of call visit, whether you arrive by boat or plane. They have traveled to every spot they represent to bring you the best and the most unique offerings to fulfill any fantasy. They have worked hard to develop a way for you to have smaller, more personal tours and adventures and yet feel secure knowing that all of the people they represent have an understanding of your expectations.

Their high standards help them create outstanding trips, and along with their helpful staff and website tools, you can rest assured that you are in good hands. Visit ShoreTrips Today.
Q. How can I view shore excursions & hot shore tour deals, specifically for my cruise?
A. Excursion finder will help you identify which ports your cruise visits and the tours available for those dates in each of the ports. You will need your cruise departure date, cruise line and ship and we will provide you with the ports and tours available in each of those ports for the days you are in port. Select your cruise line here, then click on go!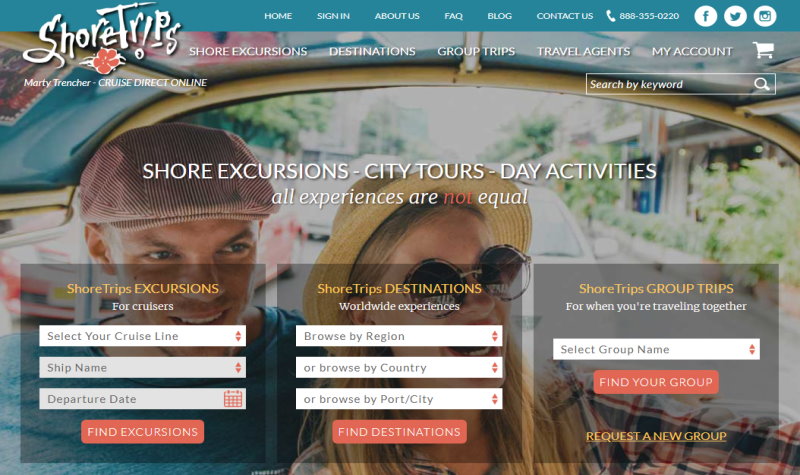 Copyright © Shore Trips, 2018 Cruise Direct Online - A Travel Direct Company ALL RIGHTS RESERVED
Fla. Seller of Travel Reg. No. ST-31254 | Terms of Use - Privacy Policy