Check Out This Week's Popular Alaska Cruise Travel Experiences...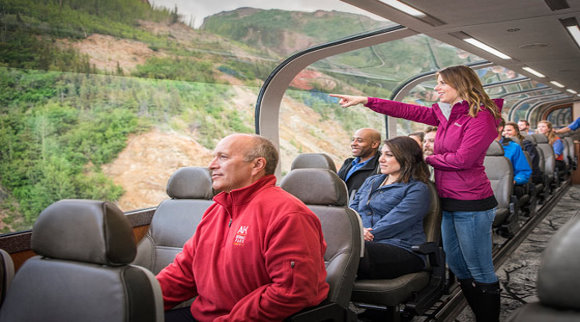 ---
Request a FREE no-obligation Cruise or Cruisetour Price Quote
from your choice of 9 cruise lines.
Including Princess Cruises Alaska, Royal Caribbean Alaska, Norwegian Cruise Line Alaska, Celebrity Cruises Alaska, & Holland America Alaska.

Advertisement
---
DIRECT-TO-THE-WILDERNESS®

ALASKA RAIL SERVICE


No other cruise line offers it — Direct-to-the-Wilderness® Alaska rail service on most itineraries. Step directly off your Princess ship onto a waiting rail car that delivers you the very same day to your Princess Wilderness Lodge, without needless time spent in transfers. Which means you get more time in the wilderness.


Learn more about Direct-to-the-Wilderness® Alaska Rail Service

Princess Ship to Rail Service

•A Princess exclusive
•Same-day, ship-to-lodge transit
•Offers more time in Alaska wilderness
•Glass-domed rail cars
•Open-air viewing platforms
•Onboard rail guides
•Signature Alaska cuisine
•Trademark Princess service
7 Day Voyage of the Glaciers Cruise

Things to do and see
•Glacier Bay National Park
•Hubbard Glacier or College Fjord
•Alaska & British Columbia portions of Inside Passage
•Alaska enrichment programs
•National Park Rangers in Glacier Bay
•Juneau, state capital
•Historic Ketchikan
•Frontier-flavored Skagway

CHOOSE FROM 5 GREAT

WAYS TO SAIL ALASKA


Not only can you sail from Seattle, Vancouver or Whittier, you also can embark from San Francisco or Los Angeles. Travel from San Francisco. Experience the thrill of sailing under the iconic Golden Gate Bridge as you head
north to Alaska's legendary Inside Passage, one of the world's most beautiful waterways. Travel from Los Angeles to the Great Land on an Alaskan cruise vacation that takes you through the legendary Inside Passage and Glacier Bay National Park, a UNESCO World Heritage Site.
NATIONAL PARKS
Here you'll find some of America's most stunning national gems — awe-inspiring Denali National Park, home to North America's tallest peak, 20,310-foot Denali; Wrangell-St. Elias National Park, larger than the country of Switzerland; Glacier Bay National Park with towering Margerie Glacier; and beautiful Kenai Fjords National Park, with its glaciers and abundant marine life.
---
REQUEST YOUR FREE OFFICIAL STATE OF ALASKA VACATION PLANNER

This Great Land is full of wonders. But it would take a lifetime to explore them all! So let us help you get started, with page after page of FREE official Alaska travel information -- chosen just for you! Don't wait another year -- or even another minute.
Take a first step toward Alaska right now!
---
SHORE EXCURSIONS

There are certain experiences that are uniquely Alaskan - salmon fishing in a quiet river, watching a family of bears forage for berries, or admiring a Native craftsman carving a totem pole. That's why Princess offers optional excursions for every interest, and with More Ashore calls in Juneau on many sailings, you can extend your day with more time in port and experience even more of this historic town.
NORTH TO ALASKA

The award-winning North to Alaska program, brings local personalities, culture and cuisine on board to immerse you in all things Alaska. Watch actual lumberjacks in action, hear from real Alaskans like best-selling "Tales of the Wild" author Nick Jans, dine on fresh Alaska seafood, meet National Park Rangers and naturalists, and make friends with Alaska's next sled dog class with Puppies in the Piazza.

Experience Every Side of Alaska!

From a lively Klondike Festival to interactive Alaska youth programs, these Alaska cruise activities aim to enrich.
PRINCESS WILDERNESS LODGES


When you reach the Alaska wilderness, you'll want to experience as much as possible, which is why we built and operate exclusive Princess Wilderness Lodges on the doorsteps of legendary national parks. They are the perfect home base for exploring the Great Land.