A LASTING LEGACY IN ALASKA
Towering glaciers tinted blue, striking mountain peaks and lush landscapes inhabited by wildlife. This is only the beginning of your adventure when you set sail with the #1 cruise line in Alaska*.
It's been 50 years of building a legacy in this wild and wonderful land, creating long-lasting connections with local communities. Discover the incredibly unique Alaska experiences curated for you in the region, complemented by our genuine passion for the Great Land. We invite you to set sail on an unforgettable journey and celebrate this 50-year milestone with Princess® in 2019.
>> Learn More
*14-time winner of "Best Cruise Line in Alaska" by Travel Weekly.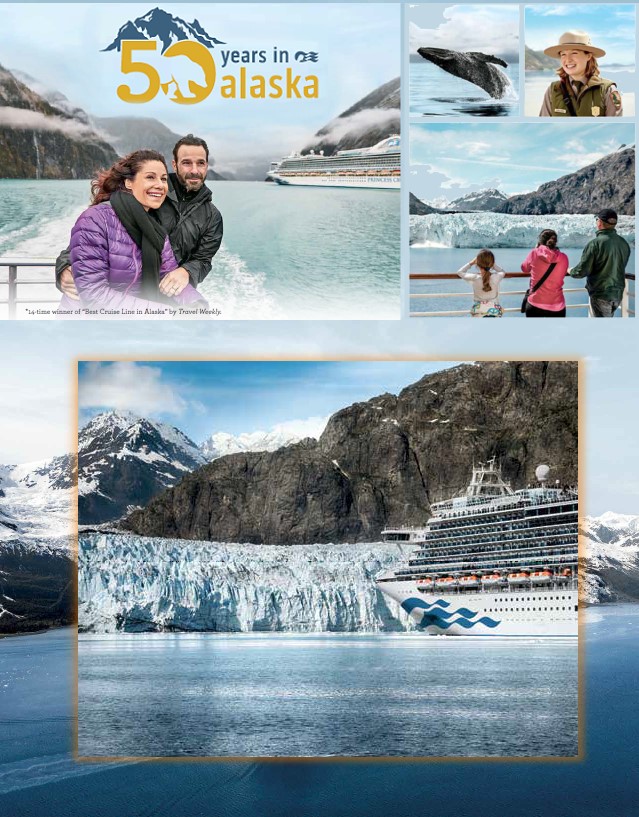 Glacier Bay National Park
A crackle amplifies in the wilderness until it sounds like white thunder, accompanied by the thrilling sight of ice calving off from a glacier and crashing into the waters below.
Your comfortable spot on the ship's top deck is the ideal front-row seat to view enormous tidewater glaciers and soaring mountain peaks flanking Alaska's Glacier Bay National Park, a UNESCO World Heritage Site. Experienced park rangers join you on this once-in-a-lifetime journey, pointing out epic sights like breaching whales while providing expert narration. >> Learn More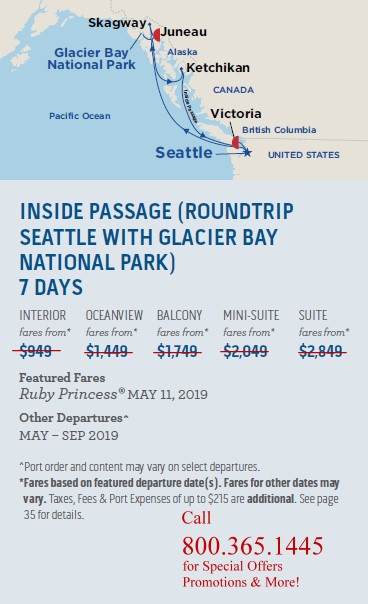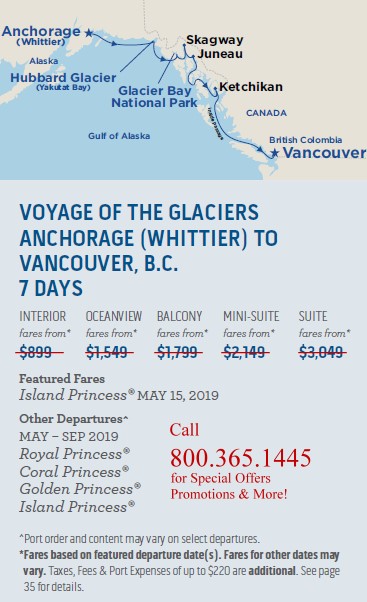 BOOK NOW! | Call 800.365.1445

Alaska

Fjords carved by mighty glaciers stretch toward white-capped mountains. Playful pods of whales and dolphins swim through shimmering waters, and rich emerald forests reach into impossibly blue skies. Cruising Alaska will transform your view of the world as you experience the Great Land's vast wilderness, enduring historic Gold Rush towns and communities. >> Learn More




Consider a Land + Sea Vacation.